Charge Types
Audience: Management Team, Accounting, Loan Servicing/Collections Managers, Administrator, Compliance, Data
Introduction
Charges are fees applied to loans, and in LMS you can categorize those charges to keep track of why they were applied. The types themselves are up to you, and can be customized at the tenant-level; then, you'll select a type when you log a charge inside the system.
This article will show you how create and edit charge types, and then the article Log a Charge will show you how to select a type when making a charge.
Payments can be set to apply to different charge types in a specific order. For example, if you have a charge type of NSF Fee and a charge type of Convenience Fee, you have the option to specify whether payments apply to NSF Fees first or Convenience Fees first. You can also choose to simply apply payments to due fees, which will apply the payment to the fee that was assessed earliest first and then proceed chronologically, regarless of charge type. Create a
Payment Type
to specify the order of application.
Setting Charge Types
You can find your list of charge types by navigating to Settings > Loan > Charges > Types. You'll see a list of the five default charge types, as well as any others you've created.

Click the blue 'Add' button to create a new type. That pulls up this window: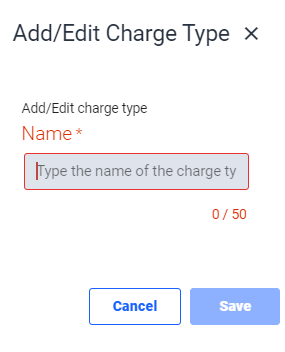 Enter the name of the charge type into the field provided. When you've entered a name, click 'Save'.
You'll notice that added charge types will have three icons in the far right column of their listing. (The five default charge types that can't be changed because they are needed to make other functions work properly.) For charge types you create, you will have the following options:
  Edit – Clicking this lets you rename the charge type.
  Delete – This removes the charge type from the system.
  Deactivate – When deactivated, a charge will no longer show in the list of charge types when a new charge is logged. If you want to add it back to the list, you'll just have to reactivate it.
Common Uses & Questions
Charge types are most commonly used to keep track of what types of charges or fees have been assessed on loans. LoanPro also keeps track of which fees are paid, so the fee type is often used for accounting purposes to make sure fees and fee revenue are assigned to the proper general ledger accounts.
Management Team Use

For the management team, it's important to understand the capabilities of LoanPro. When using this article, you won't necessarily need to know the details of how everything works, but it will be beneficial to know the basics.
Accounting

Accouting needs to know that charges can be categorized in LoanPro and that the way payments apply to charges can be specified in

Payment Types

. Information on charges and how much has been paid towards specific charges can be found in the

Charges Report

. Choosing what gets paid when, may also help you maximize your accounting strategy.
Servicing/Collections Managers Use

Servicing and collections managers should be aware of the charge type options. When a payment is made by a servicing or collections agent, most lenders will choose to have defaults dictate how a payment applies. Managers should be aware that there are different options and how they work, in case they ever need to help troubleshoot a situation in which a servicing or collections agent applied a payment in the wrong way.
Administrator Use

When configuring your LoanPro tenant, it will be important to know that charges can be categorized and that the application of payments towards those charges can be specified in

Payment Types

. This will let you specify whether revenues are collected first, and the order in which payments apply to charges (fees). It may help to work with your accounting and compliance people to make sure the setup works best for your company.
Compliance Use

There may be laws for the type of loans you give or the jurisdiction in which you're located that dictate what fees can be charged and the order in which payments should apply to fees. Charge Types and

Payment Types

will let you determine how to keep fee types and the application of payments to your fees compliant with applicable statutes.
Can I get a report of which fees are paid, broken down by type? Yes. The Charges Report shows information on fees, the amount assessed, and the amount paid. The report is filterable by Charge Type and can be exported for further configuration of the numbers, formate, filters, etc.
Can I choose the order in which payments apply to different Charge Types? Yes. Charge types are all options within the creation of a new Payment Type. If you don't want to specify a specific waterfall application, the default is that payments apply to charges in the order in which they were assessed.
What's Next
From here, you'll probably want to check out Log a Charge, which walks through the process of apply charges to individual accounts.
---
---