Secure Payments Transaction History Search
General
The transaction history search lets you search through customer transactions. From this page, you can filter through results, get NACHA batch IDs, and get additional information about each transaction.

There are five ways to filter search results:
Keyword – Enter any keywords you want to use to filter the results of your transactions into the "Search" field.
Date – To view transactions that occurred in a specific date range, use the drop-down to choose the date range. Options include the past day, week, month, or quarter; from the beginning of the year to the current date; and a Custom Range, which lets you select a start and end date.
Status – Use this drop-down to filter transactions by status.
Category – Use this drop-down to filter by transaction category. The available categories are Debit/Credit Card, Bank Account/ACH, and Canada EFT.
Batch ID – Use this drop-down to filter transactions by batch id.
R Code – Use this drop-down to filter your search by the NACHA return code associated with each transaction.
Most selections will automatically update your search results. If you are filtering by keyword, press Enter to run the search.
Once you have done your search, click the triple-bar icon in the top right corner to export them to a CSV file.
Transaction Details
Select the lowercase 'i' icon next to any transaction to see its details (it's in the little red box in the picture above). Clicking it will bring up this window showing the transaction summary and history: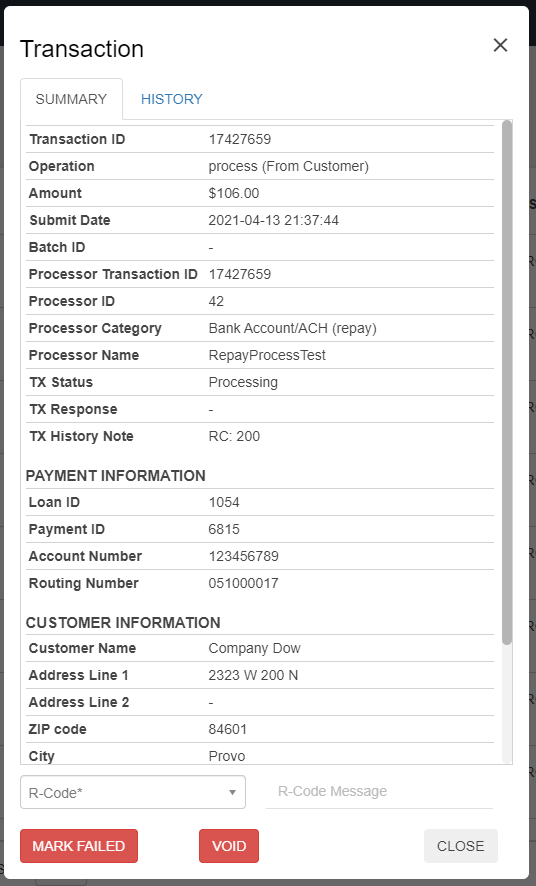 This window both displays information and gives you the option to void a transaction or mark it as failed. You may void the transaction directly from this window if the payment has not already began to be processed by selecting . You may also mark the transactions as failed from this window by selecting 'Mark Failed'.
Note: If you are marking a transaction as FAILED, an "R-Code" is required. Our
NACHA Returns
article explains what R-Codes are and lists all the available codes.
Transaction details include the following information:
Basic Info
| | |
| --- | --- |
| Field | Explanation |
| Transaction ID | This is the ID of the transaction in Secure Payments. |
| Operation | This is the operation that will be performed on the payment. |
| Amount | This is the amount of the transaction. |
| Submit Date | The date and time (UTC) that the transaction was submitted to Secure Payments. |
| Batch ID | The batch ID that has been assigned to the payment. This is only applicable for NACHA payments. |
| Processor ID | The ID of the payment processor being used to process the transaction. |
| Processor Category | The Category of the payment processor being used to process the transaction. |
| Processor Name | The Name of the payment processor being used to process the transaction. |
| TX Status | This is the current status of the transaction within Secure Payments. |
| TX Response | This is the final NACHA return code of the transaction (e.g. R01). This is only applicable for NACHA payments. For a complete list of return codes see NACHA Returns. |
| TX History Note | This displays codes received by integrated processors for the transaction, and any messages associated with that code. |
Payment Information
| | |
| --- | --- |
| Field | Explanation |
| Loan ID | This is the Display ID of the account for which the transaction is being processed. |
| Payment ID | This is the Display ID of the transaction within LoanPro. |
| Account Number | This is the number of the account from which the funds are being transferred. |
| Routing Number | This is the Routing Number of the account from which the funds are being transferred. |
Customer Information
| | |
| --- | --- |
| Field | Explanation |
| Customer Name | This is the name of the customer making the transaction. |
| Address | This is the address of the customer making the transaction. |
| ZIP | This is the ZIP Code of the customer making the transaction. |
| City | This is the city of the customer making the transaction. |
| State | This is the state of the customer making the transaction. |
| Country | This is the country of the customer making the transaction. |
| Email | This is the email of the customer making the transaction. |
| Phone | This is the phone of the customer making the transaction. |
| SSN | This is the social security number of the customer making the transaction. |
Transaction History
If you select HISTORY, you may see the history of the transaction by status: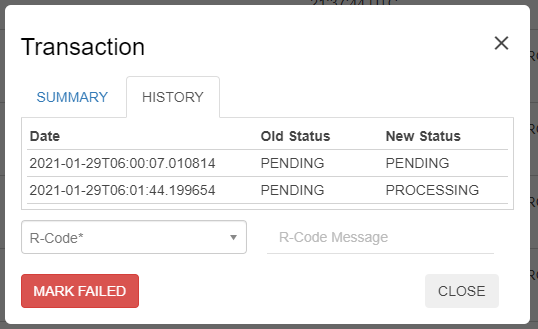 ---
---