Search Restrictions
Audience: Upper Management, Loan Servicing/Collections Managers, Administrator
Introduction
If you're familiar with some of LoanPro's other access tools, you'll know that you can limit your users' access to specific parts of the software. But what if you want to limit users from viewing specific loans? LoanPro's Search Restrictions will help you do exactly that.
Search Restrictions let you limit agent users' access to loans that are part of specific groups or source companies. Loans that are filtered out by the restrictions will also be restricted from the user's view in reporting tools. These restrictions are created at a company level and assigned to specific agent users. For example, if you want to allow members of your investment team to see only the loans in specific portfolios, you can set a Search Restriction that will only allow them access to loans in those portfolios.
In this article, we explain how to set up Search Restrictions and answer some commonly asked questions.
Using Search Restrictions
There are a few steps for giving your team Search Restrictions. First, you'll need to create a set of restriction parameters. Then, you'll need to assign the users the configuration you create.
Creating a Search Restriction
To create a Search Restriction, navigate to Settings > Company > Access > Search Restrictions.

Here, you'll be able to create, edit, and delete your Search Restrictions. To create a new set of restrictions, click the blue 'Add' button in the top corner. This will take you to the screen where you can create a new search restriction.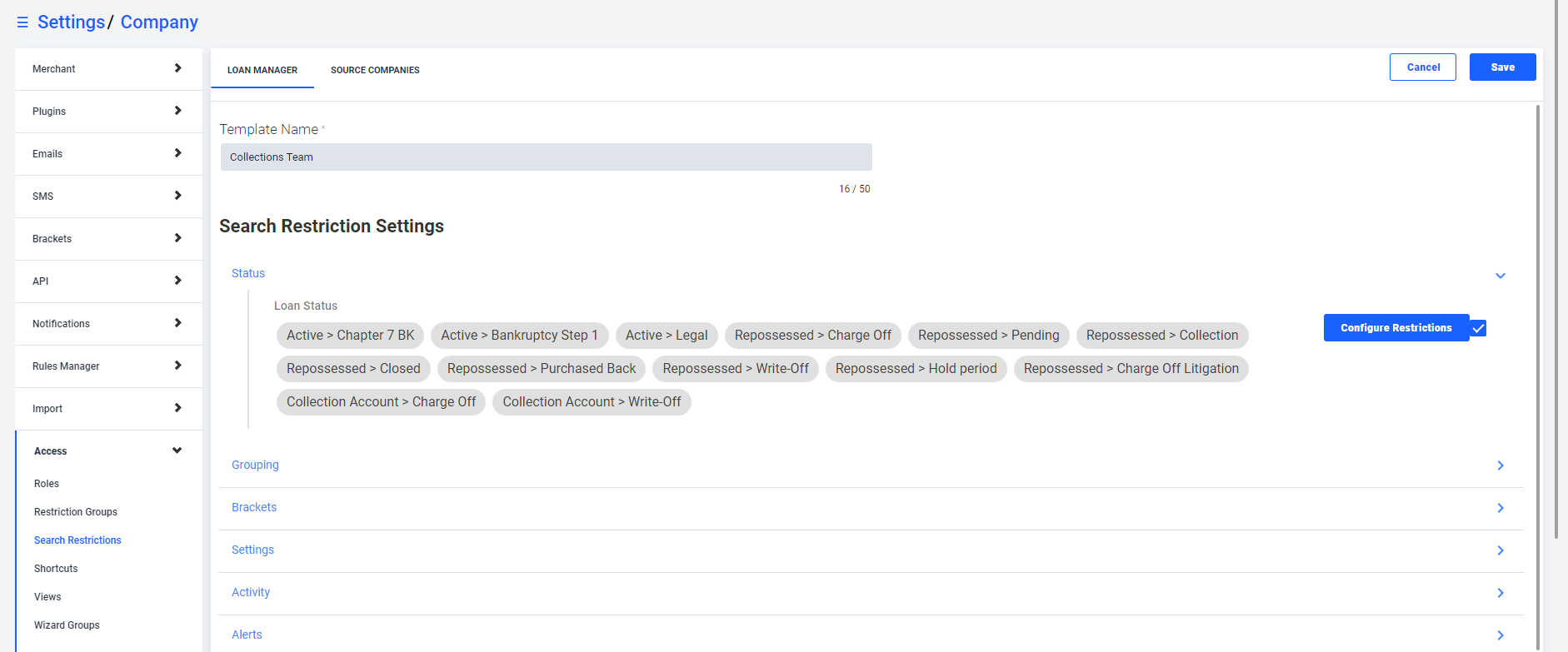 When creating a new set of Search Restrictions, begin by giving the configuration a name. Next, begin selecting which search settings you'd like to give access to. You can do this by clicking the categories to expand the available options. Click the checkbox located on the right and then 'Configure Restrictions'. Clicking this button will display the options available for the category.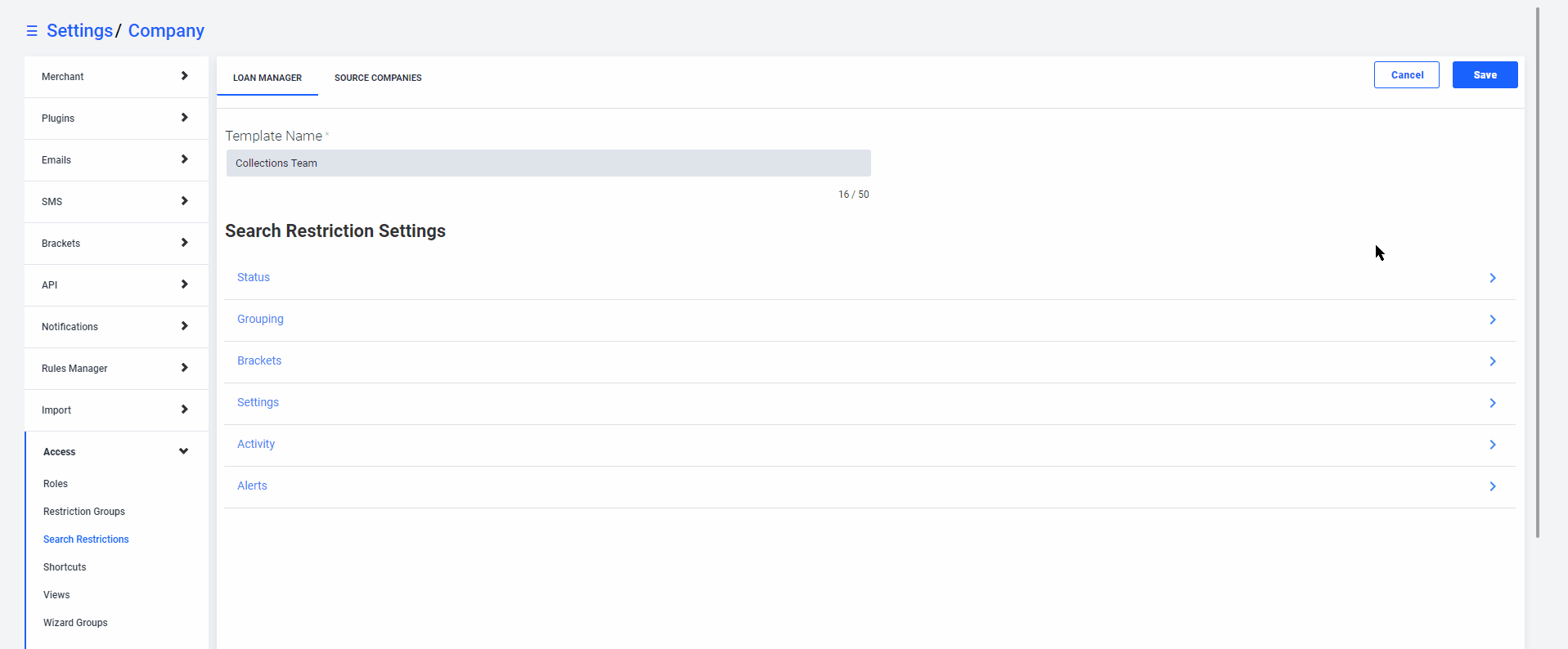 The options that are selected are what will be viewable by those assigned to this restriction group. In the animated example above, only loans that are between 0-30 days old will be viewable. All unselected options will be hidden from the user.
Creating Source Company Search Restrictions
If you use LoanPro's Source Company Manager to assign agent users to specific brick-and-mortar stores, you may want them to have access to their own store and cash drawers but not other locations. Search Restrictions on source companies will limit the source companies they see within the source company manager.
To view your Source Company Search Restrictions, click the 'Source Company' tab at the top of the page. This brings up a list of all the restrictions you've created. Each entry includes an ID, a name, and options to edit or delete it.

Click the 'Add' button in the top right corner to create a new restriction.

Next, create a name to help you keep track of the restriction, and select the companies you want the users with this restriction to see. Similar to Search Restrictions, the selected Source Companies will be viewable while the unselected ones will not.
Assigning Search Restrictions
After creating a Search Restriction configuration, you will need to assign it to your personnel. You can assign Search Restrictions to an agent user by navigating to Users > Agent Users inside your company account. Next, select the user who will be assigned the search restriction and click 'Edit' in the top right corner.

You can choose any of the search restriction groups and source company search restrictions you've created. For source companies, you can also selected "Affiliated Source Companies Only" and select which companies the user will be associated with. Once you've selected your restrictions, click 'Save'. The agent user will now have a restricted view of specific loans and source companies.

Edge Cases
Search Restrictions can be used in a variety of ways, but they can benefit those in specific lending situations. Consider lenders who have several separate teams of personnel may need to impose restrictions on each group of team members—for example, those with dedicated bankruptcy and collections teams that are separate from their servicers. Having servicers mistakenly reach out to borrowers whose loans are in the bankruptcy or collections process may pose an issue for the business. To eliminate the chance of a mistake being made, these lenders can restrict each group from viewing loans that don't fall into their focus.
Customer Questions
Is there a way to restrict users from searching for any loans? Yes, but if you'd like to restrict users from searching anything, you should use User Roles to do so. The user access resource tree allows you to revoke access to search functionality.
What's Next
This is as advanced as our access tools get. But if you'd like to continue reading, you can head back towards our more basic-level material. Our LoanPro Access article is the hub of of our access materials, and you can find links to all of our access tools here. We also recommend reading up on User Roles.
---
---