LoanPaymentPro
General
LoanPaymentPro is one of LoanPro's integrated payment processors. Through LoanPaymentPro you can accept ACH payments and bank card payments. You can also send funds through ACH.
Sign Up for LoanPaymentPro
To sign up for LoanPaymentPro, fill out the form here. This will inform LoanPaymentPro of your interest. Like all payment processors, they are subject to the regulations of an ODFI (originating depository financial institution). As such, they will have to evaluate your company as a payment processor through an underwriting process. If you are approved, the underwriting process often takes between 2 and 4 weeks to complete. Start the process early if payment processing is necessary to your business.
ACH Integration
In order to use LoanPaymentPro in LoanPro, you must first enter your LoanPaymentPro account credentials. To do this, navigate within your LoanPro account to Settings > Company > Merchant > Secure Payments. Then, click over to the Bank Account/ACH (USA) Processors tab.

Click and choose LoanPaymentPro from the "Processor Type" drop-down.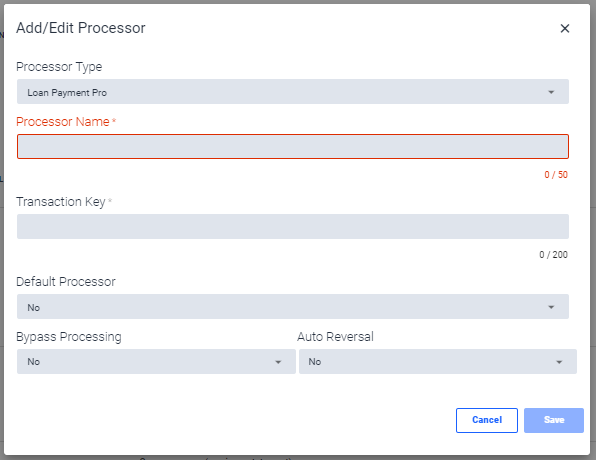 Enter a name for the processor in the "Processor Name" field. Enter your LoanPaymentPro transaction key in the "Transaction Key" field. Click .
You can now use LoanPaymentPro.
Bank Card Integration
To use LoanPaymentPro to process credit/debit card payments, you will need to set up a LoanPaymentPro debit/credit card processor. To do this, go inside LoanPro and navigate to Settings > Company >Secure Payments, then click on the DEBIT/CREDIT CARD PROCESSOR tab.
Click .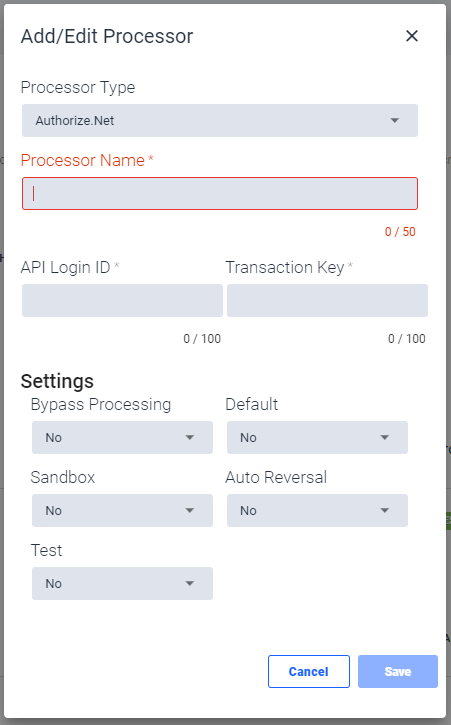 Make sure you select "Loan Payment Pro" from the "Processor Type" drop-down. Enter a name for this processor to distinguish it from other LoanPaymentPro processors you may create. Enter the Transaction Key provided to you by LoanPaymentPro. You can choose some settings for this processor including:
Bypass Processing - If set to yes, payments processed with this processor will get logged in LoanPro, but won't get sent to LoanPaymentPro.
Default - If set to yes, this processor will become your default credit/debit card processor.
Auto Reversal - If set to yes, charged-back payments will automatically be reversed in LoanPro.
Once you have entered the information, click .
You can now log a payment using LoanPaymentPro.
---
---