Run Insurance Report
Introduction
The insurance report is a useful tool for company-wide insurance audits. This report lets you search for accounts with expired insurance, no insurance, or both so that you can check on insurance for those accounts. You can also use the standard report filters to narrow down this report to return only specific groups of loans.
Report Navigation
To pull an insurance report, navigate to Reports > Servicing > Insurance within your company account. The report will be blank until you run a search.

Since the point of this report is to show which accounts have expired and/or no insurance, first choose from the drop-down which accounts you'd like to see.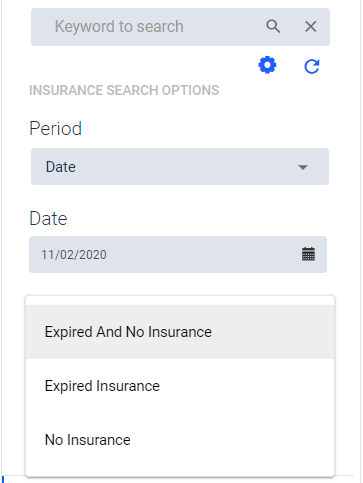 The period drop-down gives you the options of Date and Custom. Choosing Date will let you enter a date by which insurance policies on your loans will have expired. This will default to today's date. You may not want to see accounts for which insurance has already expired, so you might enter a future date into this field so you can see accounts that have policies which will soon expire. If you select Custom, you will be able to enter a number of days. This is the number of days from today by which insurance policies on your accounts will have expired. So, if you want to see all the accounts that have insurance that has expired or will expire in the next 30 days, you can choose Custom from the period drop-down and enter 30 in the days from today field.
You can also filter the accounts in your report results using the Advanced Option Search. This can be useful depending on what you plan to do with the accounts in this report. You have several options for using the data once the report is pulled.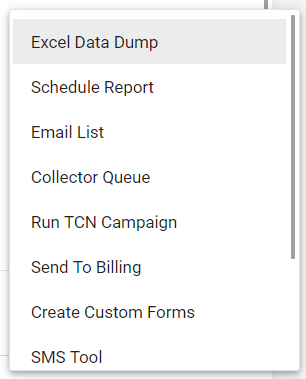 You can choose the option you want from the more_vert drop-down. The options include: Excel Data Dump, Schedule Report, Email List, Collector Queue, Run TCN Campaign, Send to Billing, Create Custom Forms, and SMS Tool.
---
---