Customer Phone Number
General
LMS gives you a variety of tools associated to a customer phone number. These tools can be used in the Contact & Personal Information of a customer file or while editing the customer file.
Adding a Customer Phone Number
When creating a phone number you can designate the type of phone.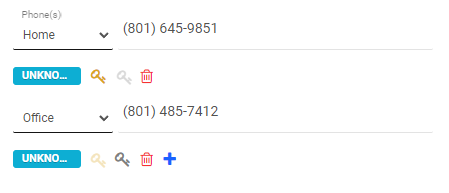 The following options are available, you may use them more than once:
Options

Description

Phone Type

These are the available phone types you can select:

Cell
Cell-Smart Phone
Fax
Home
Office
Other

Carrier Lookup

This tool uses our integration with Solutions By Text to lookup the carrier of the phone number. You don't need an account with Solutions By Text to use this feature.

Carrier Logos

When a carrier is found, a logo for that carrier will appear next the phone number. We have logos for the following carriers (if no logo is present, the name of the carrier will appear in its place).

Landline

If the phone is a landline, will appear next to the phone number.

Do Not Call Setting

In the event that you wish to mark a particular phone number as Do Not Call, you can click on the green icon listed next to the customers primary phone number to set as Do Not Call.

SMS Enrollment

This lets you verify the phone number so LoanPro can send SMS text messages to it. SMS text messages are divided into Marketing Messages, and Account Messages. The phone number can be enrolled for one or the other or both. Enrollment occurs with Solutions By Text.  For more information see SMS Text Messaging.

Primary/Secondary Setting

This option allows you to mark a phone number as Primary (required) or secondary. You can have as many phone numbers associated to a customer account as you want. The first two phone numbers added to a customer account will default to Primary and secondary.

The designation of Primary or secondary tells LoanPro to index that number (make it so you can search using the number) for the Customer Manager and Loan Manager. It also makes the phone number available to be included in TCN Phone calls & in the Context Engine (i.e. it can be used as a variable) so it can be used around the system in email, custom forms, custom query, etc. If the phone number is not marked as primary or secondary then it'll be accessible from inside of the customer file, but will not be indexed for use with other tools & features.
---
---