Credit Pulling
Introduction
Vetting the trustworthiness of your potential borrower is a crucial part of the underwriting process. Historically, lenders will use a borrower's credit scores to determine if a borrower meets the standards for a loan. LoanPro is integrated with Credco, a third-party that specializes in pulling credit history from the three main credit reporting agencies in the US. With LoanPro's integration, you can request a borrower's credit score report within the Loan Management System (LMS).
In this article, we'll explain how to pull a borrower's credit scores.
Credco currently only approves large lenders. Any mid-market lender is unlikely to get approved to use Credco.
How to Pull a Borrower's Credit Report
To pull a borrower's credit scores, you will first need to open an account with Credco. Once you have an account, Credco will issue you a username and password. You will use your Credco credentials to link your account in Connections.
There are two ways you can pull a credit report in LMS: on the customer summary page and within the customer tools.
Customer Summary Page
Begin by navigating to a customer's information by using the Customer Manager or by viewing an individual loan and selecting Customer > Customers Name > Contact and Personal Information. The customer's Contact and Personal Information tab displays information such as their phone number, primary address, status, and credit scores. Under the 'Credit Score' category, you can view a customer's scores from each reporting agency and pull new scores. To pull new scores, select 'Pull credit scores'.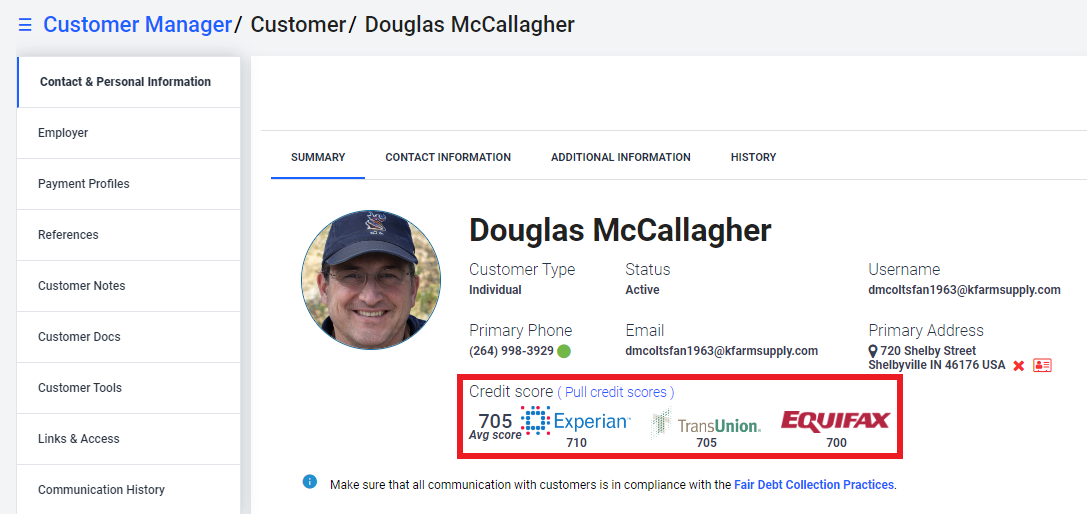 Once clicked, the 'Pull credit scores' text will display a window that allows you to determine which agencies to pull reports from and whether to save the credit report as a PDF. Select which agencies' reports you'd like and select 'Pull credit score now'.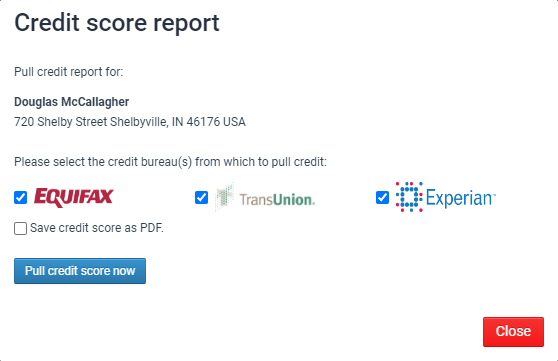 If you chose to save the credit report as a PDF, it will be added to the Customer Documents.
Customer Tools
You can also pull credit scores by navigating to Customer Tools > Credit Score. This page works similarly to the one above: To pull the credit score, select 'Pull Credit Score Now'.

This page will also allow you to manually input credit scores. You can manually update a score by clicking 'Update Manually' on the tiles that represent each agency. This page also displays historical changes. If a customer's scores are updated, the 'History Changes' section at the bottom will display the previous scores and which agent user updated them.
---
---