Custom Forms
General
Most lending companies need an easy way to print contracts and other forms that doesn't require them to find the form, run calculations, input data, print and sign. For this, LoanPro provides custom forms. These forms can be created using LoanPro variables so they print with the information that is in the customer's account. In addition, LoanPro is integrated with DocuSign. This makes e-signatures easy and legally binding. You can simply send a link to a document to your customer, the customer can sign it electronically, and a copy of the signed document will be added to the loan documents.
Printing a Custom Form
To print a custom form for an account, navigate to Servicing > Custom Forms inside of the account.

To download a custom form, click 

You can also select the forms you would like to generate using the checkboxes to the far left column and use the DATA OPTIONS drop down. From the Data Options menu, you can select to download the forms as PDF format, or in a ZIP file. Once the form has been generated you will receive a pop-up message informing you that the form is ready for download.

If you select "Click here to download", the completed form will automatically be downloaded to your computer.
Alternatively, still inside the Custom Forms section, you may select GENERATED CUSTOM FORMS. This will show you a list of all custom forms that you have generated within the last 24 hours.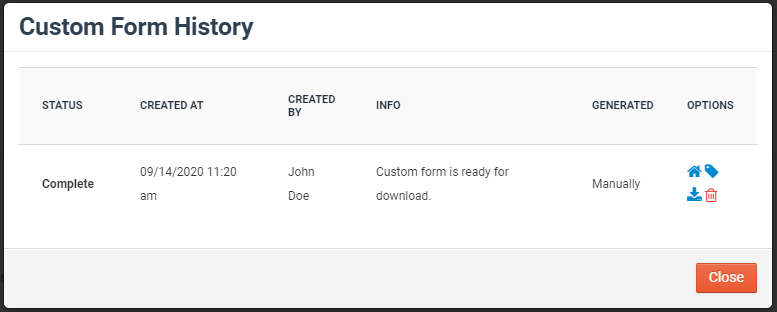 Send to Mail House – Sends the form to the borrower by mail using the Mail House tool.

Add as a document – Adds the form to the account as a document found in the Documents section.

Download – Downloads the form to your computer in the form of a PDF.

Delete – Deletes the form from the Custom Form History list.
You can also send a custom form to DocuSign so it can be electronically signed by the customer.  Click the 

 icon next to a form to send the form to DocuSign.  Once the form has been sent, you will be able to send a link to the form to your customer so they can sign it.
Creating a Custom Form
When creating a custom form, it's important to understand a little bit about how it works. In LoanPro, when you create a form, the actual form content is either Hyper Text Markup Language (HTML) or a Microsoft Word .docx file. When you generate, download, print, etc. any form, it is converted from HTML or .docx to a PDF. LoanPro does the best it can to convert what you see on your screen to a PDF file that you can download, print, etc.
Here are two sample files showing a blank template and how it might look once the system fills it out with a customer's loan information:
Although you have options in LoanPro's advanced text editor or in Microsoft Word to do things that will work fine on a computer like hyperlinks, video content, etc., these things will be meaningless once a form is printed, sent to DocuSign, etc. It is, therefore, inadvisable to add rich media content or hyperlinks to your forms.
Custom forms can be created in Settings > Loan > Custom Forms > Form Management.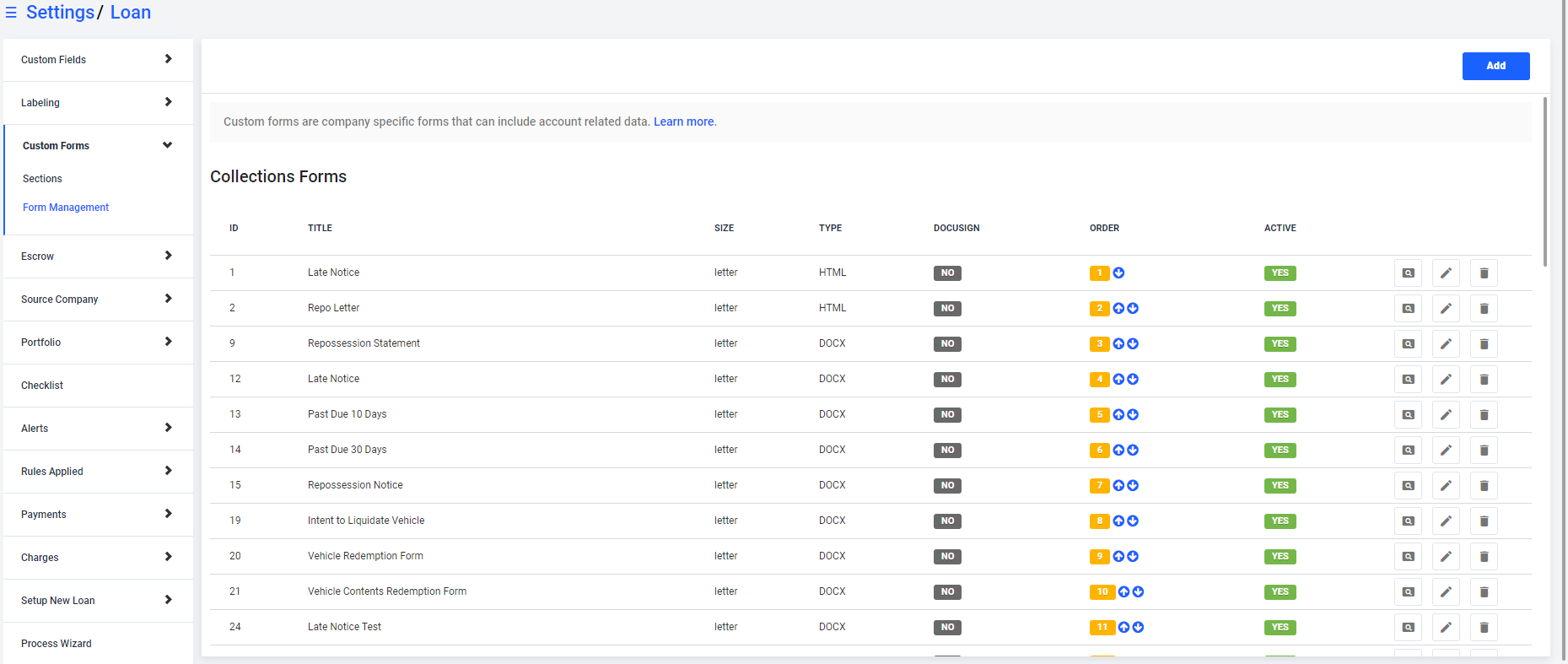 To create a new form, click .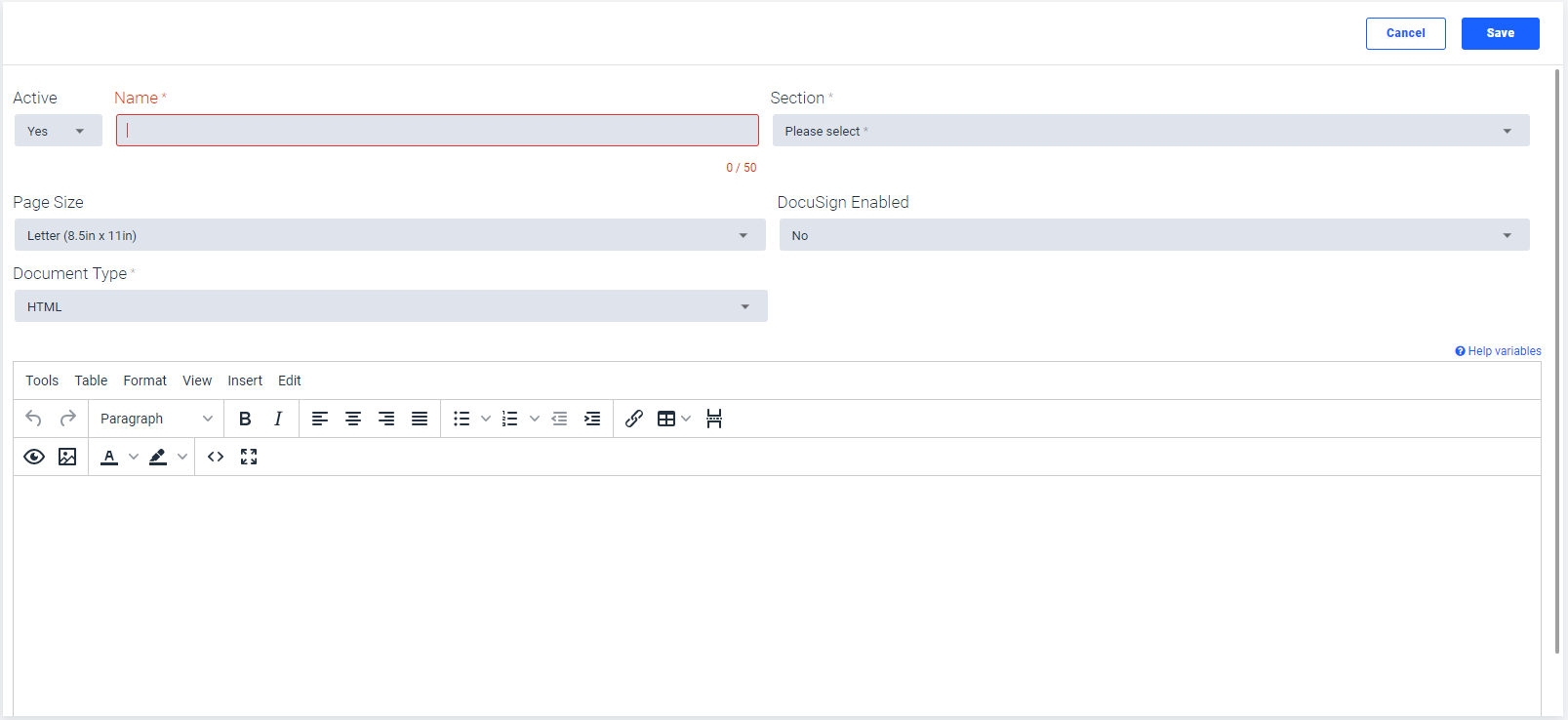 Before you start to enter the content of the form, enter the basic data about the form. The options are:
Name – This is the name of the form and should distinguish this form from other forms in your company.
Page size – The size of the paper that the form will be printed on.

Letter (8.5in x 11in)
Legal (8.5in x 14in)
Ledger (8.5in x 17in)

DocuSign enabled – Select whether this form can be sent to DocuSign for electronic signature.
Section – Assign a section for the form. Form sections can be managed in Settings > Loan > Custom Forms > Sections.
Document Type - Choose to enter either HTML, or upload a Microsoft Word .docx file.
To enter the actual form using HTML, enter text and use the available formatting options to make your form look like you want it to. Use the available variables to customize the data in the form.
To enter a Microsoft Word .docx file, make sure you select Doc File from the "Document Type" drop-down menu.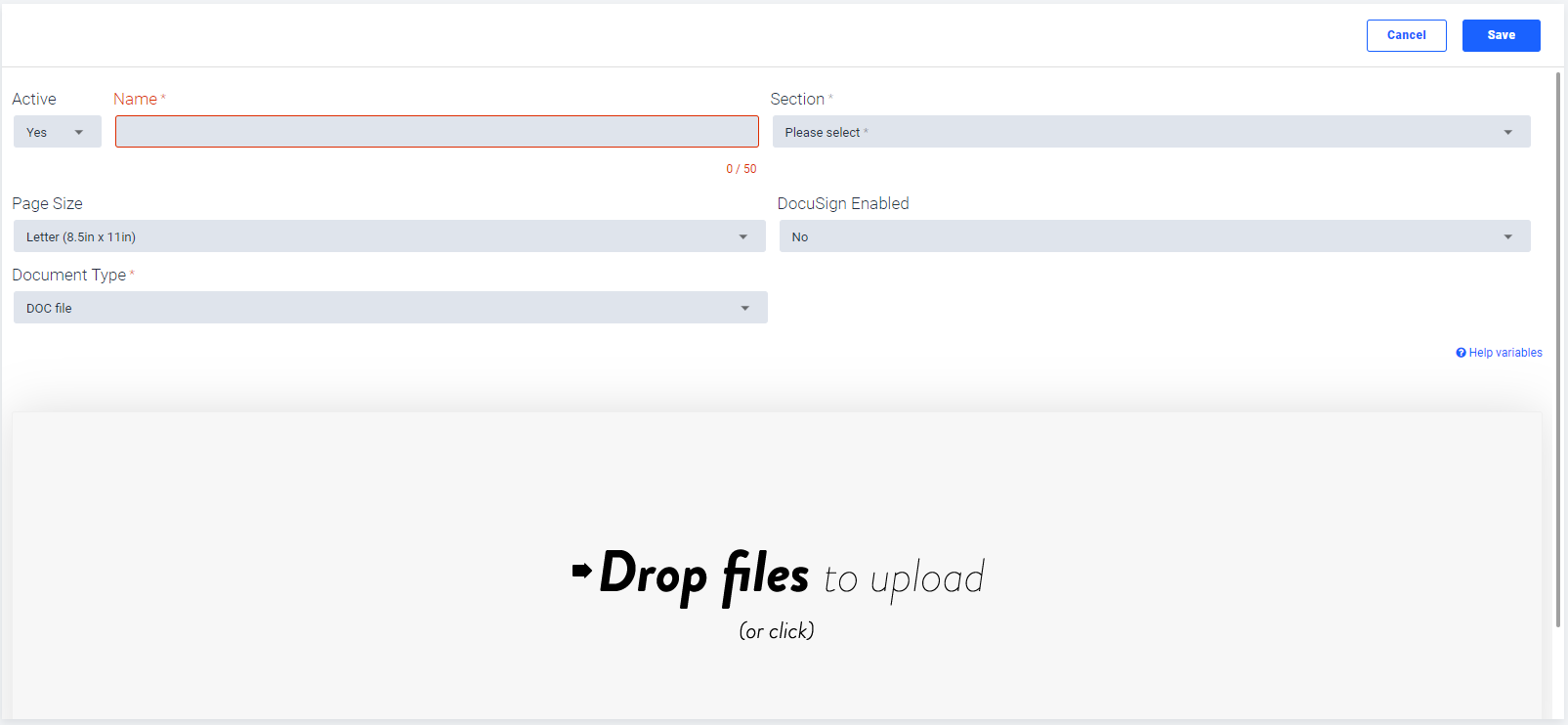 Now drag and drop the Word file that contains your template to the drop zone, or click the drop zone to browse for the file on your computer.
Whether you're using HTML or .docx, you'll pull variables from the Context Engine. Our article Context Engine Glossary is kept up-to-date with a full list of the available variables. Our article on Working with Variables explains how to use both simple and more complex variables, like queries, date ranges, and loops.
Once you've added your form content, click .
Once the form is saved, you can use the available tools to preview, edit, or delete the form.

Note: To download the blank word document that has been uploaded for an existing form, select edit next to the form and then select the Current document link.

Valid HTML
You may not be sure if the HTML you entered for a form is valid. If you enter invalid HTML, it can cause some problems when you generate the form. To check that you have entered valid HTML, copy the HTML and navigate to https://validator.w3.org/. Go to the "Validate By Direct Input" tab and paste in your HTML. Click Check. This will tell you if you have any issues.

You can also go to https://www.tinymce.com/ and use the <> Source code tool in the Tools menu to validate your code.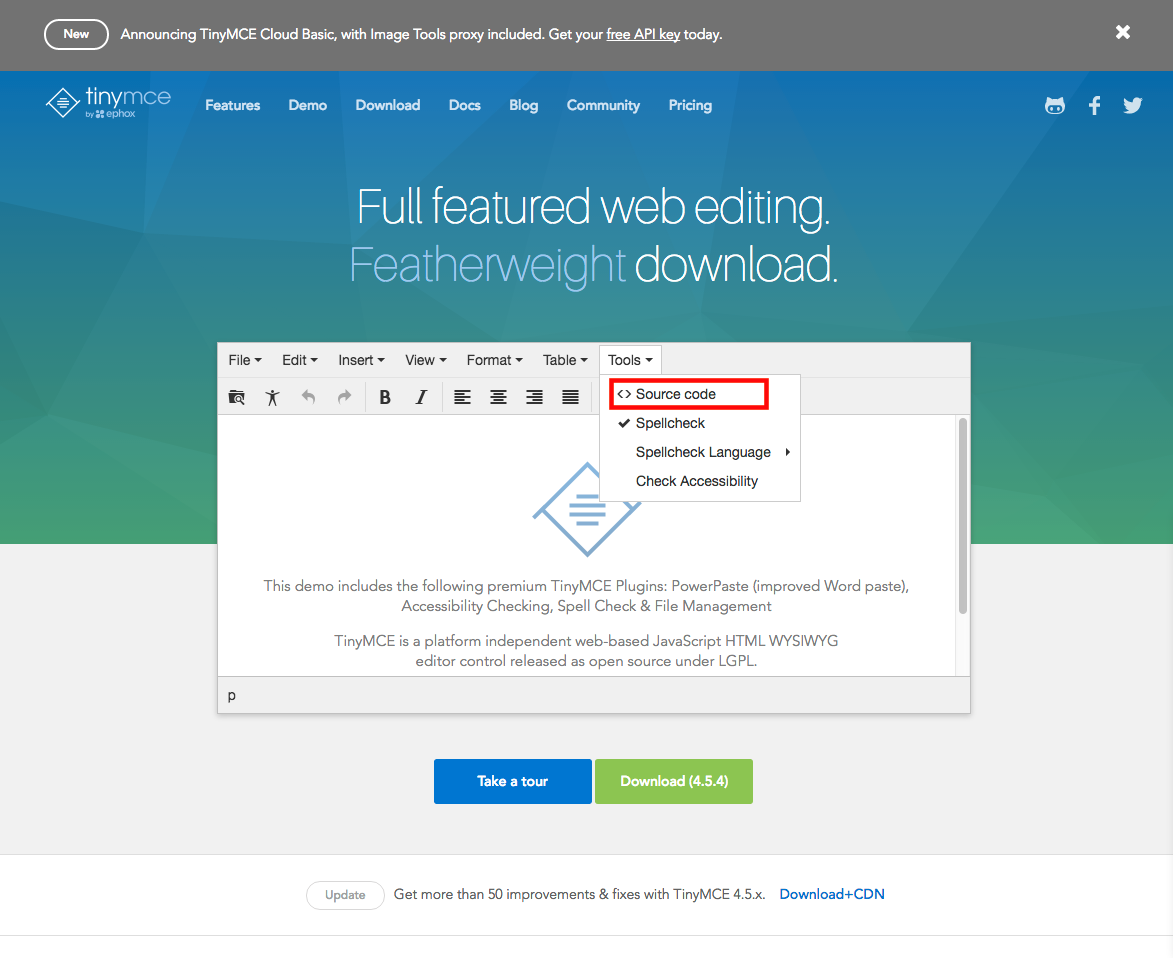 Simply paste in your HTML and click SAVE.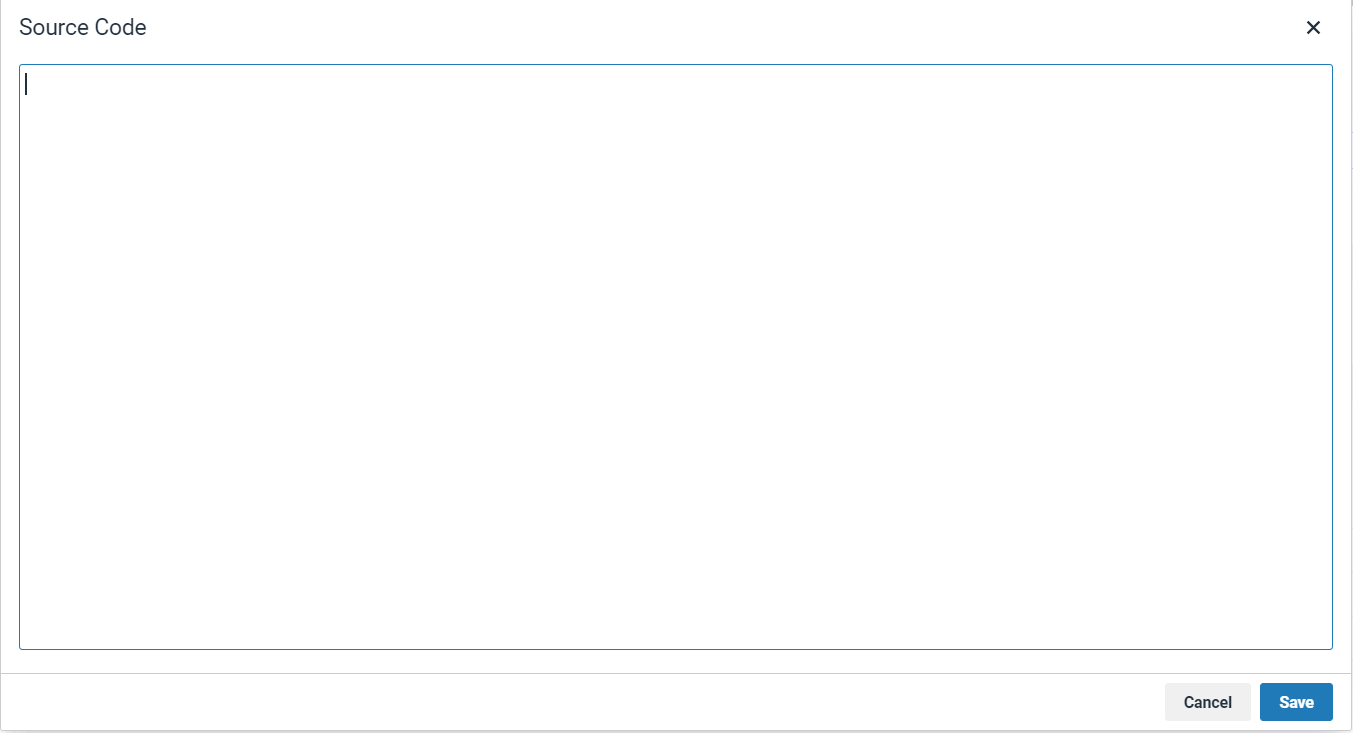 ---
---