Secure Payments
Introduction
At LoanPro, we take your security and your borrowers' payment information very seriously. To keep that information safe, our Loan Management System (LMS) is integrated with Secure Payments. Secure Payments is a service that provides PCI-compliant storage of payment data, integrations with several payment processing services, and uniform codes for failed or returned payments.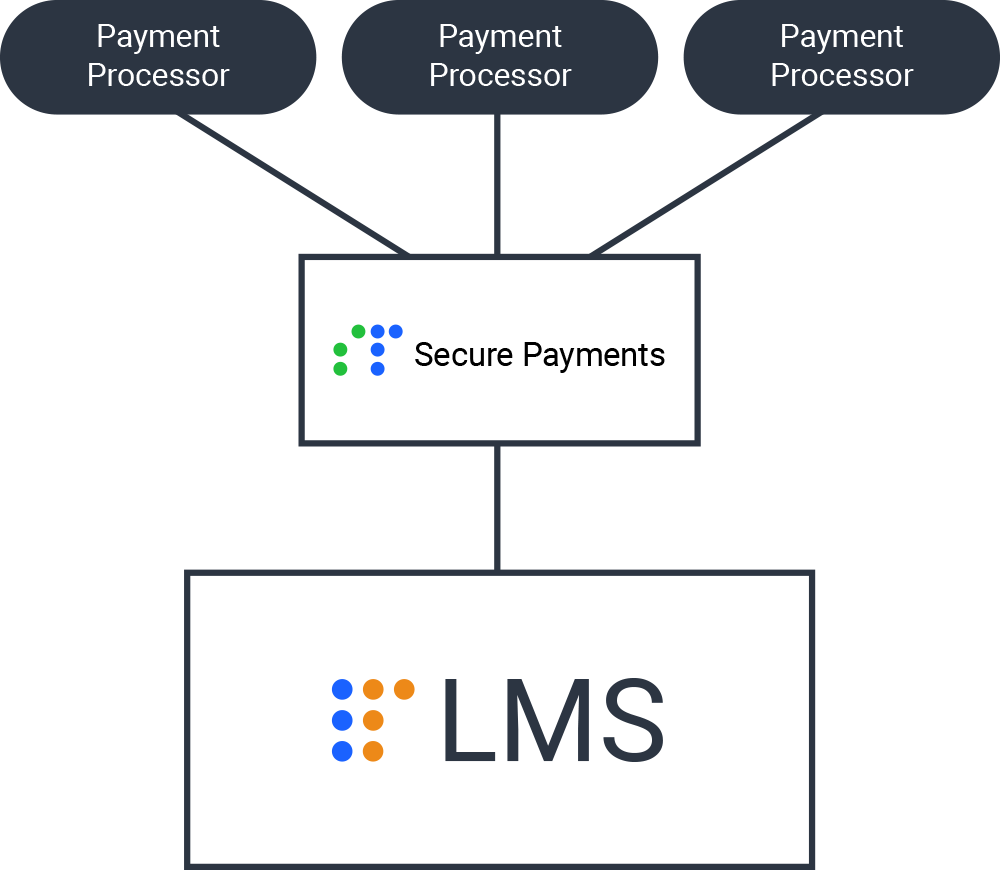 LMS is integrated directly with Secure Payments. In turn, Secure Payments is integrated with several payment processing services. This integration makes it possible for your company to be integrated with multiple payment processors or even be connected to more than one account with the same company. For example, if you want to use two different Authorize.net accounts, the integration with Secure Payments makes this possible.
Account Linking
Normally, an LMS account is linked to a sister Secure Payments account during the onboarding process. If your LMS account is not yet linked to a Secure Payments account, our article Account Setup in Secure Payments explains the process.
Integrating Payment Processors
The integration with Secure Payments is best accessed directly inside LoanPro by navigating to Settings > Company > Merchant > Secure Payments.

The main page lands you on the Account tab, which lets you view some account information including the Secret Key and Token used to integrate the account. You can also view your account status, change the password, view your balance, and more.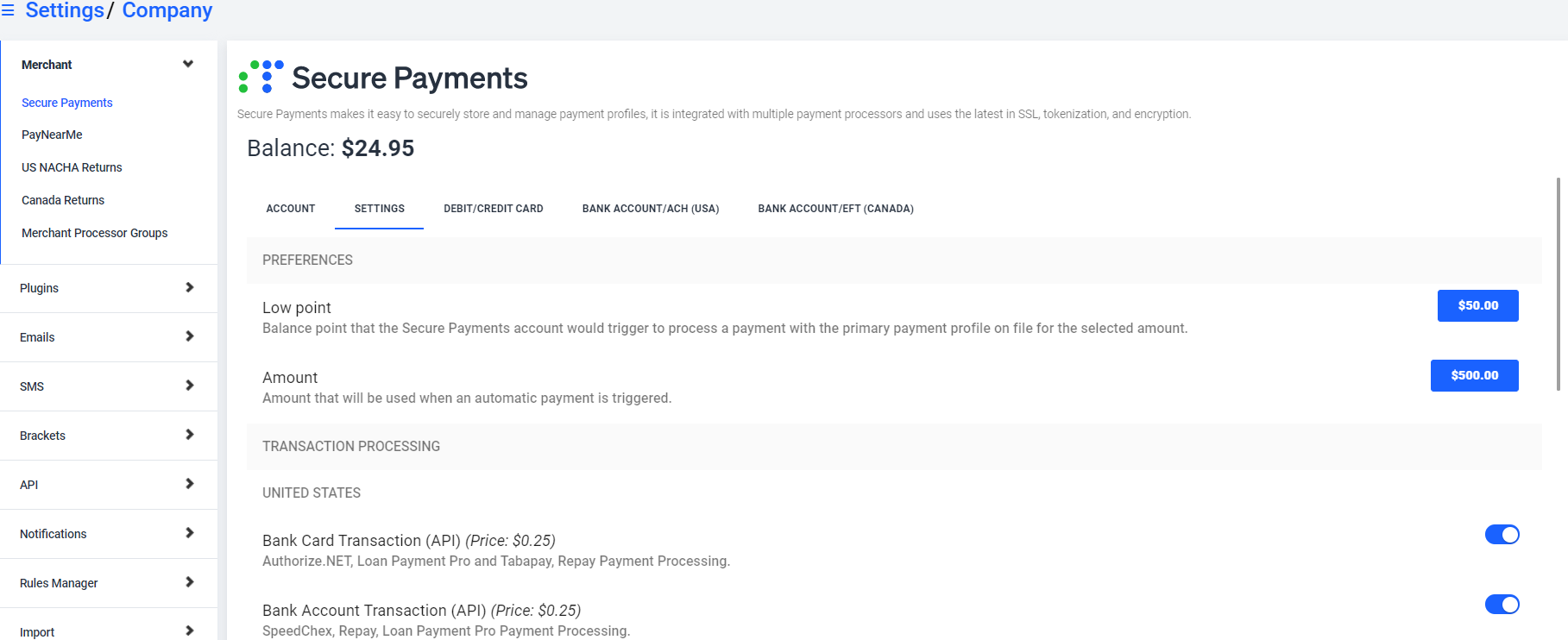 Settings Tab
In the settings section, you can turn different Secure Payments Actions on or off:
US Bank Card and ACH Transactions
NACHA processing
Canadian Bank Card and EFT Transactions
CPA-005
Routing Number Lookup
Address Verify
Card Attribute Lookup
You can also set the low balance for your account and the replenish amount for your account. The low balance is the lowest balance the account can reach before more money will automatically be added. The replenish amount is the amount that will be automatically added when your Secure Payments account hits its low balance.
Debit/Credit Card Tab
The Debit/Credit Card Processors tab lists the processors for US-based cards, which include Authorize.net, LoanPaymentPro, TabaPay, and Repay. Click the "Add Processor" button to create a new one, and the edit or delete icons to the right of each processor to make changes.

Bank Account/ACH (USA) Tab
Here you can add, edit, and delete processors for US-based e-checks, namely SpeedChex (ACHQ), LoanPaymentPro, Repay, Actum, and NACHA type processors.

Bank Account/EFT (Canada) Tab
This tab lists your Canadian e-check processors, including VersaPay, EFT Canada, and CPA-005.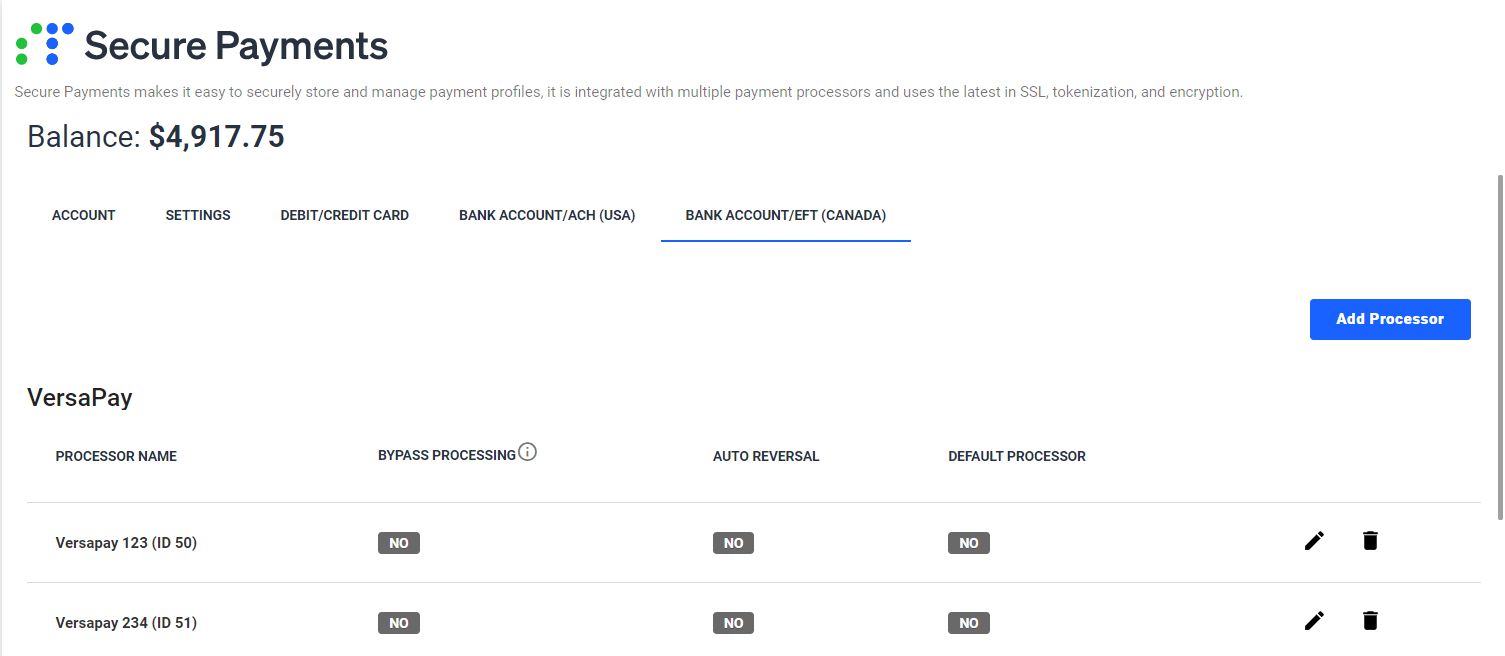 ---
---