Bank Account Verification Through ValidiFI
What is ValidiFI?
NACHA has supplemented their fraud detection standards by requiring that bank account validation. LoanPro is integrated with ValidiFI, whose services can help you validate your borrower's bank accounts. These tools enable you to detect and prevent fraud, and maintain compliance with NACHA's due-diligence rules or any laws that your company is subject to. NACHA recognizes them as a preferred partner for account validation, meaning they can be trusted to provide top-tier service in this area.
Their integration with LoanPro makes it simple and easy to validate any payment profiles you've entered on Secure Payments.
This article covers verification for checking and savings accounts, but we have a parallel service for bank cards — see
Bank Card Attribute Lookup
.
What are their service levels?
Through Secure Payments, you have access to three tiers of ValidiFI account validation: Basic, Standard, and Enhanced.
Basic: Basic searches cost $0.34 per validation.
Standard: Responds with AVC Result Code (1 of 13 possible codes that determine risks of the account), ACH Eligibility, and additional attributes. Standard searches cost $0.66 per validation.
Enhanced: Everything in Standard plus ValidiFI Insights, as well as a real time ping to check whether the account is open. Enhanced searches cost $0.99 per validation.
Here's a breakdown of the different analytical tools applied with each tier of validation:
| | | | |
| --- | --- | --- | --- |
| Analytics Tool | Basic | Standard | Enhanced |
| Routing Number Validation | X | X | X |
| Account Number Structure | X | X | X |
| ValidiFI Bank Risk Data | X | X | X |
| Third Party Data | | X | X |
| Merchant Data | | X | X |
| Banking Data | | X | X |
| ValidiFI Insights Data | | | X |
Configuration
Within Secure Payments, click Actions on the navigation pane on the left of the screen.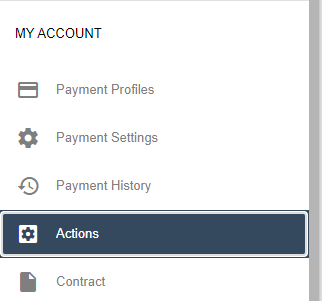 This page lists the different actions available in Secure Payments and lets you toggle each of them on or off. ValidiFI's services are listed as 'Bank Account Attribute Lookup', found near the bottom.

The drop-down menu lists the available service tiers.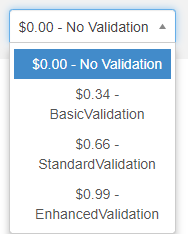 Validating an Account
Now that you've turned on bank account controls, the system will automatically validate any payment profiles you add. Once you've created a payment profile, just navigate back to it in the Secure Payments UI and you'll see all the information ValidiFI found on the account. Add or edit a payment profile, then go to Customers > select a specific customer > Payment Profiles.

The Validation Response is a result, shorthand for what ValidiFI discovered. If there is an issue, it will be explained in the Message. This basic validation sample gives a result code of AVC8, and the message explains that while the routing number is valid, that bank has never used account numbers like the one this borrower gave. This would indicate either a simple typo or perhaps an attempt at fraud; in either case, the payment profile is likely unusable.
Result Codes and Controls
When an account is validated, the system will give you a result code explaining the results. You can configure your settings so that Secure Payments will not attempt to process payments from profiles with the result codes you specify. In the navigation pane at the left, select Bank Account Control. Toggling each result will determine whether the system will attempt to process payments with those codes. If a result code is turned on, the system will accept payment profiles that return it.

This table explains what each indicates:
| | | |
| --- | --- | --- |
| Result Code | Result | Message |
| AVC0 | Unexpected Service Disruption | An unexpected service disruption with one or more data sources occurred. |
| AVC1 | Invalid Routing Number Structure | The Routing Number structure does not conform to the ABA standard. |
| AVC2 | Suspected Bad Routing Number | The Routing Number structure conforms to the ABA standard but has a history of returns for an invalid routing number |
| AVC3 | Routing Number Not Found | The Routing Number is not found within the ABA list of Routing Numbers. |
| AVC4 | Routing Number is Not ACH Capable | The Routing Number is not Active, not ACH capable, or is of the wrong type according to the ABA list of Routing Numbers. |
| AVC5 | Suspected Bad Account Pattern | The Routing Number is valid, active, and is ACH capable. The Bank Account Number is suspected to be invalid, or has a length or pattern with a history of returns for invalid account. |
| AVC6 | Valid Account with History of Recent Returns, Unpaid, or Stop Payments | The Routing Number is valid, active, and is ACH capable. The Bank Account Number is valid and there is recent histrory of returns/unpaid or stop payments seen in ValidiFI's database. |
| AVC7 | Valid Routing Number with Limited Account Pattern and No History of Recent Transactions | The Routing Number is valid, active, and is ACH capable. There is limited history of the Bank Account pattern and no history of recent transaction seen in ValidiFI's database for the provided Bank Account Number.The Routing Number is valid, active, and is ACH capable. There is limited history of the Bank Account pattern and no history of recent transaction seen in ValidiFI's database for the provided Bank Account Number. |
| AVC8 | Valid Routing Number with No History of Account Pattern | The Routing Number is valid, active, and is ACH capable. There is no history of the Bank Account pattern seen in ValidiFI's database for the provided Bank Account Number. |
| AVC9 | Valid Routing Number and Account Pattern | The Routing Number is valid, active, and is ACH capable. The Bank Account pattern is valid. |
| AVC10 | Valid Routing and Bank Account with Recent Transaction History | The Routing Number is valid, active, and is ACH capable. The Bank Account Number is valid and there is recent history of Bank Transaction seen in ValidiFI's database. |
| AVC11 | Valid Routing and Bank Account with Verified Good Transaction History | The Routing Number is valid, active, and is ACH capable. The Bank Account Number is valid, has history of good transactions, and there is no recent history of returns seen in ValidiFI's database. |
| NV | 99 | Not Validated |
---
---