Customer-Facing Website – Next Steps
Introduction
A customer-facing website is an online portal where potential borrowers can apply for loans and current customers can view their information or make payments. This is a simple tool that's meant for mid-size lenders that don't have the resources to build out their own website; larger operations typically create a website and integrate it with LMS.
This article will explain how to set up a customer-facing website, including information about site-wide settings and individual pages. It will also walk through extending access to borrowers, and what the site looks like from their side.
This all builds on the groundwork laid out in Customer Website 101. If you're not familiar with the concept, that article gives a little more background on the feature, what it can do, and it's limitations.
How The Customer-Facing Website Works
Setting up a customer website will involve a few steps:
Company Contact Information. Choose a subdomain for your website URL.
Page Settings. Decide which pages to include and what they'll say.
Site Management. Set the theme and colors.
Access Settings. Govern what customers will be able to see and do.
And you can always go back and change the settings, content, or look of your website, even when it's published.
Company Contact Information
The first thing you'll want to do is set up your URL. Log into LMS and navigate to Account > Company Profile > Company Contact Information.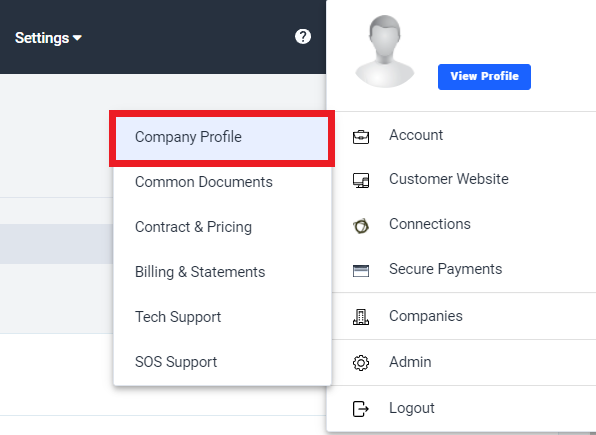 From there, click 'Edit' and change the Web Domain name to whatever subdomain name you'd like in your URL. This is the subdomain only, which means your URL will be whatever you enter in this field, plus .loanpro.software at the end. For instance, if you entered bluetreelending in this field, your full URL would be bluetreelending.loanpro.software.
To get a domain that is more custom, you can register one yourself and then forward it to the URL configured in this step.
You and your customers can view the website from any web browser.
Page Settings
Page Settings are where you'll create the actual content for your website. You can add a logo and social media links to your customer website, customize each page, and control which new loan applications you want displayed.

Each page of the website has it's own editor page in LMS. You can decide which pages to turn on, and create content for them.
Here's a rundown of what's available:
| | |
| --- | --- |
| Page | Description |
| | The landing page for your website, this is the first thing a visitor will see. |
| | A page to explain who you are and what you do. |
| | Privacy policies, which you may be required to publish depending on the type of data you gather and the regulations you're subject to. |
| | Any legal information you're required to post to comply with federal, state, or municipal regulations. |
| | Frequently Asked Questions and their answers. |
| | A place where you can publish testimonials about your company's products and services. |
| | Links your support lines, emails, and social media. |
Site Management
The site management area lets you set basic information for the theme and colors of your website. You can select a main background, alternate, and text color by either dragging your cursor on a color palette or entering a specific shade's hex code, letting you perfectly match your website's color scheme to your brand.
Access Settings
The settings area lets you control what your customers can see and do on the website. There are eight different tabs you can navigate through to change your customer access: loan summary, payments, payment profiles, AutoPays, transactions, documents, insurance, and general. For more detailed information, take a look at Website Loan Access Settings.

Customer Login
Borrowers can log in to this site by clicking the Login link on the main page. In the last section, you saw how to control access for the entire site, but individual customers also need access granted to them. Their login credentials can be added in the Web Access Information section of the customer's Contact & Personal Information. Web access can be enrolled for in Customer Links & Access. 
When the customer logs in for the first time, they will be asked to change their password.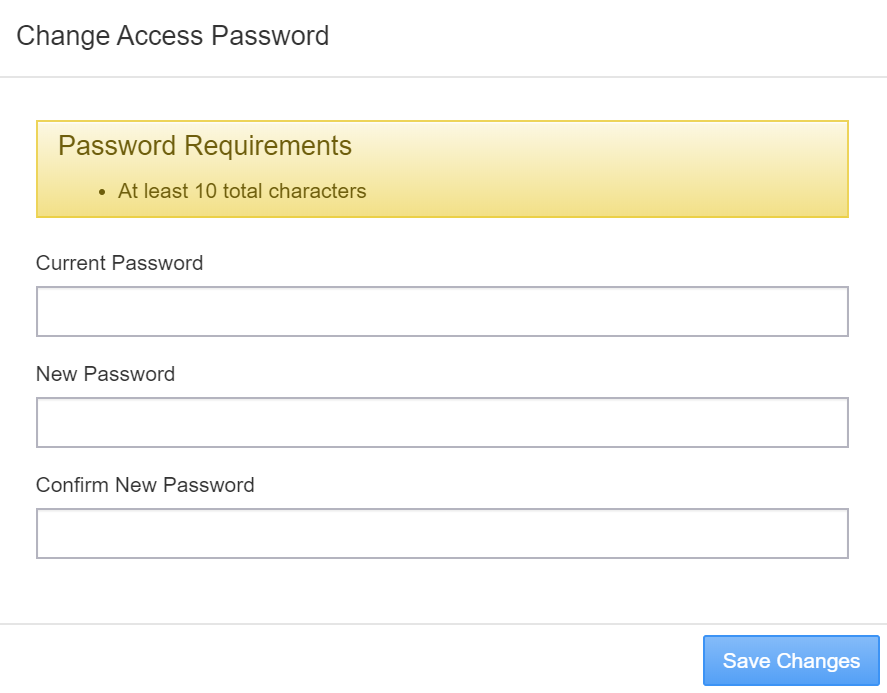 To change their password, they should simply enter their current password and then their new password. Once they confirm their new password and click 'Save Changes', they will be able to access their loans.
Our article Customer Facing Website – Customer View shows how customers can navigate the site.
Common Uses & Questions
Can I add custom CSS or JavaScript to further customize the site? Unfortunately, no. Custom code could introduce security risks that are incompatible with the security certifications LoanPro maintains.
What if I already have my own website, but I want to offer the login options? No problem. Lenders will often iframe in the login area on their existing websites. For information on how to set it up, check out our article on the Customer Website Login Iframe.
What if I want to use my own domain name? Most domain registrars offer forwarding and masking as part of their service. You can forward a whole domain or a single page to the customer portal LoanPro provides.
What's Next
From here, you could start putting together your own customer-facing website. You might start with editing the Website Theme and Colors. We also have articles explaining what you can do on each individual page:
When you're happy with the content of your website, our article Website Loan Access Settings can help you give borrowers login access, and Customer-Facing Website Customer View will show you what they'll see when they get in.
---
---