Enhanced Funding Report
Audience: Upper Management, Accounting, Loan Servicing/Collections Managers, Administrator, Data
Introduction
As you issue loans and fund loans, you may want some metrics to show just how much money you're sending out. The Enhanced Funding Report can give you a comprehensive breakdown of all the funding transactions you've made through our enhanced funding tool.
Note that this report is for the Enhanced Funding Tool, a newer addition to our loan management system. Transactions made with the older
Funding
tool will show up in the
Funding Report
.
How to Run an Enhanced Funding Report
First, you'll need to navigate to Reports > Transactions History.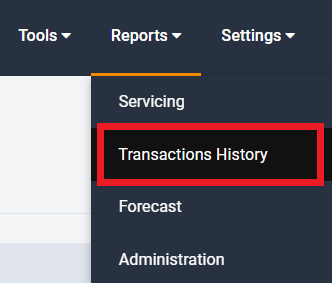 That lands you at the page where you'll see all reports on different kinds of transactions. Make sure you select "Enhanced Funding", and not just Funding, which will bring you to the funding report for the older tool.

From there, you can add any filters and run the report. Here's a quick rundown of your filtering options:
| | |
| --- | --- |
| Filter | Description |
| Keyword Search Bar | You can type in a customer name, loan ID, or display ID. |
| Date Period | When the transaction took place. You can choose from a list of default options (This Week, 30 Days, Last Year, etc.) or type in your own custom date range. |
| Status | Whether the funding transaction went through. The status filters include Any, Failed, None, Pending, Reversed, and Success. |
| Method | This lets you filter by the method used to disburse funds. Options include Cash Drawer, Debit/Credit Card, Bank Account/ACH Deposit, Print Check, EFT Transfer, and Other. |
| Category | This lets you filter by your own custom labels for different funding categories. |
| Advanced Option Search | These let you filter by other criteria, like loan grouping, brackets, and human activity. For a complete list of what's available, see our article on Advanced Option Search. |
After you've added any filters, click the magnifying glass next to the Keyword search bar, and the system will generate a report based on your filtered data set.
Common Uses & Questions
Here are some specific use cases for individual roles at your company.
Upper Management Use

Whether or not you're the one actually configuring and running the report, having an accurate insight into how you're funding loans is critical for assessing the health of your overall business. Funding transactions represent your investment in each loan, so this report and a

Forecasted Payment Report

lets you compare the real dollars you're putting in to the potential earnings you'll get back.
Accounting Use

If you use LMS's Enhanced Funding Tool, then this report is an invaluable means of tracking just how much money you're sending out, and which types of accounts are receiving it. You can use it in tandem with others, like the

Payment Breakdown Report

, to visualize the balance between how much you're funding and the return on that investment.
Loan Servicing/Collections Managers or Administrator Use

This report can help you identify any problems with your funding process. For instance, you can filter the status to show only transactions that failed, and then see if you can find a similarities in payment method, category, or other criteria. If you detect a pattern leading to failed transactions, adjust your process to account for it. After these changes have been in place a while, you can use the same report to see if your changes have had an effect.

You may also want to use the

Data Options

drop-down in the top right to queue customer communication to any loans that match your filter.
Data Use

As with all our reports, you can use the

Data Options

drop-down in the top right to schedule a recurring report. You can also export the data from any report into a .csv file.
Will funding transactions with the old funding tool show up here? They don't. Enhanced Funding and the older funding option are treated as two separate tools in the software, and that distinction is reflected in their reports as well.
What's Next
For some nitty-gritty reporting details, you'll want to check out our articles on some of the additional tools at your disposal when running reports.
Advanced Option Search goes over the other filters you can use on searches, like loan statuses, brackets, alerts, or human activity.
Data Options explores what you can do with the information your report pulls, like creating a Collector Queue, sending customer communication, or downloading the info in a .csv file.
Schedule Reports shows how to automate your reports so they happen regularly.
---
---