Report Credit
General
LoanPro works with Credit Manager so that you can report your credit in a comprehensive and easy way. There are two prerequisites to reporting credit. First, you need a credit reporting account with at least one of the major credit bureaus. This is different than a credit pulling account. If you already have an account with one of the credit bureaus, it is most likely a credit pulling account. The second thing you need is to buy Credit Manager. Credit manager can only be installed on Windows computers. Once you have those two things taken care of, you are ready to report credit.
Setup
Credit Bureaus
Getting an account to report credit is not something that is given automatically. Your company will have to complete whatever process each credit bureau requires in order to sign up with them. Here is some basic information about the major credit bureaus that may be helpful in deciding which one(s) to sign up with:
Credit Reporting Options
Most of our mid-market customers report credit using Credit Manager. LoanPro exports credit data in a way that works well with reporting through credit manager. However, large customers often extract data, verify, scrub, and report to the credit bureaus themselves.
The easiest way to do this is to pull the data directly from the database. This is only an option if you have direct database access with LoanPro. Credit reporting data includes the following:
Once the data is gathered, it can be reported through a software like Credit Manager. It can also be reported directly to the credit bureaus. This can be done by formatting the data in Metro 2 format. Here are the Experian guidelines on formatting data: https://www.experian.com/assets/communication-energy/brochures/data-reporting.pdf. All that is required to report directly to most credit bureaus is a data furnishers agreement, which is required to report via any method.
Credit Manager Setup
Once you install Credit Manager, you will need to follow these steps in order to complete your setup:
Download the .ID4 file and save it on your computer
To do this, navigate to Tools > Credit Reporting inside your company account.

Expand the Setup Section by clicking .

Click either 'Canada link file' or 'US link file' to download the appropriate link file. Make sure you save the file to a location on your computer where you will be able to find it.
Place the file in the following folder: Users\[Your User Folder Name]\AppData\Roaming\TSBSoftware\Credit Manager 4\ImportDefs on your computer.
How To
Export Data
To report credit, first, you should export your customer credit data. To do this navigate to Loans > Loan Manager inside your company account.

Search for the accounts for which you want to report credit. From the Data Options drop-down, choose Credit Report > Export Accounts. This will take you to Tools > Credit Reporting where you can export the credit data for your accounts. Click   to export the data.

Now click   to download the credit data. The credit data will be downloaded in a password-protected .zip file. To extract the contents of this file, you will need a password, which can be found in the Password column of the Credit Reporting History table. Our password is 152638f. Now that you have downloaded credit data for your customers, you can import it into Credit Manager.
Credit Manager
Open the Credit Manager application on your computer.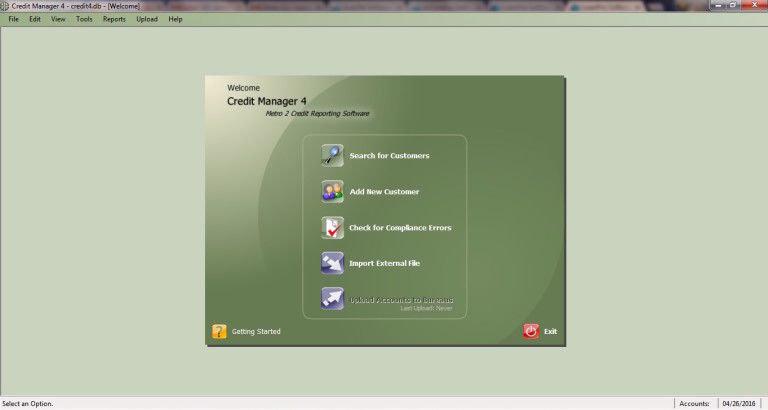 First, we'll change one setting to make credit reporting easier. From the Tools menu, choose Options.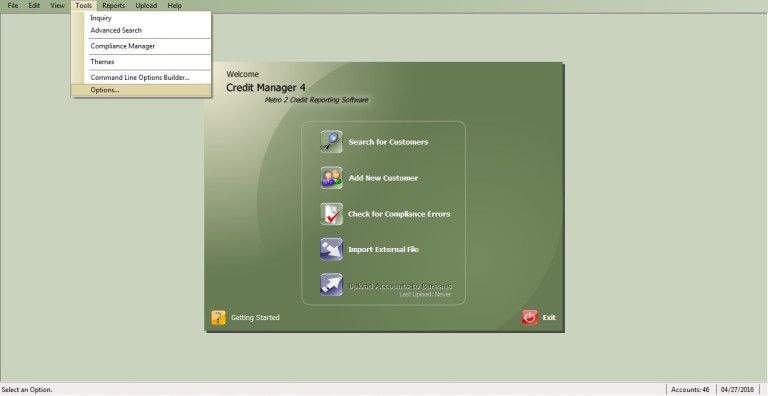 This will bring up a dialog box.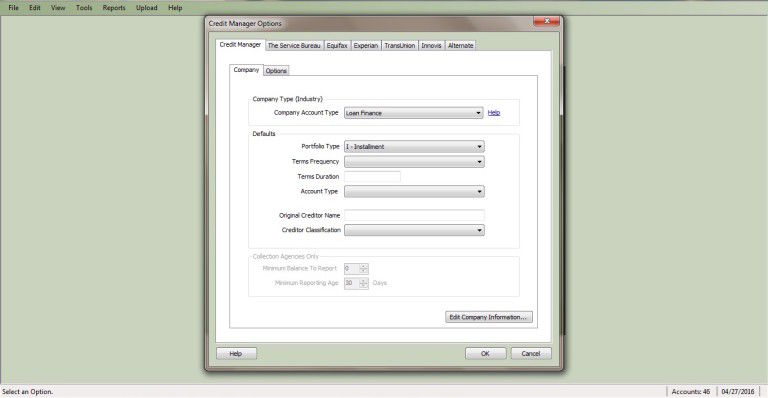 Go to the Options tab.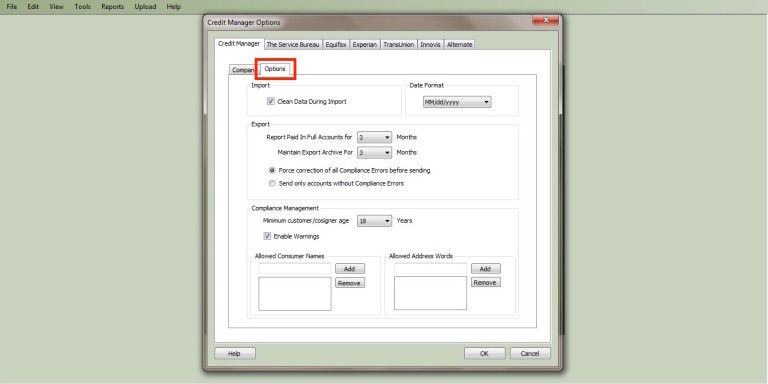 Make sure the box labeled Clean Data During Import is checked, and click OK.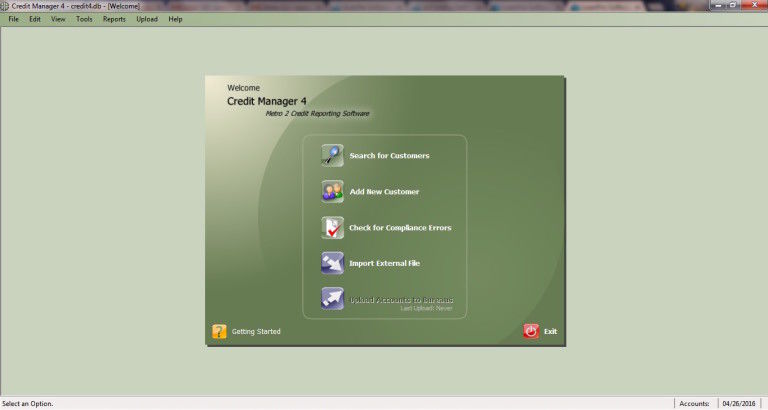 Now you can import your credit file. Click Import External File.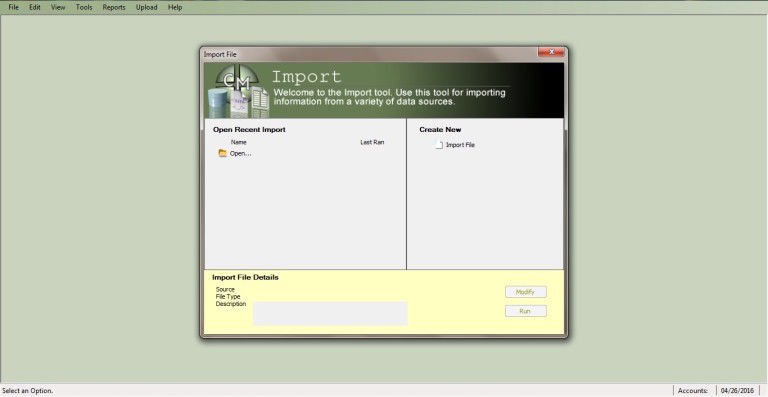 Click Open…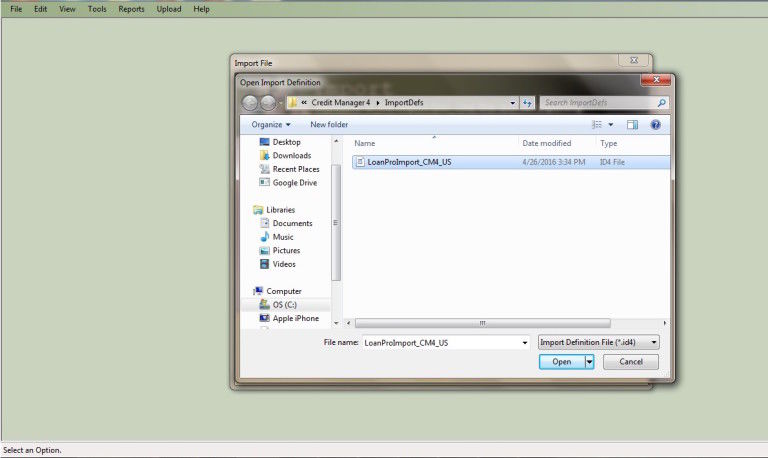 Choose the LoanProImport_CM4 file and click Open.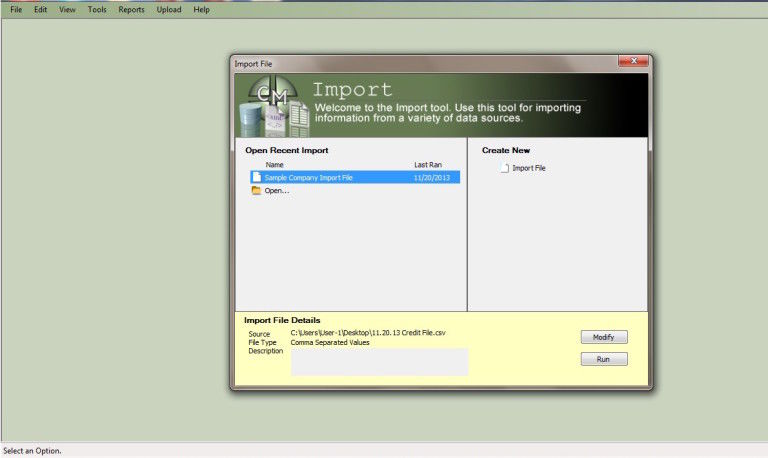 Now click Modify.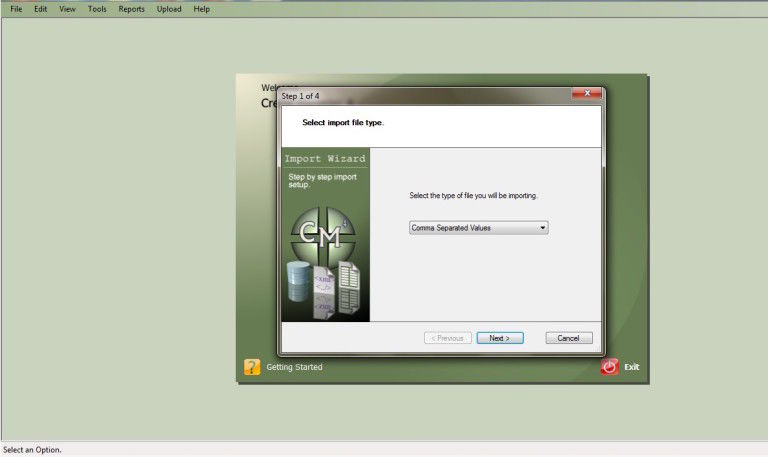 Click Next >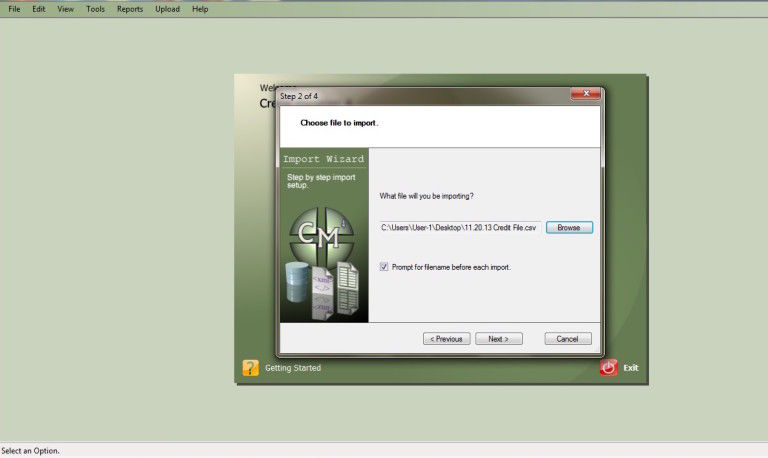 Click Browse and locate the credit data file you exported from LoanPro.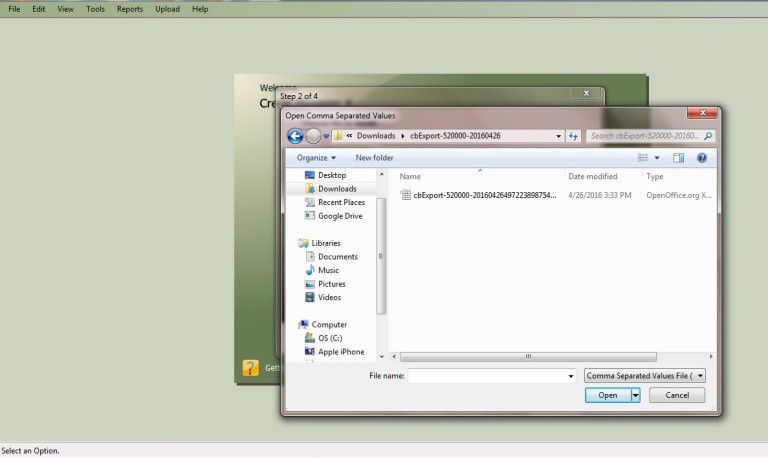 Select the file and click Open.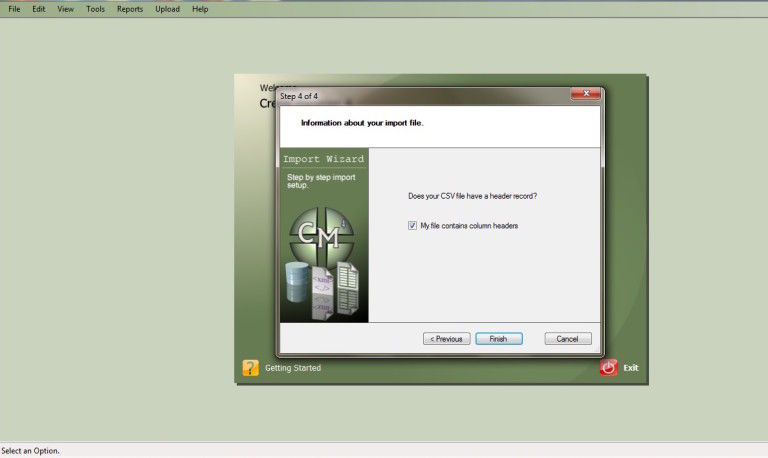 Make sure the box labeled My file contains column headers is checked, and click Finish.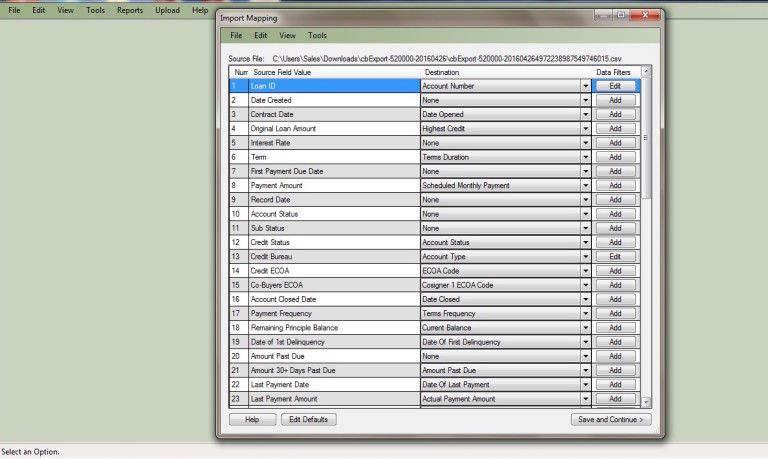 Click Save and Continue >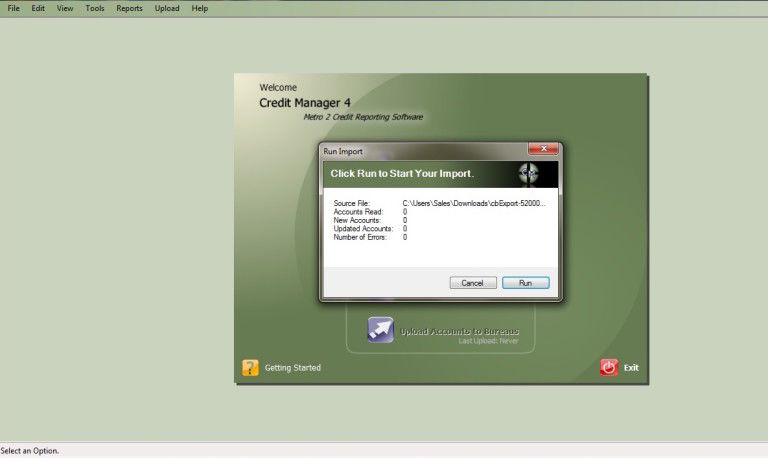 Click Run to start your import.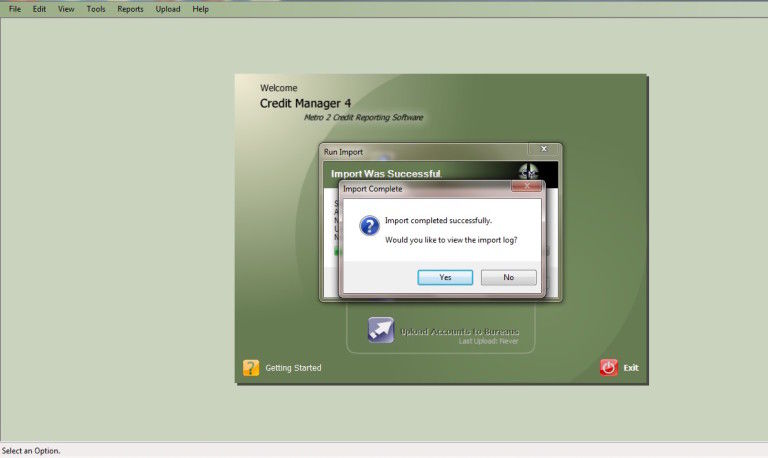 Once the import is completed, you will be asked if you want to see the import log. This log will show you any errors that were found during the import process. We will have the system look for errors separately from this, so click No.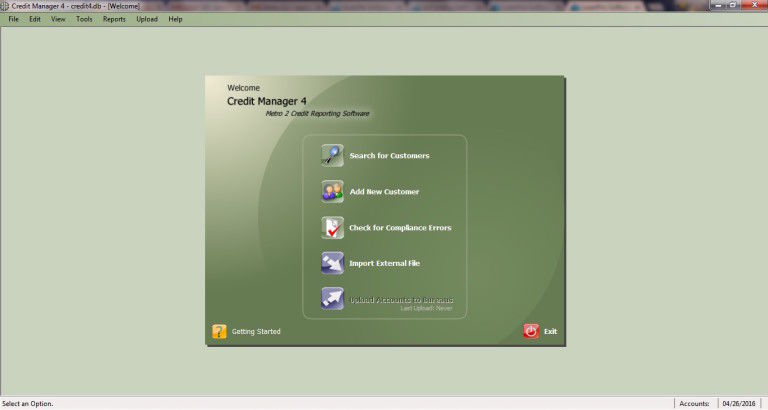 Click Check for Compliance Errors.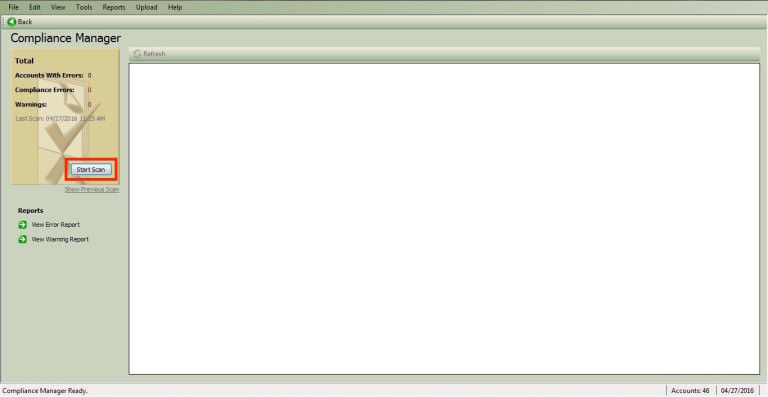 Click Start Scan. This will scan you file and find any errors and display them to you. Once the scan is complete, if you have any errors, the best option is to make changes directly in LoanPro and re-export your credit data. If you don't want to do this, you can make changes to the CSV file you exported and then re-import it into Credit Manager. If your scan returned no errors, click Back to go to the main page.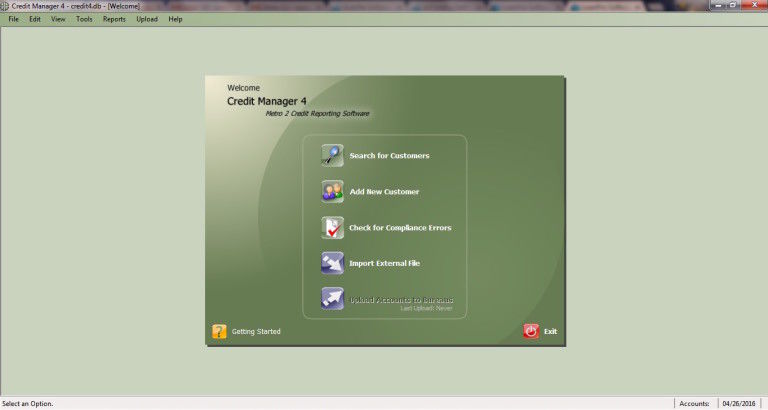 Click Upload Accounts to Bureaus. You are done!
---
---