Interest Adjustment Transactions
Audience: Loan Servicer or Collector, Accounting, Loan Servicing/Collections Managers, Administrator, Compliance
Introduction
Over the course of a loan's life, adjustments will likely be necessary. We recognize this and have created the Interest Adjustment Tool to give you and your team more control over the loans you manage. The new tool is available for all users and allows you to easily increase or decrease due interest on an account. This tool is incredibly useful to those who need an easy way to adjust interest on the loans you offer, such as users who import existing loans into LoanPro's LMS and need to adjust interest to match their records. The tool is also useful for those who lend to borrowers who meet the requirements for special interest rates, such as borrowers who fall under the Servicemembers Civil Relief Act (SCRA).
This tool is part of our collection of Setup Tools, and we recommend you take a look at our Setup Tools article first if you'd like to familiarize yourself more with the topic.
In this article, we'll explain how to use the interest adjustment tool and how it might apply to your business. Then, we'll cover some common questions and uses.
How Interest Adjustment Transactions Work
There are two types of interest adjustments: interest increases and interest decreases. These do exactly what you are expecting, so we'll skip the definitions. What is important to know is how the adjustments affect a loan. When you make an interest adjustment, it functions similar to how credits and charges function. While credits and charges affect a loan's principal amount, interest adjustments affect a loan's due interest amount.
If you would like to learn more about how interest is applied to loans, our Interest Application article is a good source.
Using Interest Adjustments in LoanPro
To make an interest adjustment, begin by navigating to the loan you'd like to adjust. From there, select Account Setup > Setup Tools > Interest Adjustments.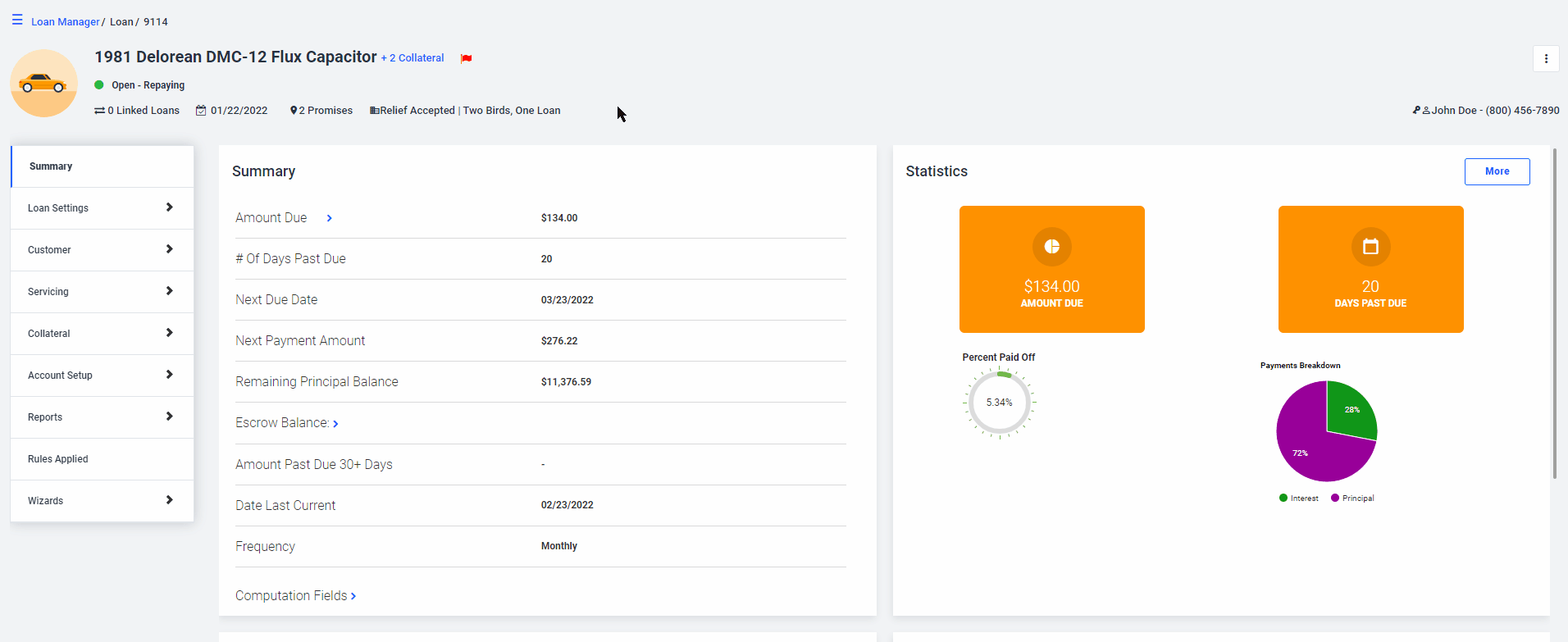 On the Interest Adjustments page, you can see the history of interest adjustments on the loan. You can also create a new one; to do so, select 'Add'.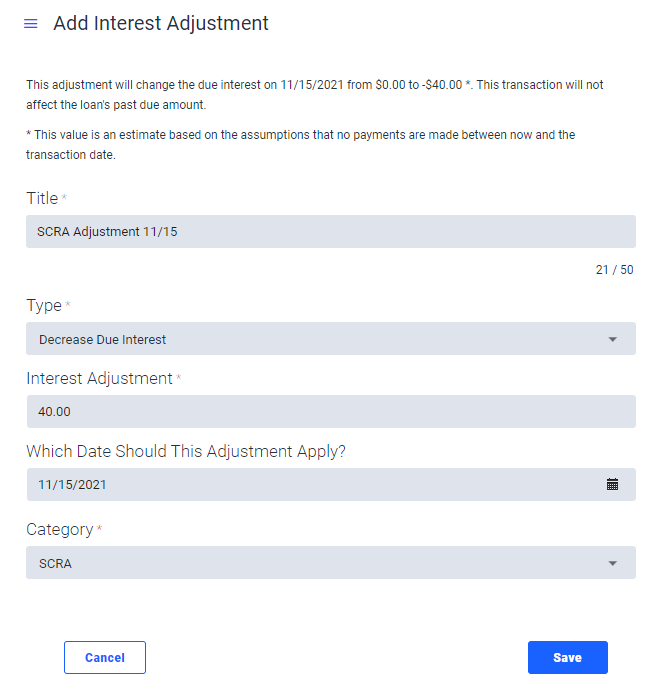 Next, you get to determine the adjustment settings. Here's a breakdown of what options are available to you.
Title – allows you to name your adjustment for easier reference later
Type – allows you to either increase due interest or decrease due interest
Adjustment Amount – the amount of interest being adjusted
Date – the date of the interest adjustment
Category – You can set categories to organize interest adjustments. You can create categories by navigating to Settings > Loan > Labeling > Interest Adjustment Categories. Interest Adjustment Categories are useful for labeling different interest adjustment situations and standardizing your adjustment practices with your team.
After finalizing the adjustment settings, click 'Save' to log the adjustment. Your adjustment will now show up on the Interest Adjustments page where you can view each transaction.

Like other types of transactions, you can also view your interest adjustment transaction history under the Reports tab. Simply navigate to Reports > Transaction History > and select Interest Adjustment History.
Common Uses & Questions
Like we mentioned earlier, this tool is especially useful if you often import existing loans into LoanPro's LMS and need an easy way to adjust interest to match your records. This is common for users who are migrating their loans into LoanPro for the first time and users who often move loan records between multiple systems. Not every loan servicing software calculates loans the same way, but the interest adjustment tool is an option for ensuring the interest portion matches for loans across multiple records.
The tool is also useful for situations where you lend to borrowers who meet the requirements for special interest rates, such as those who fall under the Servicemembers Civil Relief Act (SCRA). Say, for example, one of your lenders enters active duty after the terms of their loan have been agreed upon. If they are being charged interest at a rate above the threshold allowed by the act, an interest adjustment is an easy tool to use to remedy it.
There are also a few rare use cases that may apply to your company depending on your policies. For example, maybe your lending company offers decreases in interest in the event of a natural disaster. Regardless of your policies and situation, the interest adjustment tool is a straightforward way of increasing or decreasing the amount of due interest on a loan.
Does the Interest Adjustment Tool change a loan's interest rate?  No. The interest rate is not affected by an adjustment. The Interest Adjustment Tool simply increases or decreases the due interest amount for an account.
What's Next
Since the Interest Adjustment Tool falls under the category of Setup Tools, you may also be interested in learning about some of the other available tools. Interest is a big topic, and we have several articles that explain interest in detail such as Interest Application and Interest Calculation Types. Lastly, it may also be worth looking into some of our compliance materials.
---
---