Customer Billing
Introduction
Most lenders will send regular billing statements to their borrowers.  LoanPro provides many options for keeping in contact with your borrowers with minimal effort.  This article will cover the LoanPro billing tool and other strategies for sending billing information to your customers.
Billing Tool
The billing tool can be found by navigating to Tools > Customer Communication > Billing inside your company account.

Here you will likely see a message telling you to select loans from the loan manager.  The way most tools work in LoanPro is that you will select a group of loans first and then you will use the tools to perform specific actions for the group of loans you selected.
To select a group of loans for billing, navigate to Loans > Loan Manager.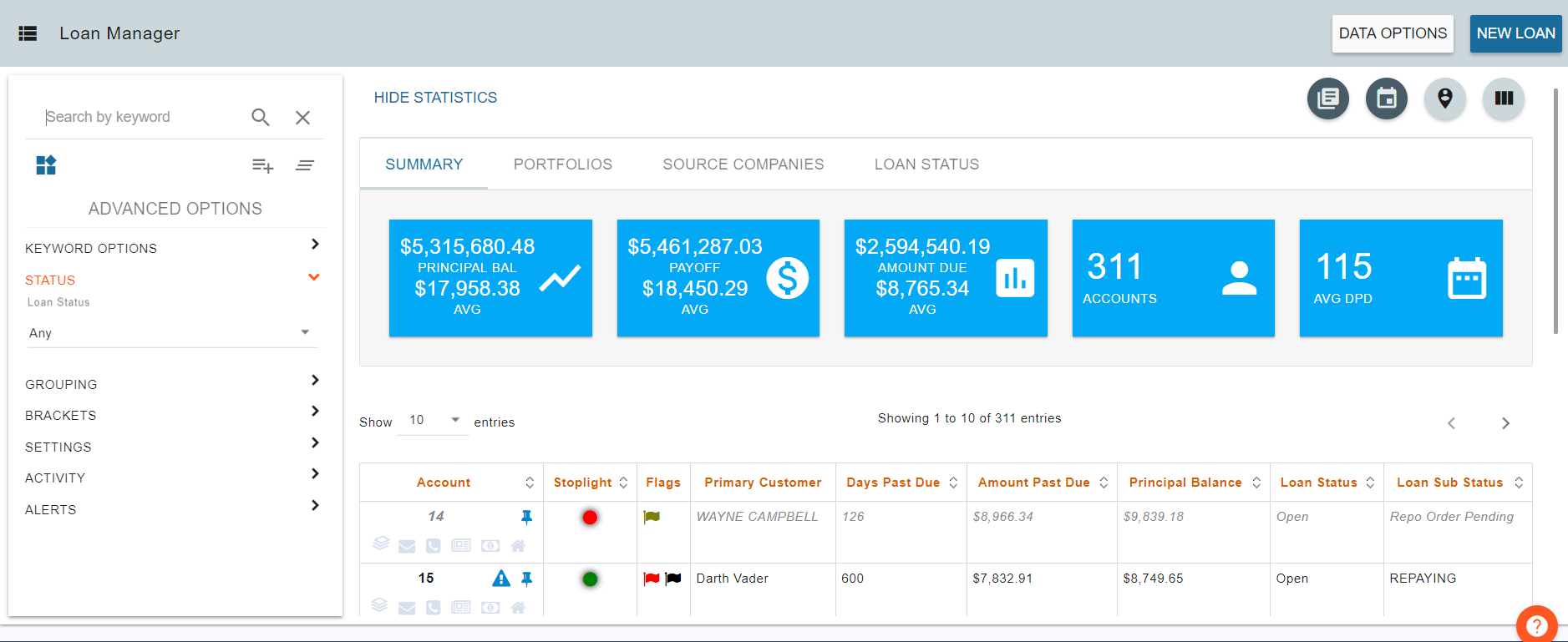 To choose loans to send to the billing tool, you can either select an entire group of loans, or you can choose loans one at a time.  To select a group of loans, first search for the group of loans that you want to send to billing, then select the Send To Billing option in the Data Options drop-down menu.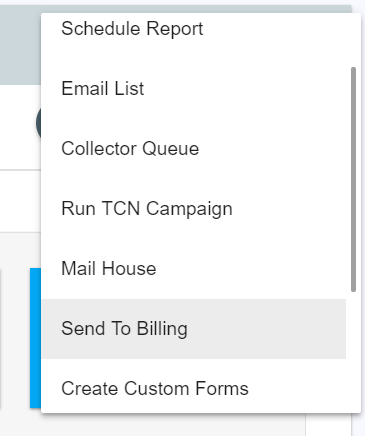 Selecting this option will take you to Tools > Customer Communication > Billing.
You can also select loans to send to billing individually by clicking 

below the loan listing.  After you choose the loans you want to bill, you will need to navigate to Tools > Customer Communication > Billing inside your customer account.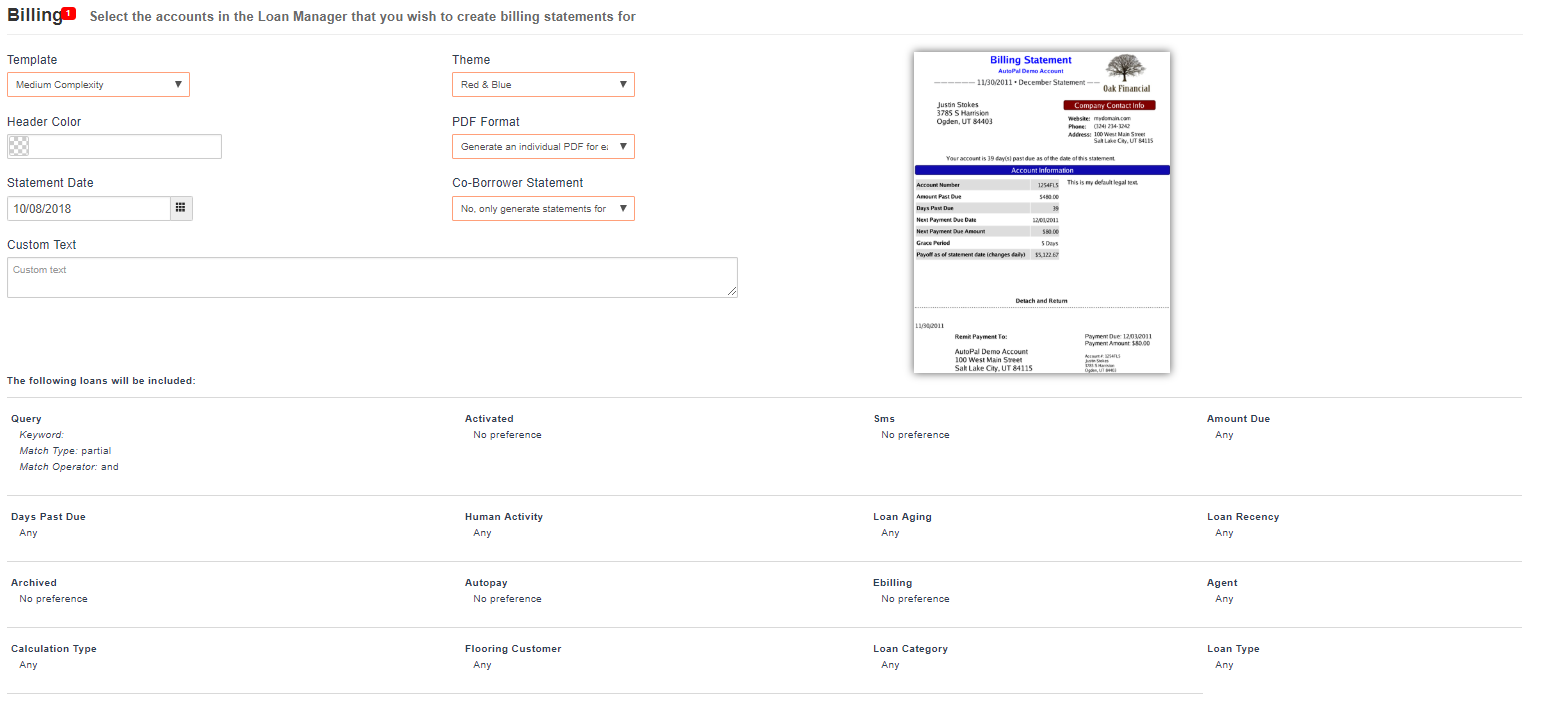 Here you can choose your billing options and then generate the bills.  At the bottom of the page you should see a list of the search criteria for which loans a billing statement will be generated. 
Now select your billing options.  The available options are:
Template – This corresponds to the template image you see at the right of this section.  This is how the printed bills will look.  The 2.0 Billing Statement works slightly differently than the rest and will give you some additional options.
Theme – You can choose between a red & blue or a black & grey theme.  Most companies don't send out color billing statements.
Header Color – This is a custom color for the bill's header.  If you click in this field you will get a color picker.  You can also enter a hex color code directly.
PDF Format – Here you can choose whether bills should generate as one large PDF file, or as individual PDF files per loan.  Usually it's easier to print one large file than to open and print individual ones.
Statement Date – This date appears at the top of the bill as the statement date.
Co-Borrower Statement – Here you can choose to generate a separate statement for the co-borrower or not.
Show Billing Transactions From – This option is only available if you chose 2.0 Billing Statement from the Template drop-down.  The 2.0 Billing statement will show loan transactions either for the current payment period or over a specified date range.  This drop-down lets you choose which option you want.

Start Date / End Date – This option is only available if you chose Custom Period from the Show Billing Transactions From drop-down.  Enter dates into these fields to specify the custom period over which loan transactions will be shown on each bill.
Custom Text – Enter custom text that will appear on the billing statement.  Most of the billing templates have an area where text you enter into this field will appear.
You can set defaults for a lot of these values by clicking  at the top of the page.
Other Billing Strategies
This method of billing works well if you print and mail bills to your customers and you're OK with the billing templates that LoanPro provides.  If you want your billing statements to be customized completely, you can create a custom form as a billing statement instead.  You can create custom forms for a group of accounts using the Create Custom Forms option in the data options drop-down.  The

  icon next to each loan listing in the Loan Manager will even let you add loans to the custom forms tool individually.
Probably the easiest way to send out billing statements is to create them as an automated email.  Automated emails can be set up so that they will be sent to your customers a specified number of days before a payment comes due.  This will save you the time and cost of printing and mailing bills and once you set up the billing email, you won't have to worry about billing for as long as you use the LoanPro system.
It is also possible, although less popular to create an SMS template and use our SMS tool to send out billing information.  Borrowers are very likely to receive bills by text, but your formatting options are limited with SMS, which makes the bills less useable.
---
---