Customer Billing
Introduction
Most lenders will send regular billing statements to their borrowers. LoanPro provides many options for keeping in contact with your borrowers with minimal effort. This article will cover the LoanPro billing tool and other strategies for sending billing information to your customers.
Sending Loans to the Billing Tool
The billing tool can be found by navigating to Tools > Customer Communication > Billing inside your company account.
Here you will likely see a message telling you to select loans from the Loan Manager. Most of LoanPro's communication tools require you to select a group of loans first and Billing is no different. Afterwards, you can use the tools to perform specific actions for the group of loans you select.

Selecting Loans
To select loans to be sent to billing, navigate to the Loan Manager. Here, you can select individual loans or use the search parameters to filter loans. In the image below, we display how to select multiple loans with a simple search filter (loans whose IDs begin with 911). However, you can make your search parameters much more complex if you'd like.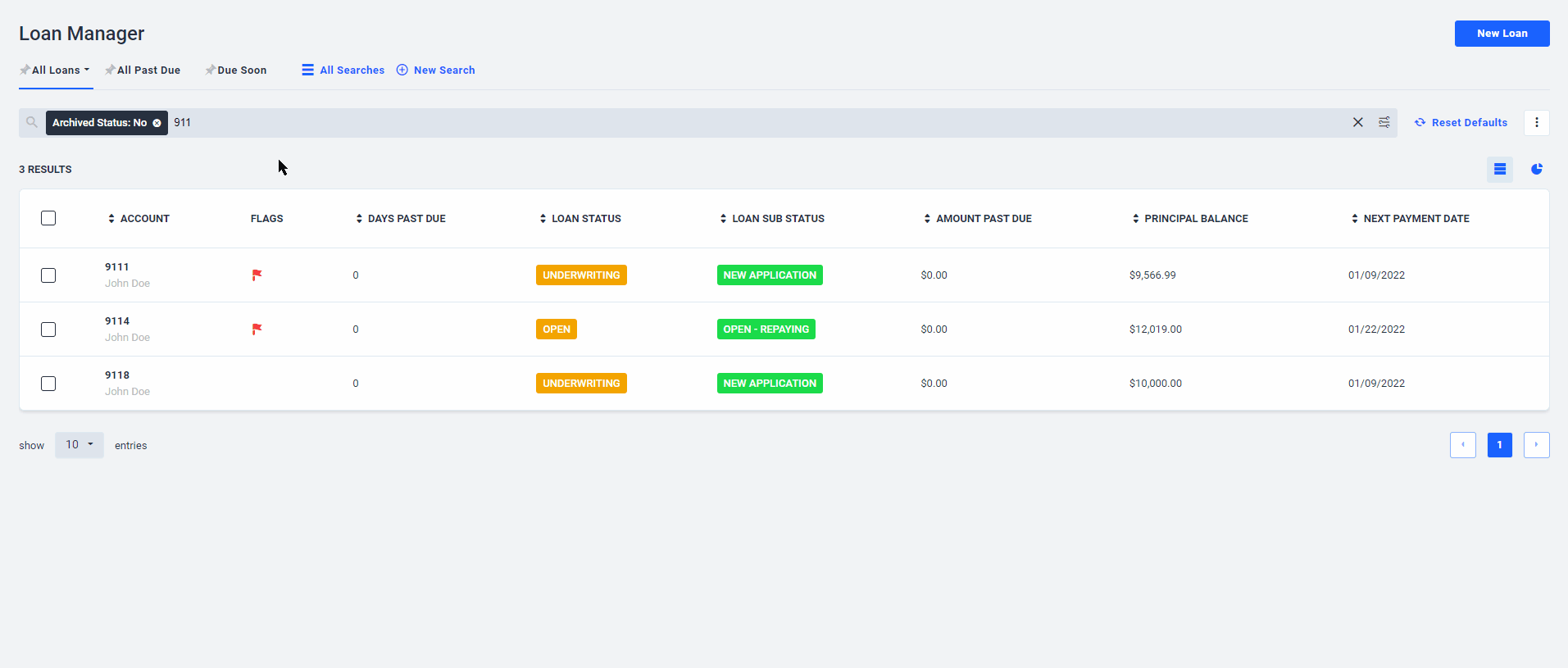 After you have selected your loans, click 'Send to Billing'. Alternatively, you can use the Data Options button to send loans the billing tool—both methods will have the same result.
Billing Information
The 'Send to Billing' button sends you (and your selected loans) to the Billing section of the Customer Communication Tool. Here, you can choose your billing options and generate billing forms.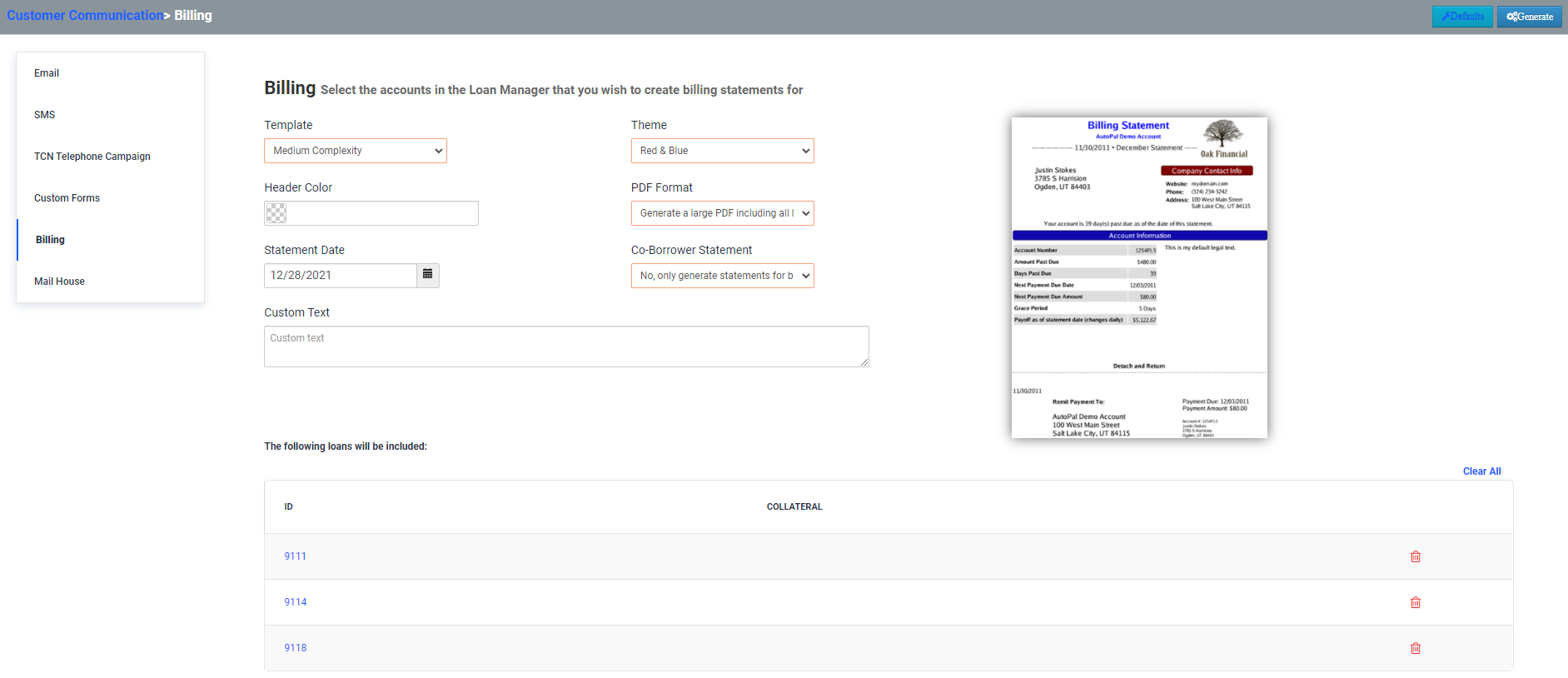 At the bottom of the page, you can remove any previously selected loans from the billing queue.
There are also multiple billing template options. Listed below are descriptions of each option:
| | |
| --- | --- |
| Option | Description |
| Template | This corresponds to the template image you see at the right of this section. This is how the printed bills will look. The 2.0 Billing Statement works slightly differently than the rest and will give you some additional options. |
| Theme | This option allows you to set a color theme for the billing statement. |
| Header Color | This is a custom color for the bill's header. Clicking on this field displays a color picker; but you can also enter a hex color code directly if preferred. |
| PDF Format | Here, you can choose whether bills should generate as one large PDF file or as individual PDF files per loan.  Typically, it's easier to print one large file than to open and print individual ones. |
| Statement Date | This date appears at the top of the bill as the statement date. |
| Co-Borrower Statement | Here, you can choose whether to generate a separate statement for the co-borrower. |
| Show Billing Transactions From | This option is only available if you chose 2.0 Billing Statement from the Template drop-down.  The 2.0 Billing statement will display loan transactions either for the current payment period or over a specified date range, and this drop-down lets you choose which to use. |
| Custom Text | This text box allows you to enter custom text that will appear on the billing statement.  |
You can set defaults for many of these values by clicking 'Defaults' in the top-right corner of the page.

Generate Billing Forms
To generate the billing forms for the loans you have selected, click 'Generate' in the top-right corner of the page.

Clicking 'Generate' will generate PDFs for the billing forms you have created. To view the PDFs, click the 'Billing' header which will now display a notification counter of the form generation requests in the last 24 hours.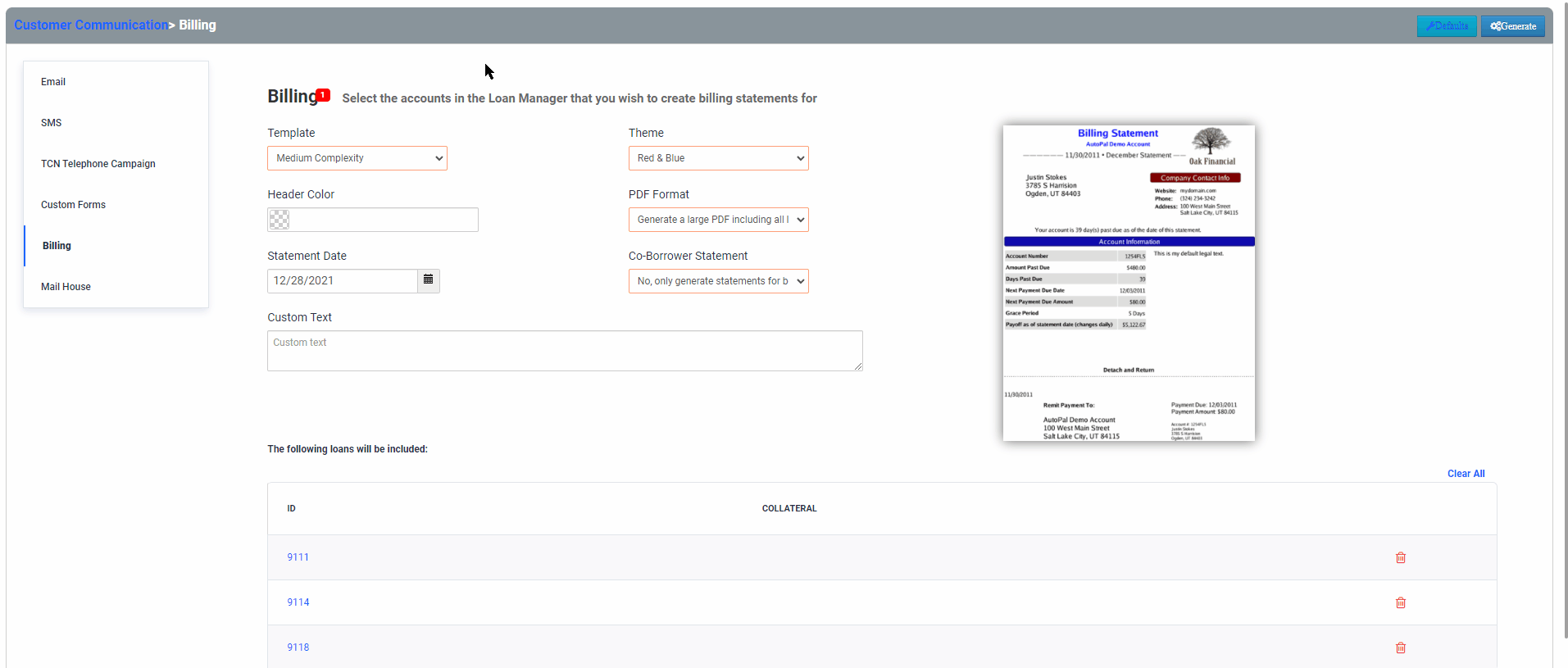 Other Billing Strategies
Using the billing tool is useful if you print and mail bills to your customers with the billing templates that LoanPro provides. However, if you want your billing statements to be entirely custom, you can create a custom form as a billing statement instead.
The easiest way to send out billing statements is to create automated email triggers. Automated emails can even be set up to send your customers statements a specific number of days before a payment comes due. This will save you the time and cost of printing and mailing bills. Once you set up the billing email, you won't have to worry about billing for as long as you use the LoanPro system.
Additionally, you can create an SMS template and use LoanPro's SMS tool to send out billing information. Borrowers will receive bills by text, but your formatting options will be limited with SMS.
---
---