Customer Overview
General
A customer in LoanPro is any individual or company that can be associated to a loan.  Customers don't have to be associated to a loan in order for them to be referred to as customers.  Our loan servicing software does not provide the full functionality of a CRM (customer relations manager) like salesforce, but customers are well organized and easy to find using the Customer Manager.
Customers can make payments, update data, and manage loans generally from the customer website.  Our loan software will let you change the look of your customer website and configure the access customers have to the website.
You can enter customer data manually into the system, but you also have the option to import customer data.
Sections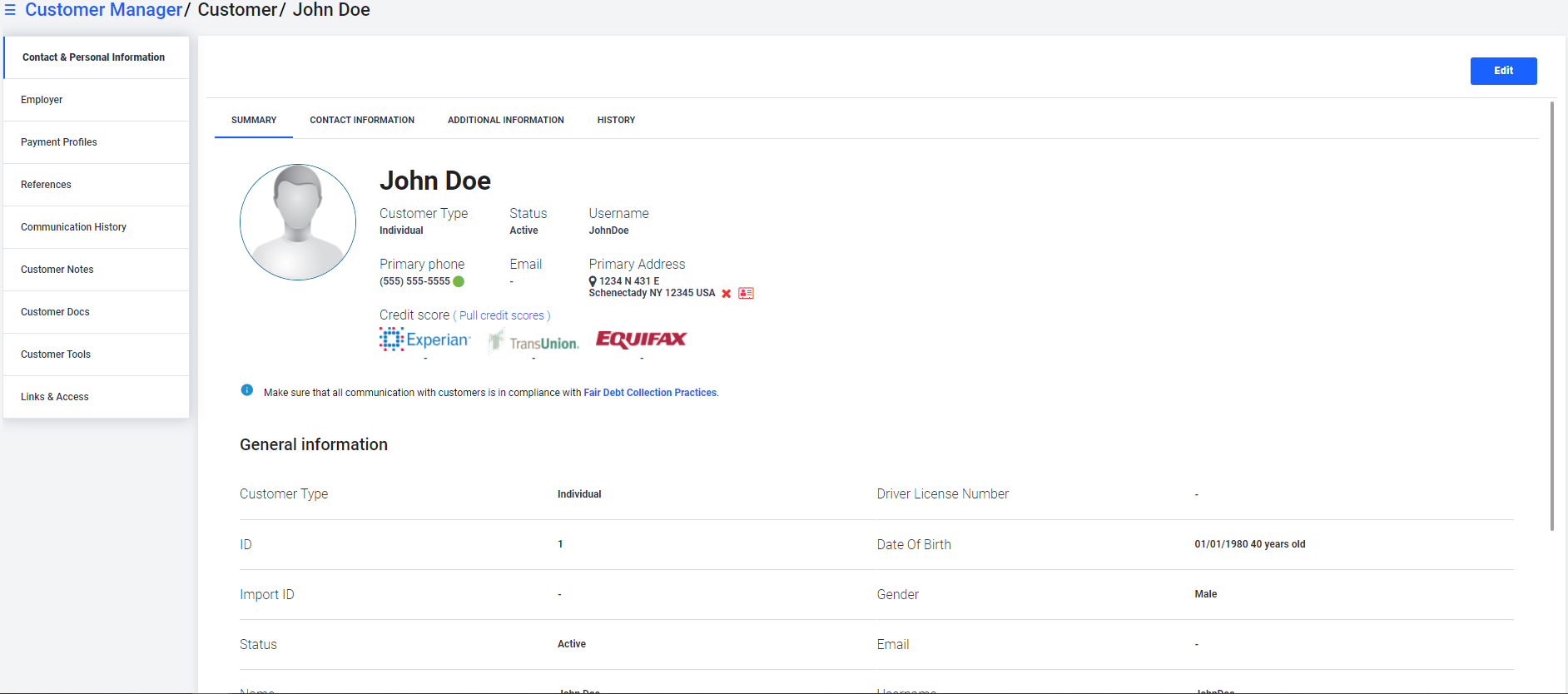 Each customer or customer file is divided into several sections.  They are: Contact & Personal Information, Employer, Payment Profiles, References, Communication History, Customer Notes, Customer Docs, Customer Tools, and Links & Access.
Contact & Personal Information
This section contains the basic information about the customer including a Google map of the customer's primary address and a way to upload an image of the customer.
The employer section is designed to keep track of the information relevant to the customer's employment.  This includes things like employer contact information and customer salary.
This area lets you add payment profiles (credit/debit cards, bank accounts) to the customer file.
This section lets you add the customer's references.  These should be individuals who the the customer knows well.  Often references are contacted as a collections measure when allowed.
This shows the history of communication with the customer through SMS, email, and automated phone calls.
This section lets you enter notes about the customer.  There is also a section that shows system notes for the customer.
This section lets you upload documents that are relevant to the customer.  These documents might include things like a copy of the customer's driver license, proof of residence, proof of income, etc.  This is section is intended for documents that are relevant to the customer but not necessarily to a loan the customer is linked to.
This section includes things like OFAC compliance check, credit pulling, and USPS address verification.
This section lets you choose what communication methods can be used for this customer.
---
---