LoanPro's Help Materials
LoanPro's products are robust, complex software suites. While we strive to make the software intuitive, we also recognize that questions are only natural, especially on new features. Our help materials, then, are a high priority. We try to document every aspect of the software (including the API and database), updating our documentation in step with the software itself.
Our documentation is divided between two main sites:
help.loanpro.io – Where you are now. This site has articles on all aspects of the software. These articles are meant to both explain the concepts in general and demonstrate how to use them.
loanpro.readme.io – This site is devoted to API documentation. It goes into far greater depth than the other site, giving descriptive payloads and replies for every endpoint. Each endpoint also has a 'Try It' button linked to our demo API tenant so you can get real responses back from the system.
HelpDocs
Our main documentation is found here at help.loanpro.io, where we have content on the UIs and APIs for all our products. Powered by HelpDocs, this site houses over a thousand articles, which you can either search for directly (using the main search bar at the top of the screen), or find through our folders. We've tried to make these folders intuitive, and line up with the layout of the UI. The LMS UI folder, for instance, contains subfolders for all the tabs at the top of the toolbar in the UI.
Major Resources
Here's a few of the most useful articles and folders on the site:
ReadMe
Our second documentation site, loanpro.readme.io, focuses on the APIs for LMS and Secure Payments. Like HelpDocs, ReadMe isn't a site we built from the ground up; it's a third-party documentation site that specializes in showcasing APIs.
Basic Navigation
In the top left corner, the version selection lets you switch between the LMS and Secure Payments APIs. Below, pages are listed for each individual endpoint, sorted into categorizes.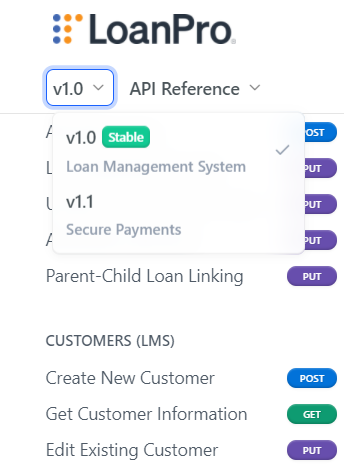 Once you've selected a page, you'll see a method and endpoint displayed near the top, just beneath the descriptive name of the request.

Scrolling down, you'll see instructions for the 'Try It' button and the fields to edit that payload. The Try It button itself is found on the right, just below the cURL request.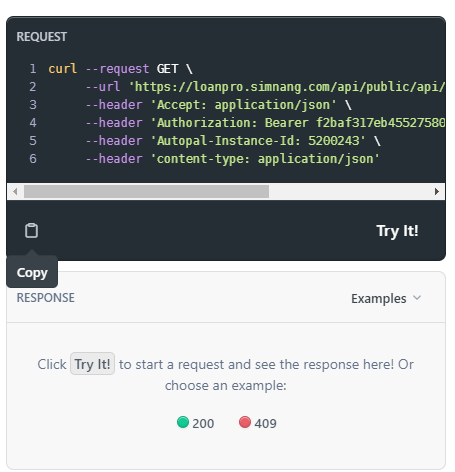 You can hit 'Try It' to get a live response from the values you entered, or just choose from the examples we've already added.
---
---