VersaPay
Introduction
Secure Payments is integrated with VersaPay, payment processor handles Electronic Fund Transfer (EFT) payments from Canadian bank accounts. In order to use VersaPay to process payments, you will need an account with them.
Integration
Once you've signed up, VersaPay will give you a set of login credentials, which you can then enter in Secure Payments or LMS. In LMS, navigate to Settings > Company > Merchant > Secure Payments > Bank Account/EFT (Canada) inside your company account.

Click the 'Add Processor' button to add a new payment processor.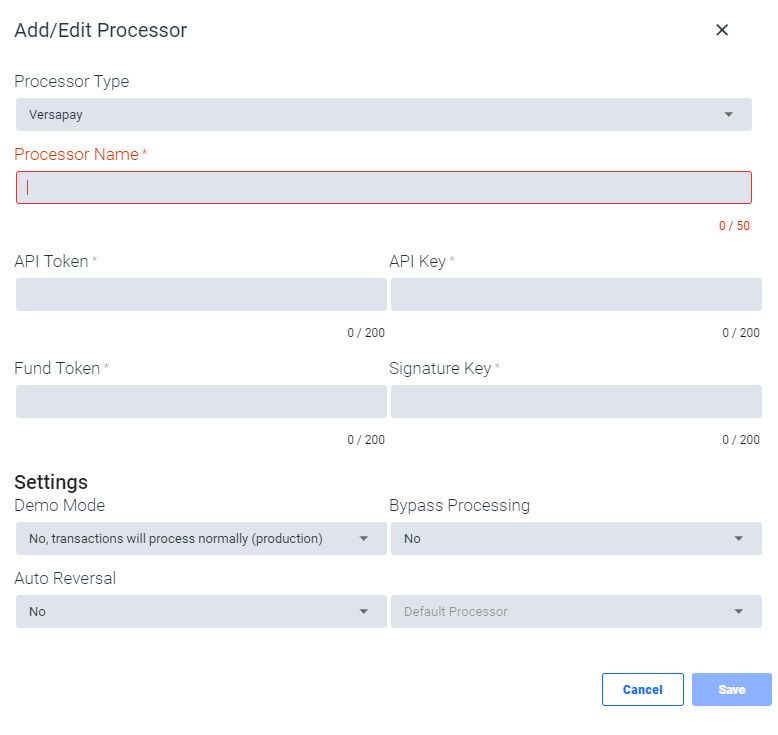 Enter all the required information including API Token, API Key, API Fund Token, and Signature Key. These should all be provided to you by VersaPay.
There are four additional settings that can be applied to a processor:
| | |
| --- | --- |
| Setting | Description |
| Auto Reversal | This lets you choose to have LoanPro automatically reverse payments that are returned by VersaPay. In order for this to work, you will need to enter a webhook URL into your VersaPay account. The webhook URL for LoanPro is https://securepayments.loanpro.io/api/processors/versa/status-update. This can be entered into your VersaPay account by going to Account Settings and then Integrations. |
| Demo Mode | This option will let you toggle your VersaPay account between demo mode and live mode. In demo mode, VersaPay will still receive payment data from LoanPro, but won't send it to any banks. This will let you test the VersaPay account without actually processing any payments. |
| Bypass VersaPay Processing | This option lets you choose not to have payment data get sent to VersaPay. |
| Default Processor | This option allows you to make the processor your default payment processor. |
Click 'Save' when finished. 
If you would like to edit any of your existing processors, click the edit icon to the right of the processor. Make your desired changes, then click 'Save' update the information.
---
---