Customer General Information
General
The General Information section when creating a new customer is intended to record the basic information about a customer inside of LoanPro.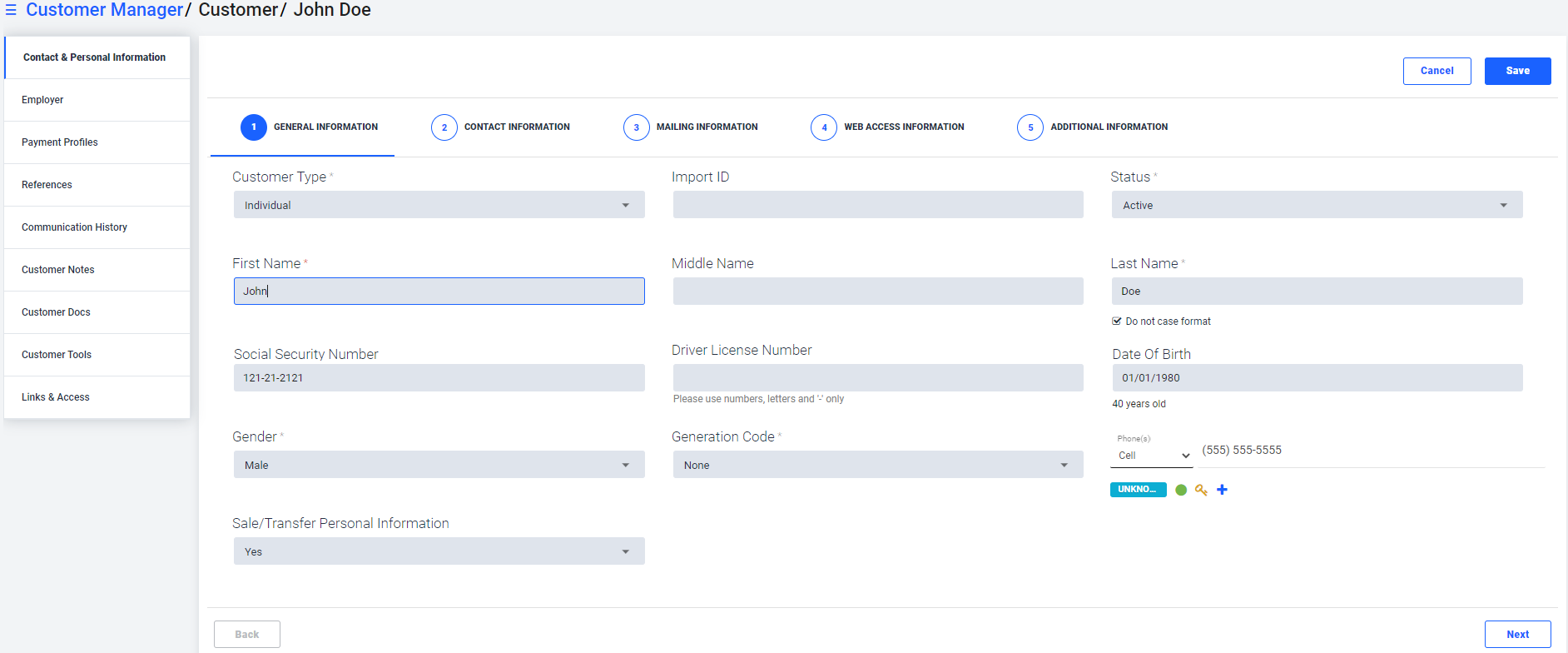 Information
The General Information section contains the following fields and selection boxes:
Customer Type

The customer type is a way to identify who the customer is.  There are three type options: individual, company, and flooring customer.  Individual customers are single human customers.  Company is for customers that are businesses or other organizations.  Flooring customers are companies as well, but they are specifically businesses that are receiving loans to fund their inventory.

Import ID

This field lets you designate an ID that can be used for future imports for this user.  You can also use the ID that the LoanPro system generates to identify this user when doing imports, but since you won't know that ID until the user is actually created, it's often useful to designate an ID yourself.  The ID can also be derived from the customer's other data, like date of birth plus initials.

Status

The status lets you identify the user in a specific way.  The default statuses for users are Active and Lead.  So, if the customer is a potential borrower, you may designate him or her with the Lead status.
You can customize the list of customer statuses.  This is a customer setting and can be found by navigating to Settings > Customer > Labeling > Status.

First Name

Unformatted field.  Required.  Customer's first name.

Middle Name
Last Name

Unformatted field.  Required.  Customer's last name.
Last names are formatted automatically by the system to start with a capital letter and all subsequent letters are put into lowercase.  If you check the Do Not Case Format checkbox, the last name will not be given the default formatting.  This is useful for names like McDonald that need two capital letters.

Social Security Number/Social Insurance Number/Employer Identification Number

 Formatted field.  It is important to uniquely identify your customers.  This field will be correctly formatted and labeled depending on the country you choose in the customer's address and whether the customer is an individual or company.

Driver License Number

Unformatted field.  Customer's driver license number.

Date of Birth

Formatted field.  Customer's birthdate.
All date fields in LoanPro include a date picker to make date selection easier.

Gender

Selection box.  The borrower's gender.  There are three gender options: Male, Female, and Unknown.

Generation Code

Selection box.  The borrower's generation code if applicable (e.g. jr., sr., III).

Phone Number

The phone number consists of a formatted field and a drop-down menu.  Required.  The drop-down adjacent to this field makes it so you can identify the type of phone (cell, home, office, etc.).
LoanPro does not restrict how many phone numbers can be added for a customer.  To add a phone number, click the

 

near the last phone number listed.  You can also designate a phone number as primary or secondary by clicking the

 

icon or the icon (located near the phone number field), respectively.  LoanPro also uses an integration to identify the type of the phone number (e.g. landline, cell company, etc.).  This information is pulled automatically once a phone number is entered.

Sale/Transfer Personal Information

This option is for CCPA compliance and lets you keep track of which customers request that their information not be sold/transfered.
---
---