Source Company – Cash Drawers and the Vault
LoanPro users have some latitude in how they use the Source Company Manager. If your source companies are business partners who referred your clients, you probably won't have much need for cash drawers or vaults. But if your source companies are individual brick-and-mortar locations, these features can help you keep track of how much money is in each cash drawer and vault, and how that money moves around.
Getting to the Cash Drawer and Vault Tabs
From anywhere in LoanPro, go to the banner across the top of the page and click Users > Source Company Manager.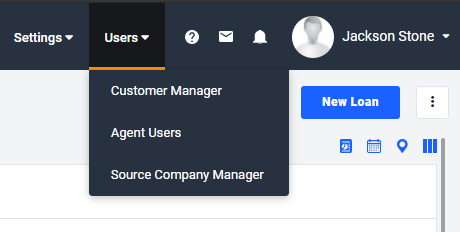 Our main article on the Source Company Manager explains the dashboard and search bar on this page, which you can use to find the specific source company whose cash drawer and vault you want to manage. Just click on that company and you'll be taken to its page.

From there, just click over to the tab for Cash Drawers or the Vault.

Managing Cash Drawers
At the top of the Cash Drawer tab is a dash board showing the number of active cash drawers, their total cash and non-cash balances, and the number of active agent users assigned to them. Beneath the dashboard is a search bar, and beneath that are all your cash drawers, or just those that match your search.

Creating a New Cash Drawer
Clicking the New Cash Drawer button will pull up a window where you'll enter a starting balance, select a terminal (terminals are created on the Info Tab), and set the daily ranges for the cash in that drawer. These ranges aren't hard-and-fast limits; they won't stop users from making transactions, but you can turn on notifications to tell those agents to make adjustments. The defaults for these settings are managed in your Source Company Tenant Level Settings, or you can set new limits specific to this source company in the Info tab. The starting balance will be automatically subtracted from the source company's vault.
After setting the general info, the next screen will have you select the agents that will use the drawer. You can choose from all the employees associated with the source company (our article on Source Company – Employees has more info). An employee can only be assigned to one cash drawer at a time, so if all your employees are already assigned a cash drawer, you won't be able to assign anyone. You can still create the cash drawer without any users, and then go reassign your employees later.
After everything's set how you like, click Save in the bottom right corner. The new drawer will appear in the list with the others at the main Cash Drawer tab.
Cash Drawer Transactions
From the Cash Drawer tab, you can click on any individual cash drawer to see all of its transactions. The top of the page features a dashboard with the cash and non-cash balance, as well as the agents assigned to the drawer. Beneath is a search bar, and a buttons to check out the drawer or reconcile transactions. The lower portion of the page lists all of your transactions. Each entry includes a name, ID, method, date, status, and amount (with cash and non-cash balance). You can click the arrow at the right of an entry to expand it and see more details.

When a cash transaction is made using this cash drawer, it will be logged here, and the cash balance will automatically update. To make sure that only cash drawer transactions are logged here, they'll need to meet a few criteria:
The loan is assigned to this source company.
The payment is made in cash, not a card or checking account.
The LoanPro user logging the payment has checked out the cash drawer.
The Vault Tab
Most brick-and-mortar businesses keep a small amount of cash in the register, but store most their money in a secure vault. The Source Company Manager's Vault tab lets you keep track of how much money is in that vault. When money is moved in or out, it's logged here.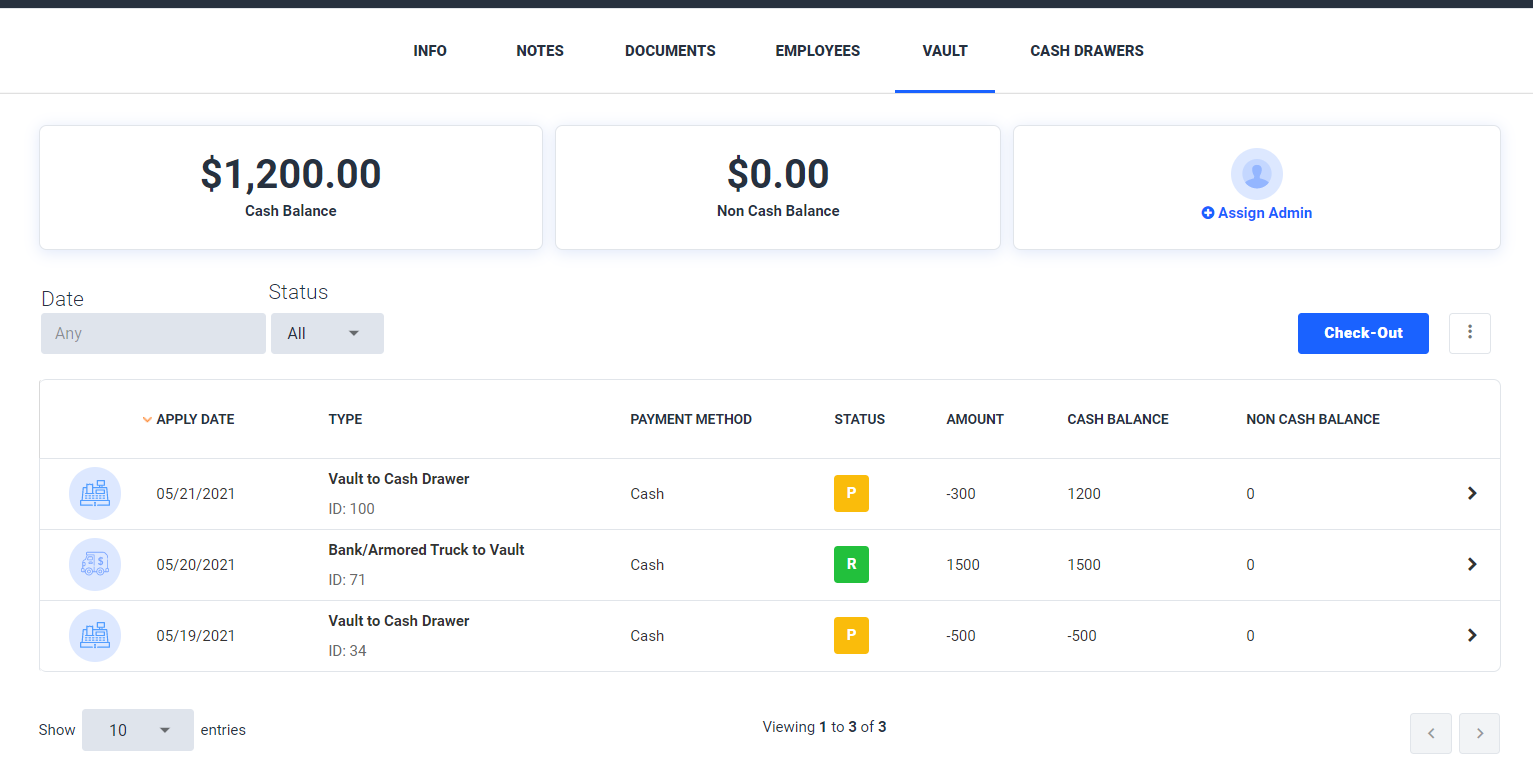 The Vault tab's layout looks similar to the page for an individual cash drawer; it features a dashboard, search bar, transactions, and a button that allows you (the user logged into LoanPro) to check in or out. In the top right, you can also assign an admin to be responsible for the vault.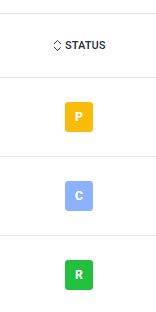 In the vaults tab you will see the status on each vault which will either say P (pending), C(cleared), or R (reconciled). These statuses help users be able to recognize the updates on each vault.
Reconciling Cash Drawer and Vault Transactions
At the end of a shift, you'll probably want to make sure that all the money in the cash drawers and vault are accounted for. LoanPro helps users with counting money, clearing transactions, and reconciling any differences in the totals.
The reconciling process is pretty straightforward, but there are enough steps that we've created a separate article for it: Source Company – Reconciling Cash Drawers and the Vault.
You also have the option to transfer money through a bank, down below will explain the process to do so.
Transferring to a bank
The agents that are assigned to a cash drawer, at the end of the night they're going to make sure that all the cash is there and has the same amount that was logged that day. This process is called reconciling the vault, they will count the cash in the cash drawer and make sure that its accurate. Once they're done with the reconciliation process, they then will have options to transfer money to a bank or unassign themselves from the vault. If they unassign themselves from the vault, they no longer will have responsibility over that vault.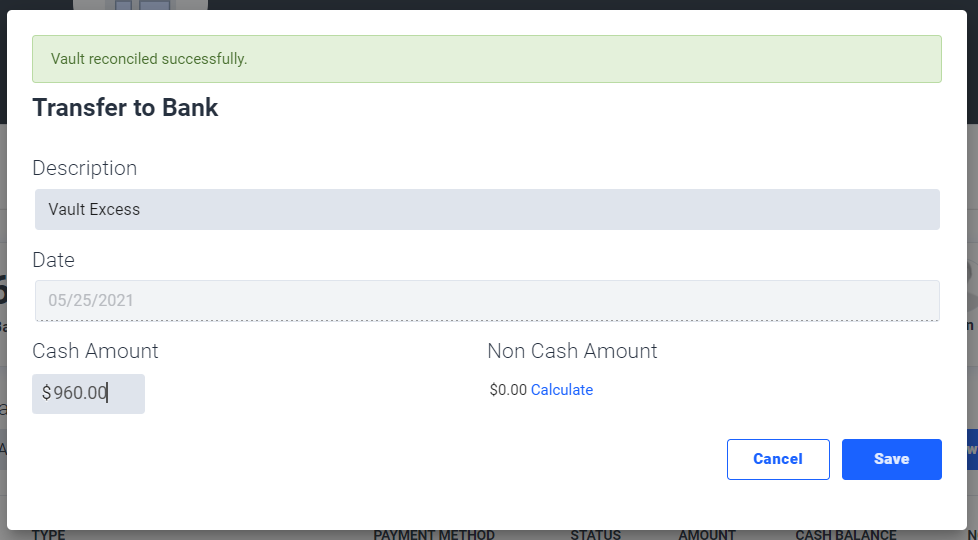 If they decide to transfer money to a bank, a window will pop up where they will be able to enter in the amount of cash (cash amount or non cash amount) and the date that they are transferring money.
Replenishment Checks
When dealing with vaults and cash flows, lenders are often funding clients all day. When money is flowing out quickly, the vault may run low on cash. So, a lender can write out a replenishment check, cash it, and refill the vault.
How to print a replenishment check:
Replenishment checks are filled out and then sent through via a .pdf to that lender. The lender can print it out and then take it to their bank and withdraw money.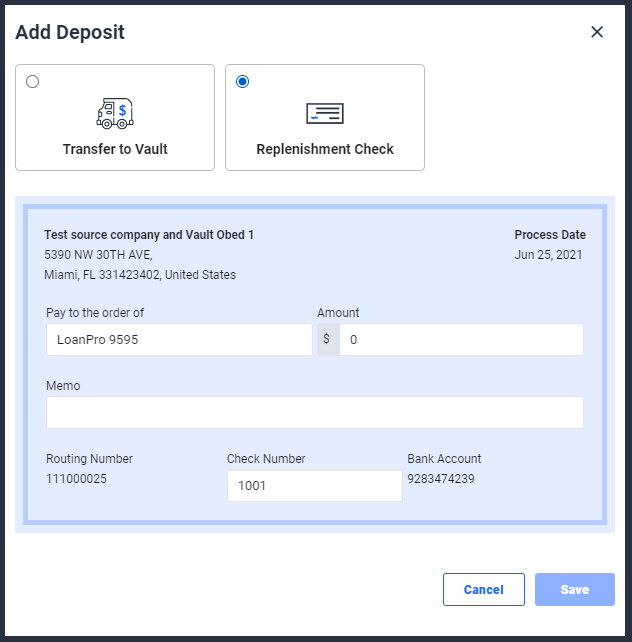 As you can see above, the information is entered into the check in LoanPro and then sent out as a .pdf to the lender.
The information you'll enter is:
Pay to the order of - This is the client who wants to get money out of their account.
Amount - The amount of money they want to take out of their account.
Memo - This is if you want to add additional information on your check.
Routing Number - This is the clients bank routing number from their card.
Bank Account Number - This is the clients bank account number on their account.
Check Number - This is their check number on their account, which the system automatically updates.
Assigning Yourself to a Vault
If you want to assign yourself to a vault, navigate to Users > Source Company Manager. Once you're in the source company manager, click on the specific source company you want to assign yourself to.

Click on the 'Vault' tab which will bring you to a new page that will allow you to assign yourself.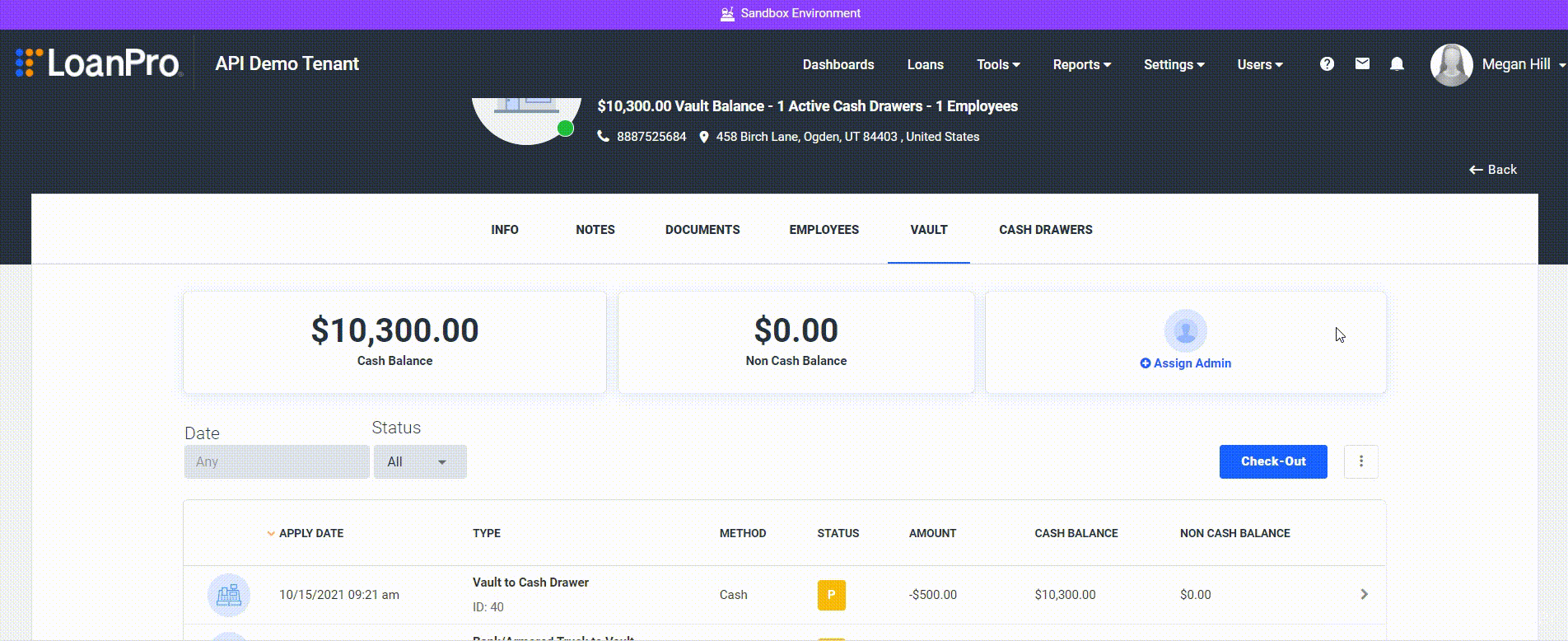 On the top right of the screen you'll click 'Assign Admin' to assign yourself to this vault. This page will let you search your name, email, or phone. Once you've found your name, click on 'Vault Owner' and then click 'Save'. Now you're done, you'll see your name on the right side of the screen showing you that you're assigned to this vault.
Assigning Yourself to a Cash Drawer
To assign yourself to an individual cash drawer, navigate to Users > Source Company Manager. You will select the specific source company which will bring you to a new screen.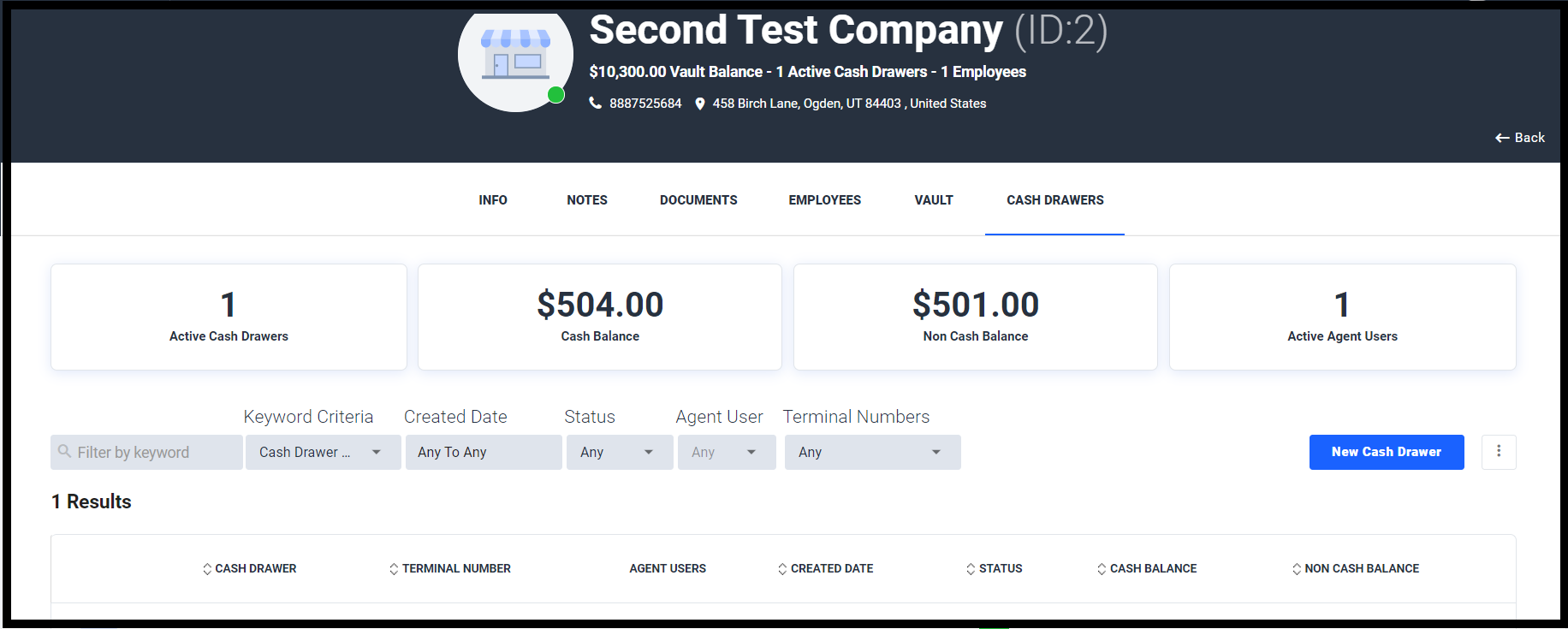 You will then click on 'Cash Drawers' which will bring you to this page.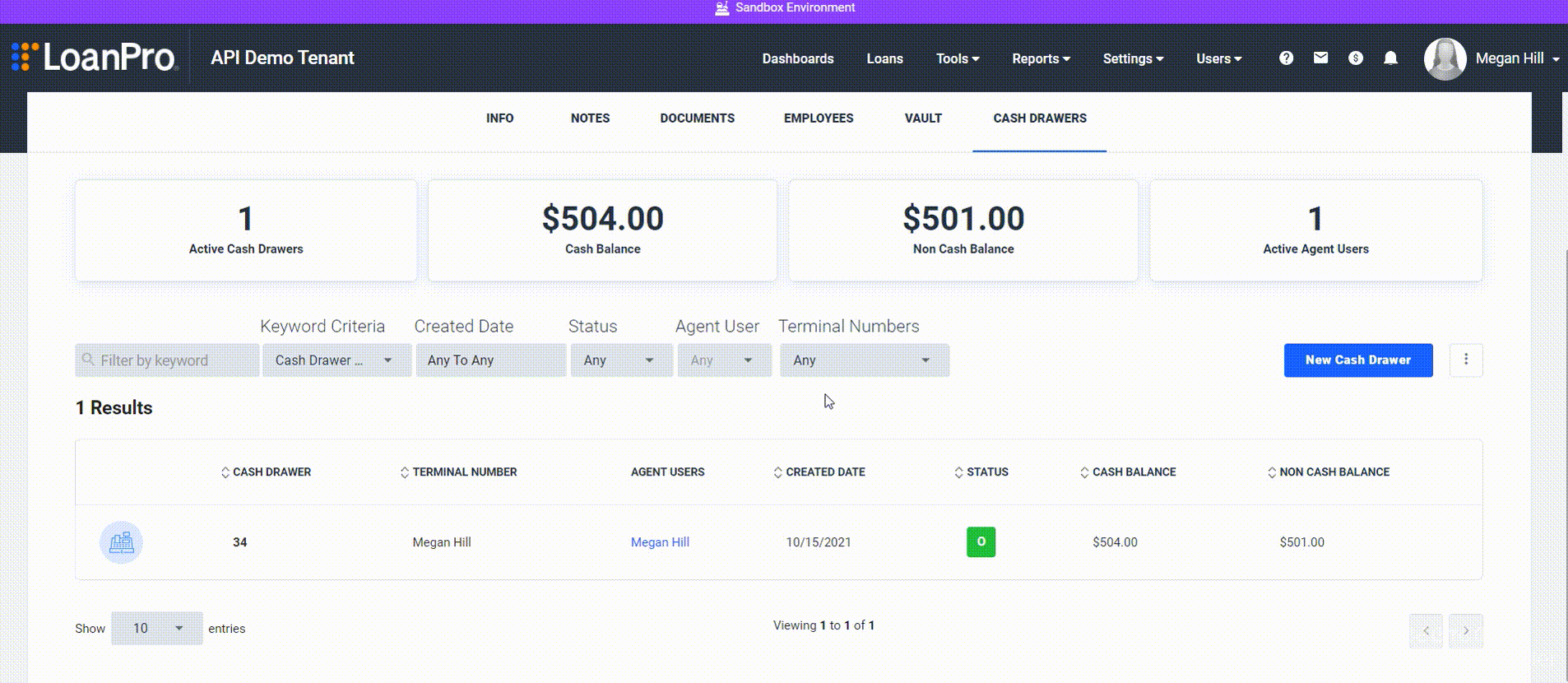 On the cash drawer tab, you will click on the individual cash drawer you want to assign yourself to. After doing so, on the right hand side of the page you will see 'Active Agent Users' that has a edit icon next to it, click on it. This will bring you to a page where you can search your name, number, or email. After finding your name, you will click on it and then click 'Save'. You will now be assigned to that specific cash drawer.
---
---