Agent Users
Introduction
Agent users are users that have access to LoanPro software. You can create new users within your company who can access the software and make changes to your company account. Access to areas of the software can be granted to agent users in the form of roles. It's important to most companies to grant only the access needed by a given employee and no more. This article provides an overview of agent users, including how to create an agent user.
Navigation
A list of agent users for your company can be found by navigating to Users > Agent Users.

From here, you can do the following:
create a new agent user
configure an agent user
edit an agent user
search agent users
customize the agent users list
Each of these actions are described in greater detail below.
Create a New Agent User
To create a new agent user, click 'New Agent User'.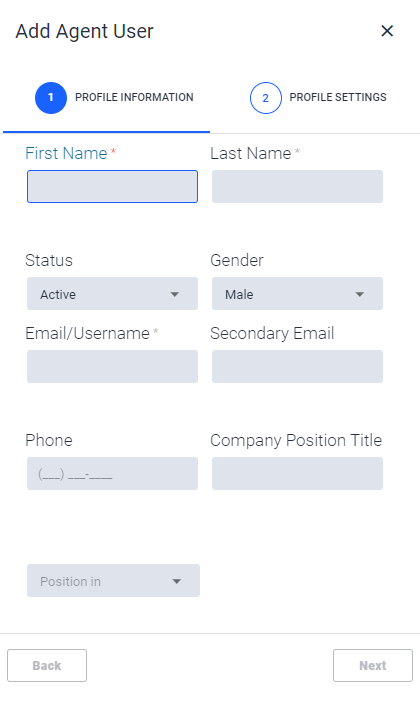 Enter the data for the agent user into the fields provided. Most of the fields are self-explanatory, but the more complicated options are explained below:
| | |
| --- | --- |
| Setting | Description |
| | Roles are a way to determine what access agent users should have, based on what they do within your company. You can create company roles by navigating to Settings > Company > Access > Roles. For more information on agent roles, see Agent User Roles. |
| | Search restriction groups let you restrict users so that they can only search specific groups of loans. For example, you can restrict a user to specific loan statuses, so when that user searches loans, the resulting loans will only be assigned to those statuses. For more information about search restriction groups, see Search Restrictions. |
| | New account default settings are groups of defaults for new loans that you can create within your company. These groups of defaults can be assigned to your agent users so that when a user creates a new loan, the settings are defaulted for them. To create a group of defaults, navigate to Settings > Defaults > New Loan > User Group Defaults. |
| | You can create groups of white-listed or black-listed IP addresses and assign them to agent users. This will make it so the agent user can only access the software from specific IP addresses. You can create IP restrictions in Settings > Company > IP Restrictions. |
| | You can assign a user a set of shortcut icons that will appear in the header of each loan. These icons are shortcuts to specific areas inside a loan. A group of shortcuts can be created in Settings > Company > Access > Shortcuts. |
| | You can create a group of sounds that are tied to actions inside the software. To create a new sound group, navigate to Settings > Company > Notifications > Sound Manager. For more information about sound groups see Sound Groups. |
| | You can choose the restriction group that will further determine the access the agent has to functions in the software. |
| | You can choose which of your custom Loan Summary template views the agent will have. |
| Wizards Group | You can choose which group of Process Wizards this user will have access to. To create a wizard group, navigate to Settings > Company > Access > Wizard Groups. |
Once you have made your selections, click 'Save' to save the user.
After the agent user is created, an email containing a temporary login password will be sent to the agent user. Upon login, the agent user will be asked to enter a new password.
Only users with the role of Tenant Admin will have access to the Role, Shortcuts Set, Restriction Groups, IP Restrictions, Search Restrictions Group, and Wizards Group fields while creating or editing a user. This means that in order for an agent user to change their level of access in the software, they must be assigned the Tenant Admin role.
Configure an Agent User
Once you have saved the new user, you have some options to configure the user. Click the listing for the agent user you just created. This page features three tabs on the left-hand side labeled Profile & Access, Internal Notifications, Authentication, and Email Enrollment.
Profile & Access
The Profile & Access information is the information you entered to create the user. Here, you can edit the agent user's general information, but we'll cover that in more detail below.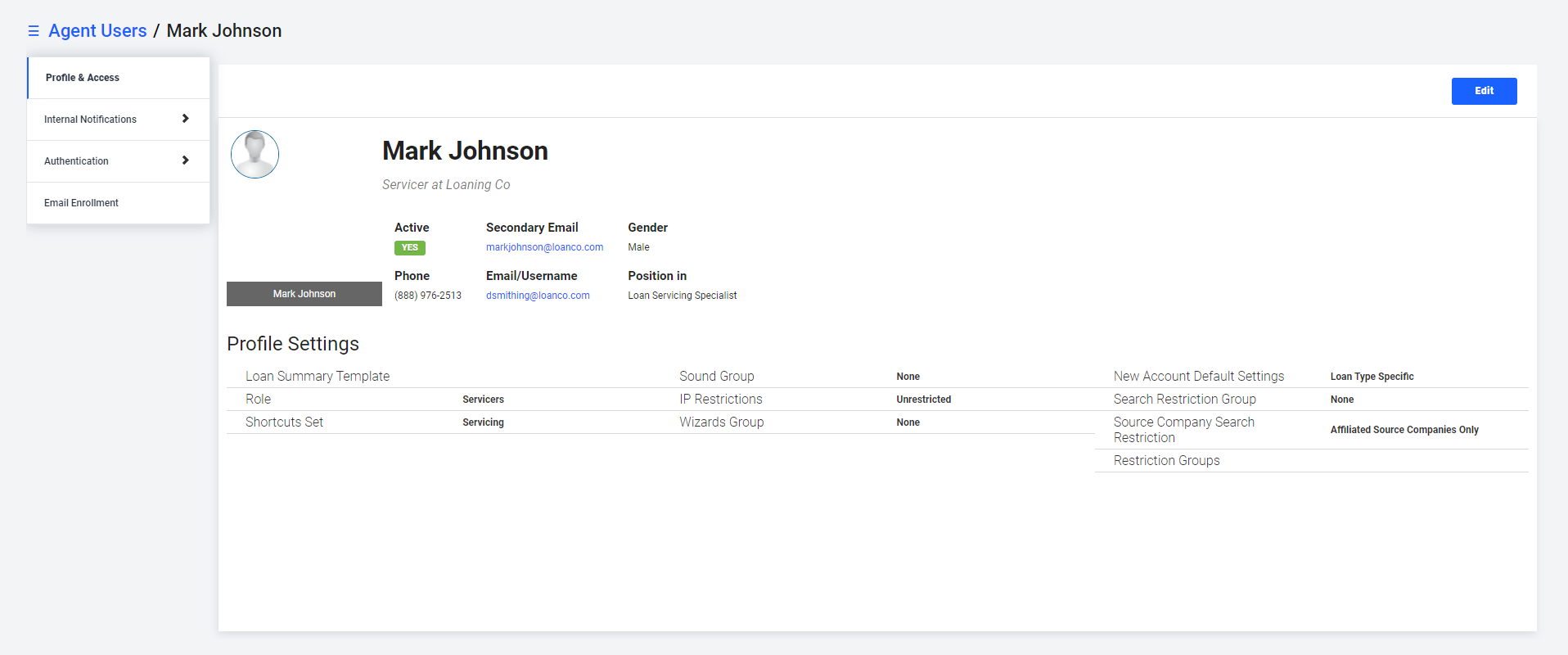 Internal Notifications
In the Internal Notifications tab, there settings for both events and triggers. These tabs work the same way, and they allow you to determine which of your company's trigger or event-based notifications this user should receive.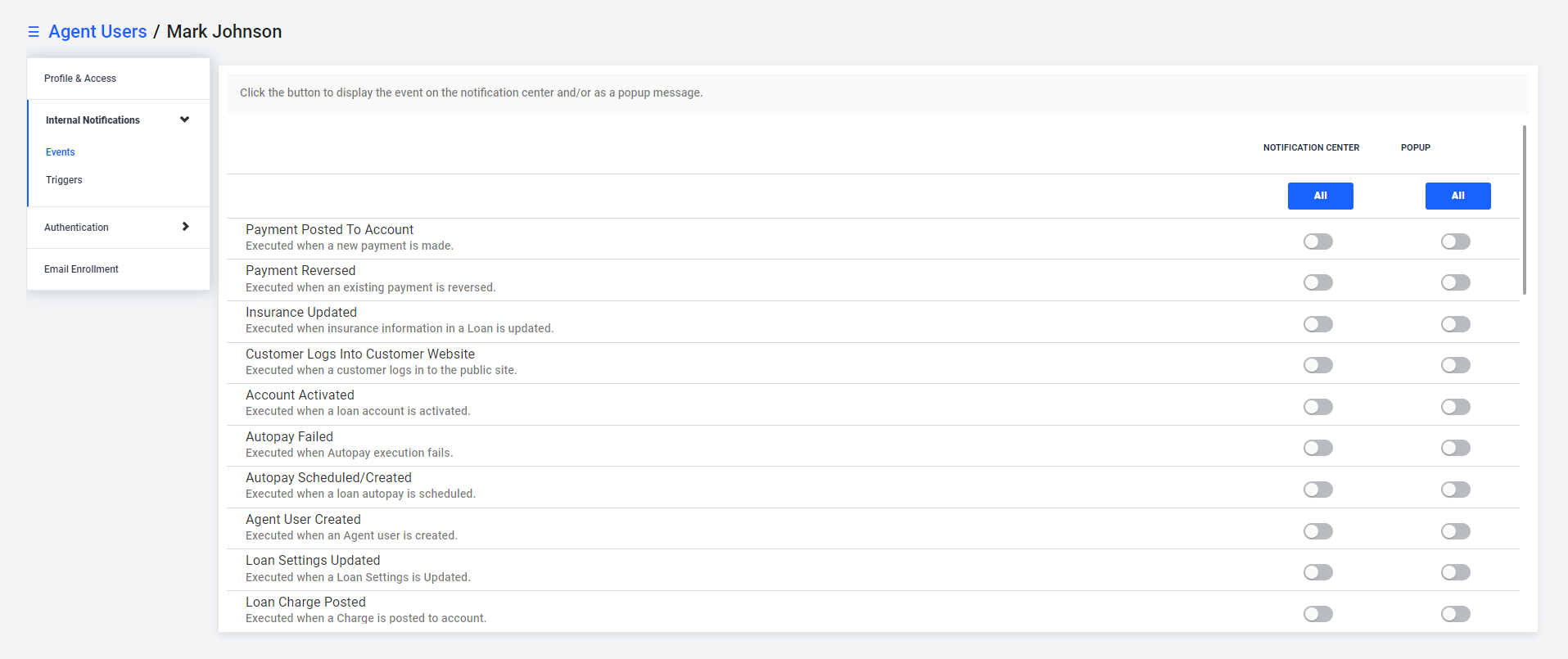 Use the toggle switches to the right of each event to designate whether the agent user should get the notification and/or popup. Once you've made your selections for the user, the updates are saved automatically. Use the same process for the trigger notifications.
Authentication
We won't cover the Authentication tab in detail here, but if you are interested in learning more, take a look at our Multi-Factor Authentication article.
Email Enrollment
Lastly, there is Email Enrollment. This tab works similarly to the Events and Triggers tabs excluding a few differences. When an event happens or a customer account qualifies for a trigger rule, the agent user will receive an email instead of a system notification. Select the desired emails from this list that you would like your agent user to receive.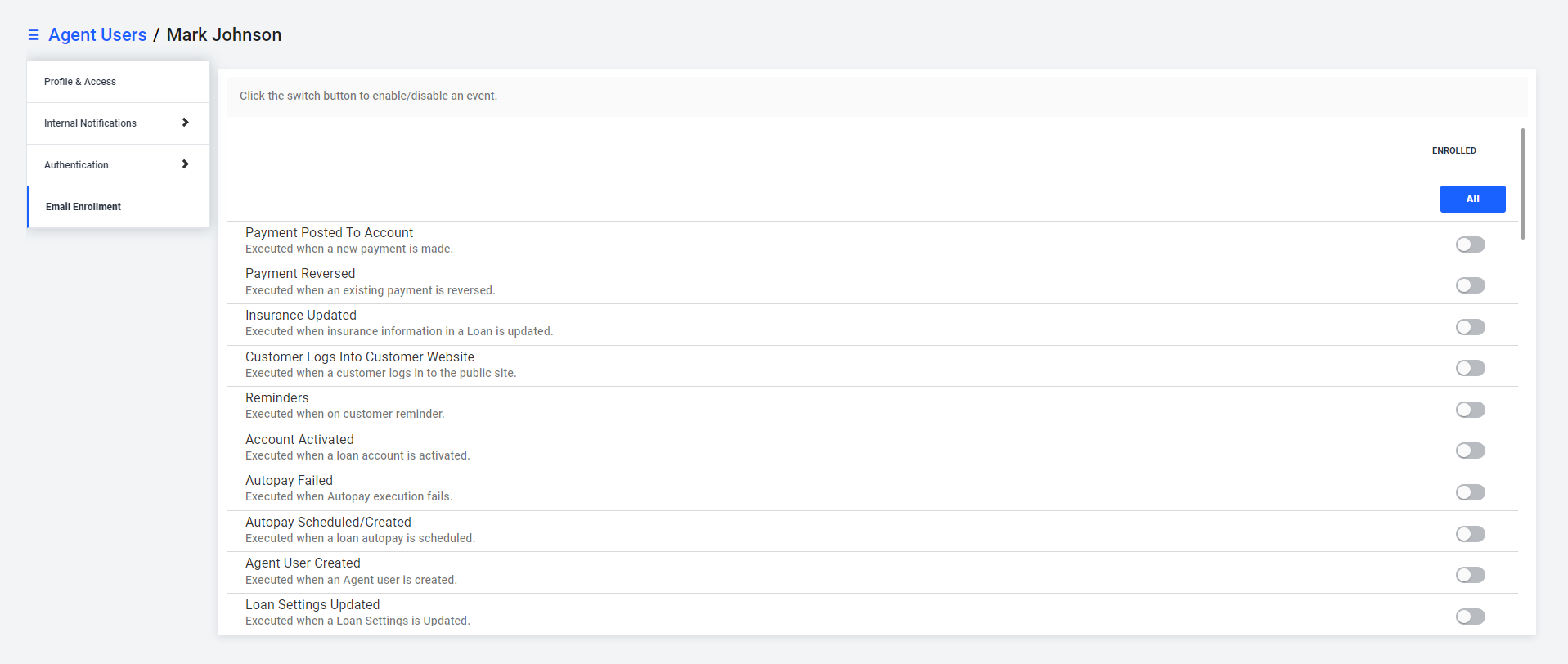 Edit Agent User Information
To edit an existing agent user, navigate to the Profile & Access tab on an individual agent user's page. Here, you can search agent users by keyword and filter them by status and agent role.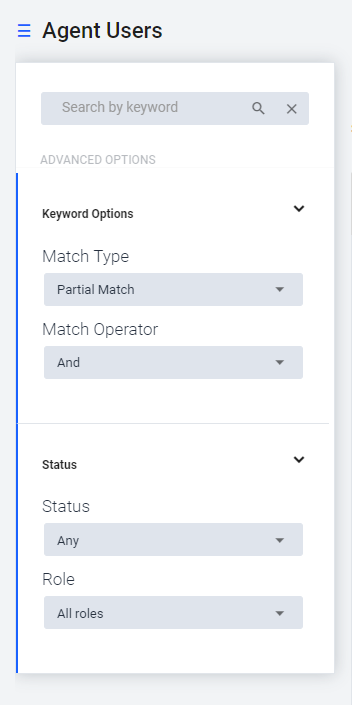 Once you have found the agent user you would like to edit and have selected them, you can change the user's information by clicking 'Edit'.
Customize Agent Users List
You can also control what items are shown in the list of agent users. Clicking the columns icon, as shown in the image below, will allow you to determine which columns appear in the agent users list.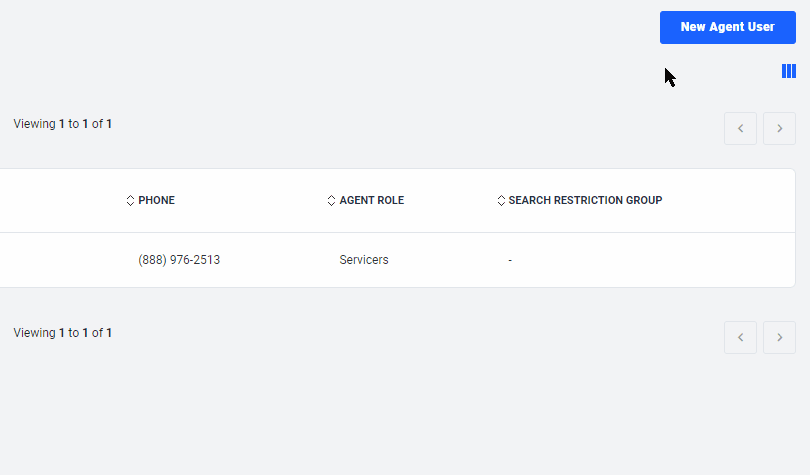 The following columns are shown by default: ID, Name, Email Address, Agent Role, Phone, and Company Position Title.
Agent users will automatically be logged out of LoanPro after a period of inactivity.
---
---