Connections
Introduction
Connections is a hub for integrated services that lenders may find useful. For example, Connections is integrated with several data lookup services that will help lenders find information about their borrowers, such as a credit score or the primary city and state associated with a ZIP code.
Connections is a separate service for a few reasons. First, it's easier to turn on and off services and manage prepayment for those services from a central location. Second, having a hub for these services that communicates in a standardized way is the easiest way to make individual services available to multiple LoanPro applications (i.e. LMS and Secure Payments). For a full list of services, see the Services section of this article.
LoanPro supports several services that are offered by third-party organizations. These include services such as address lookup through the United States Postal Service and customer credit pulling. In order to make it easier to offer these integrations across multiple products, and to consolidate these connections in a single place, LoanPro has created Connections. This article will cover the LoanPro integration with Connections to help you understand how to link your Connections account and manage the account from inside LoanPro.
Account Linking
Unless you chose otherwise, a Connections account should have been created for you when you signed up for your free trial of LoanPro. This account will be automatically linked to your company in LoanPro. To check if you have a linked Connections account, navigate to Settings > Company > Plugins > Connections. If there is already a Connections account linked to your company, the page should look like the image below:

Otherwise, the page will look like this:

If no Connections account is linked, you have the option to either create a new one or link an existing one.
Create a New Account
To create a new account, click the 'Create An Account' link. This is an external link and will take you to a Connections sign-up page.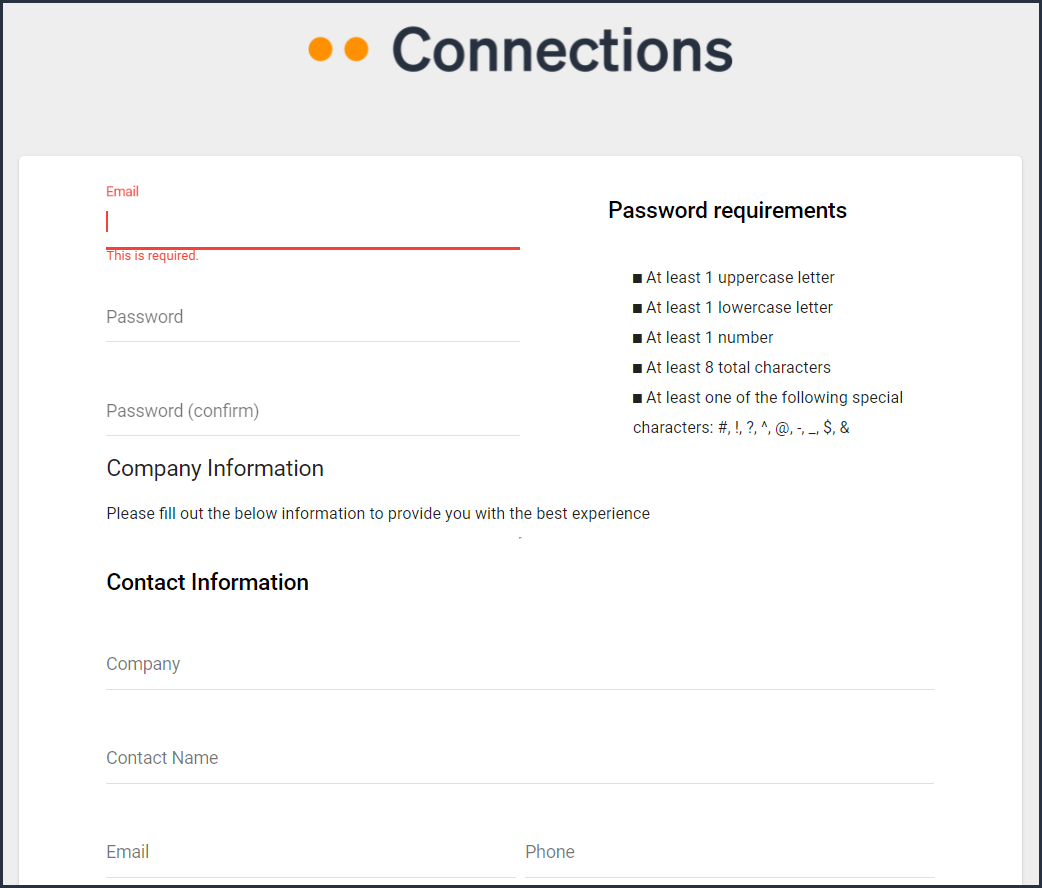 Enter an email address that will be used as the username for the account. Enter and confirm the password you would like for the account. Be sure your password meets the password requirements. Enter your company information and click 'Sign Up'. You should see a confirmation like the one below:

Now you can follow the steps in the 'Link an Existing Account' section below.
Link an Existing Account
To link an existing account, click the 'I Already Have One' link.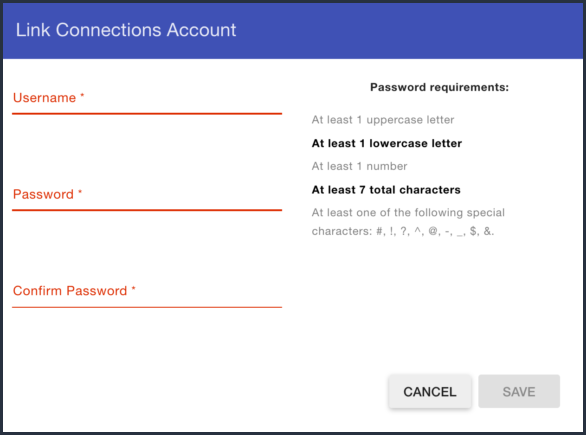 Enter your login credentials and click 'Save' to link your account.
Settings
Once you have a linked Connections account, you can manage your Connections settings and services directly inside LMS.

The settings area controls when and how money will be added to your account:
Low point – This dollar amount is the lowest balance your Connections account can reach before funds are automatically added to your Connections account. These funds will be pulled from the payment profile you have on file with Connections.
Amount – This is the dollar amount that will be automatically pulled from your card on file and added to your Connections balance when the balance reaches the specified low point.
Payment profile – Here you can choose which of the payment profiles in your Connections account should be used to add money to your Connections balance.
Notification by email – This setting lets you choose whether to receive an email each time funds are added to your Connections account.
Services

The Services tab lets you choose which of the services should be available to users of your LoanPro account. Use the toggle switches to turn services on or off. If a service is turned off, the functionality will not work inside LoanPro. This is the best way to make sure you don't accidentally use a service you don't intend to.
USPS - Zip Code Decode – This will populate the primary city and state from any ZIP code entered. This service is provided by the U.S. Postal Service, so it only works on U.S. addresses.
USPS - Address Standardization & Abbreviation – This will format the addresses you enter in the way the US Postal Service formats them. As with the zip code decoder, this only works on US addresses.
Email Service – This lets you send emails directly from LMS.
Phone Carrier Lookup – This will lookup the carrier and whether a phone number is assigned to a mobile phone or a landline.
Mail House – This service provides automatic printing, packaging, and mailing of forms and documents.
Credit Pulling – This service will pull your customer's credit.
OFAC Compliance – This tool lets you look up whether your customers are on the list of specially designated nationals.
VIN Decode – This will decode the year, make, model, and trim from a vehicle identification number (VIN).
All of these services and options are available to view/edit in Connections as well. Log in to your Connections account and navigate to the Services tab.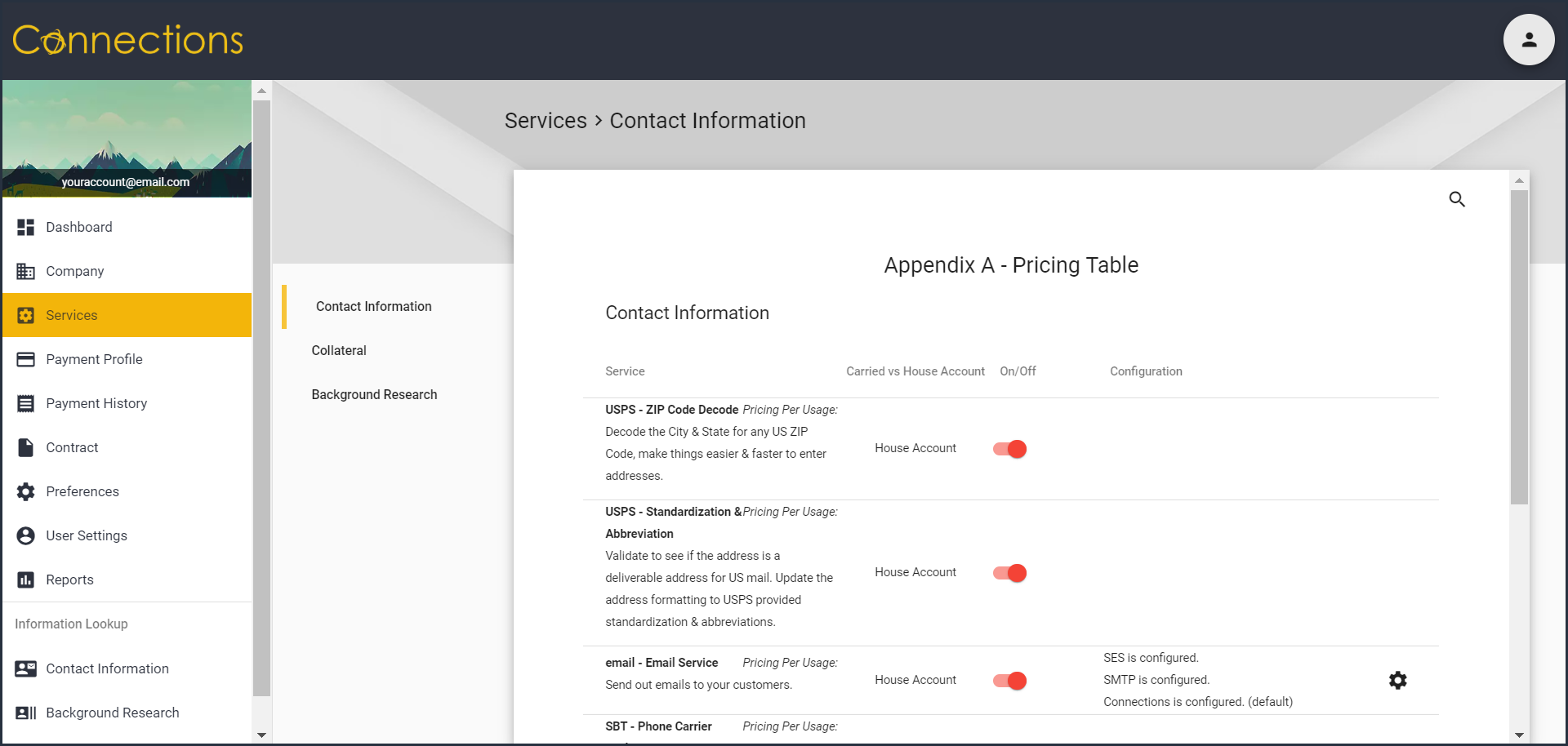 You can toggle all of the available services on or off for contact information, collateral, and background research (credit services or government services).
What's Next
For more information about Connections, see Connections - Information Lookup.
---
---