Customer Manager
Introduction
The Customer Manager is a centralized location where you can view all customers within your account. One major thing to note about LoanPro that is different than most loan software platforms, is that customers are completely separate from loans and leases. Customers are customers, and loans are loans. A customer can be linked to a loan, but they are not the same thing. The reason for this is that it provides the flexibility of letting one customer have many loans, or for many customers to be linked to a single loan without having to enter the customer data more than once.
LoanPro's Loan Management System (LMS) functions a bit differently than most loan software programs in that it separates customers from loans and leases. They are totally separate entities. This approach provides the flexibility of assigning one customer to multiple loans—or multiple customers to one loan—without requiring users to enter data more than once.
How To
To access the Customer Manager, select Users > Customer Manager on the LMS header ribbon.

The Customer Manager is designed to look similar to the Loan Manager, and you will likely see the similarities. However, instead of loan information, customer information is displayed. You can adjust which information is displayed by selecting the "Columns" button, signified by three parallel lines in the top right corner of the page (just under the Data Options button).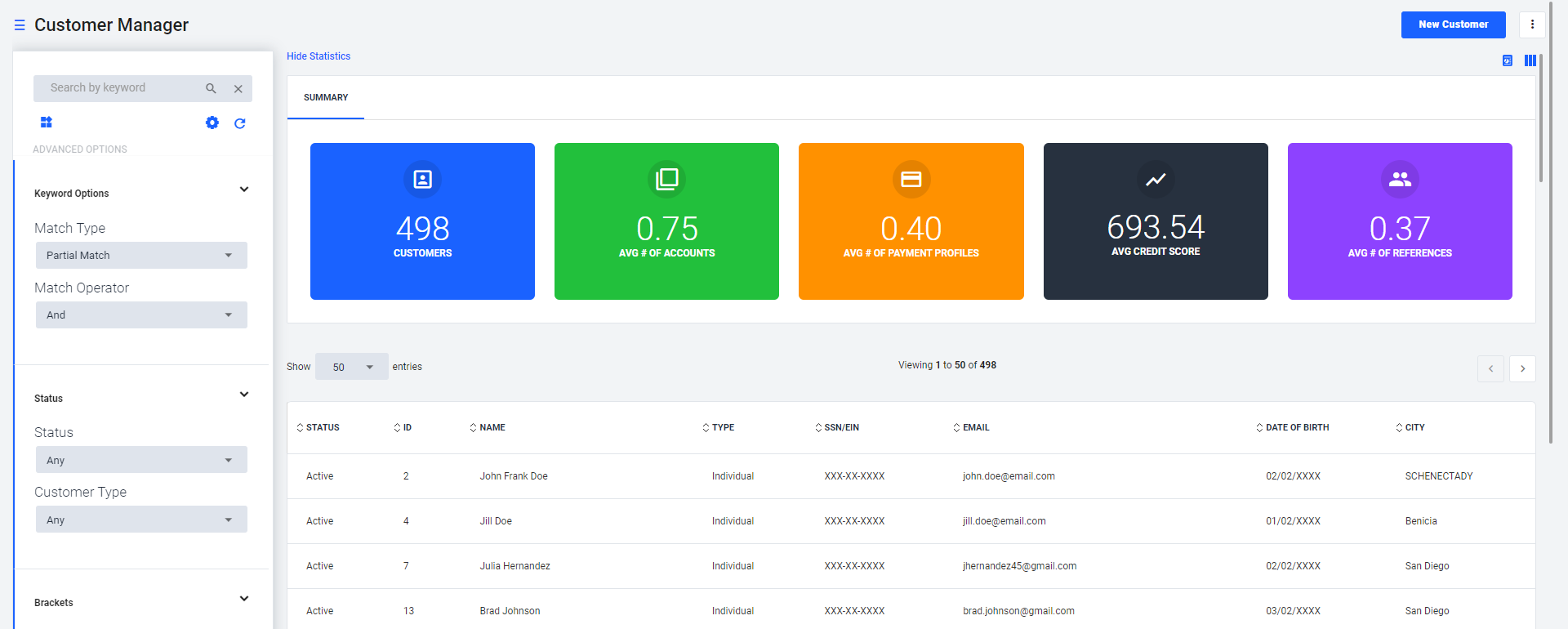 Here, you can select which columns are displayed. However, please note that a maximum of 8 columns can be selected at a time.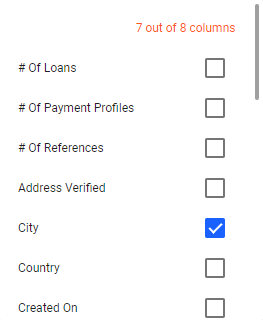 If you are displaying information that is masked based on the role settings for your user, the data will be masked in the search results (e.g. 10/25/XXXX).
Filtering by Search
Filtering the customers displayed in the Customer Manager is an option for those who need to find specific information.
Keyword
The simplest way to filter customers is by keyword. Simply search the keywords that apply to the customers you would like to display. Commonly used keywords are customer's name, social security number, and ID. However, to search by ID, you will need to use the "id=" parameter. For example, if you are looking for a customer whose ID is 1248, your keyword search would be id=1248.
The keyword functionality also includes options that let you choose how your keyword phrases should be handled by LMS.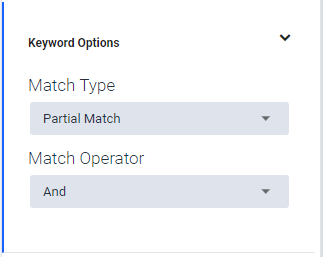 You have two keyword options:
Match Type – This specifies whether words that match significant parts of your keywords will still be considered matches.
Match Operator – If you entered a search phrase, you can choose whether the words in the phrase should be considered together using the "And" operator or separately using the "Or" operator.
Status
The Status section contains the customer status drop-down and the customer type drop-down, which lets you filter customers displayed on the Customer Manager. You can customize the list of customer statuses by navigating to Settings > Customer > Labeling > Status.
Brackets
The Brackets section lets you filter customers by customer age, creation date, and credit score. These brackets can be customized as well by navigation to Settings > Customer > Brackets. To filter by customer creation date, enter a start date in the "Created Date From" field and an end date in the "Created Date To" field.  This will define the date range over which the customers returned to the Customer Manager were created.
Verification
This section lets you filter customers by OFAC compliance, employer information (present or not), USPS verified primary address, primary address country, SMS verified primary phone number, and avatar image (present or not).
Widgets
Dashboard widgets can be created from the customer manager. To create a widget, click the widget button signified by four blocks underneath the search bar.
---
---