Account Setup in Secure Payments
Introduction
LoanPro is integrated directly with Secure Payments, which is in turn integrated with several payment processing services. This makes it possible for your company to integrate with multiple payment processors and even connect to more than one account with the same company.
Creating a Secure Payments Account
You'll need to use an email address as the username login for your Secure Payments account. Unlike LoanPro, where multiple users can access the same account, Secure Payments only allows a single user per account. This ensures a far greater level of security and protects your customers' private information. A separate Secure Payments account is required for each of your LMS tenants. So, if you only have a production LoanPro account, then you will only need one Secure Payments account. If you purchased an additional LoanPro Sandbox account during your account activation, you will need to create an additional Secure Payments account.
The email address you use needs to be a real, accessible email account where Secure Payments can send important communications such as password reset emails or import reports. Many clients prefer to create a new email address at their company domain specifically for each Secure Payments account. For instance, if your domain was SampleLending.com, you could use these:
Production – SecurePayments-Production@SampleLending.com
Sandbox – SecurePayments-Sandbox@SampleLending.com (Not Required if you do not have a Sandbox account)
With an email address ready, navigate to the Secure Payments Signup Page. There, you'll begin by entering your email address and setting a password. Click "Sign Up" and the system will redirect you to the Login Page, where you will enter the credentials you just created.
Having successfully logged in, you'll now see a screen like the picture below. Click the banner across the top of the page prompting you to Activate your account.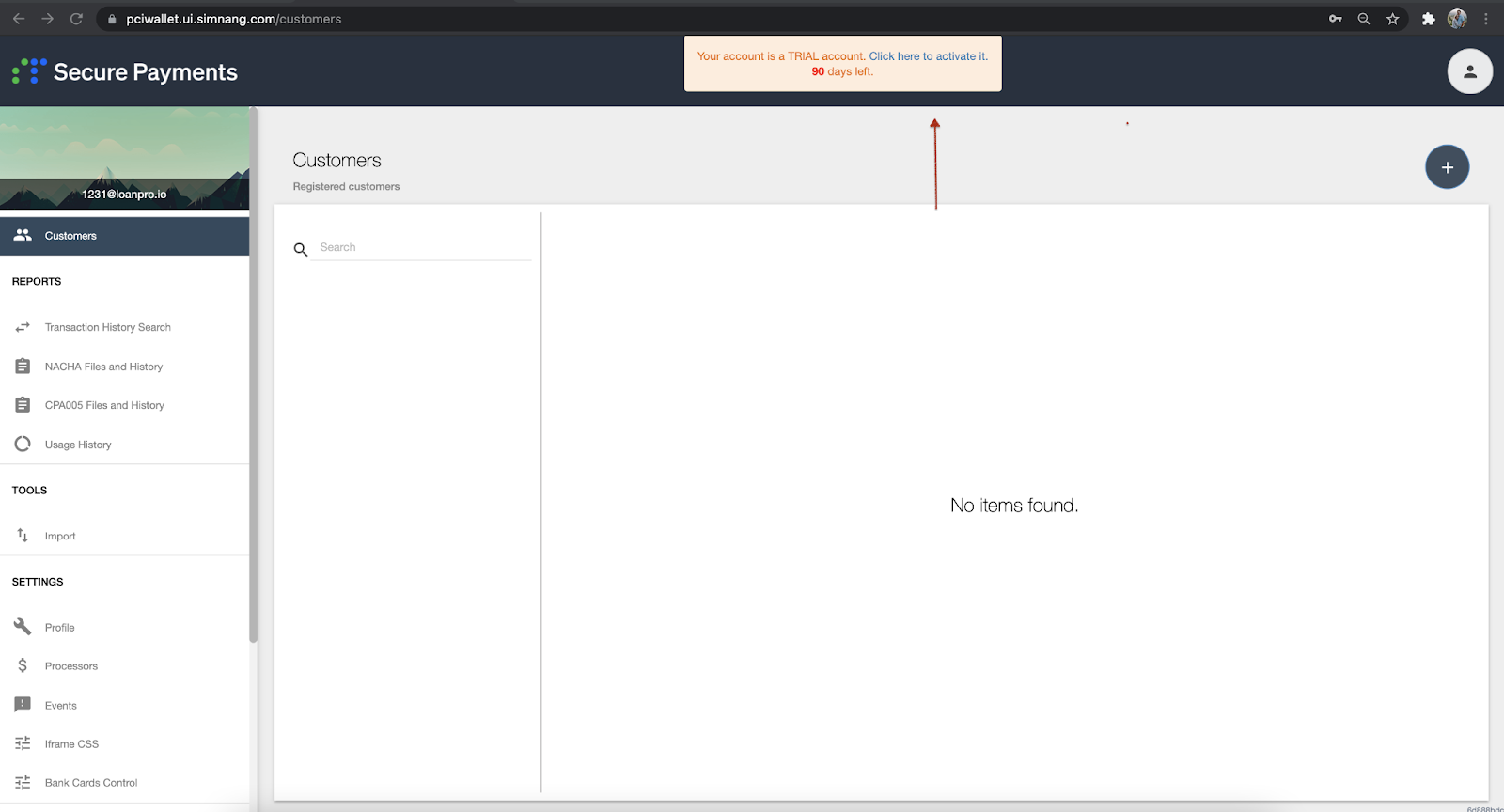 Our activation wizard will walk through the process. If you face any difficulty, contact our support staff, who can sort out any issues.
In order to activate your Secure Payments account, you will be required to put a credit/debit card on file. You will only be charged money when you use
Secure Payments services
.
Linking Your Secure Payments Account Back to LoanPro
Once your account is activated, navigate into LoanPro under Settings > Company > Merchant to link your newly created Secure Payments account to LoanPro. Depending on your account setup, you may see one of the two screens. Click either select 'Change Account' or 'I already Have One' to simply link the new account. Follow the steps prompted on the screen to enter in your Secure Payments credentials.


You have now successfully set up and linked your Secure Payments account to LoanPro. This means you're ready to begin processing payments.
We recommend finishing the configuration of your Secure Payments account. We have variety of help materials that will help you finish your configuration in our Secure Payment UI folder.
The following are items we recommend configuring:
---
---