Loan Reports
What are Loan Reports?
Loan reports are found within a specific loan. For example, say you want to see how much interest a borrower has been paying and the details on their payments. Within that loan's page, you will be able to use loan reports to check up on past due payments and interest payments.
This article covers reports for individuals loans. Tenant-wide reports are found in the Reports Tab, and we have articles on specific reports in
Reports Tab
folder.
Different Types of Loan Reports
Calculated Reports
Whereas other reports simply pull data from a loan, calculated reports use the data to generate new information. There are five different types of calculated reports:
Other Types of Loan Reports
LoanPro has four other loan reports that are different than calculated reports. Rather than calculating new information, these others simply pull data from a loan.
Navigation
To run any of these reports, open LMS and go to a specific loan. Open the Reports section of the navigation window on the left.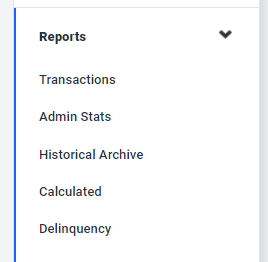 From here, you can select between Transactions, Admin Stats, Historical Archive, Calculated, and Delinquency. Within some categories, you can use the tabs at the top of the page to select other reports.

---
---