Product Login and Navigation
Audience: Loan Servicer or Collector, Upper Management, Loan Servicing/Collections Managers, Administrator, Compliance
Introduction
When you become a LoanPro user, you receive access to our three products: the Loan Management System (LMS), Secure Payments, and Connections. Each of these products can be used individually, but they're incredibly powerful together. In this article, we explain how to log in to each of your accounts and how to navigate between them.
Login Process
To log in to Loan Management System (LMS), Secure Payments, or Connections, simply navigate to loanpro.io and click the login button. (You can also go to loanpro.simnang.com/client/app/login.html?.)
You'll be presented with the LoanPro login screen. Here, you can log in to all three LoanPro products by selecting their respective tiles at the top of the page.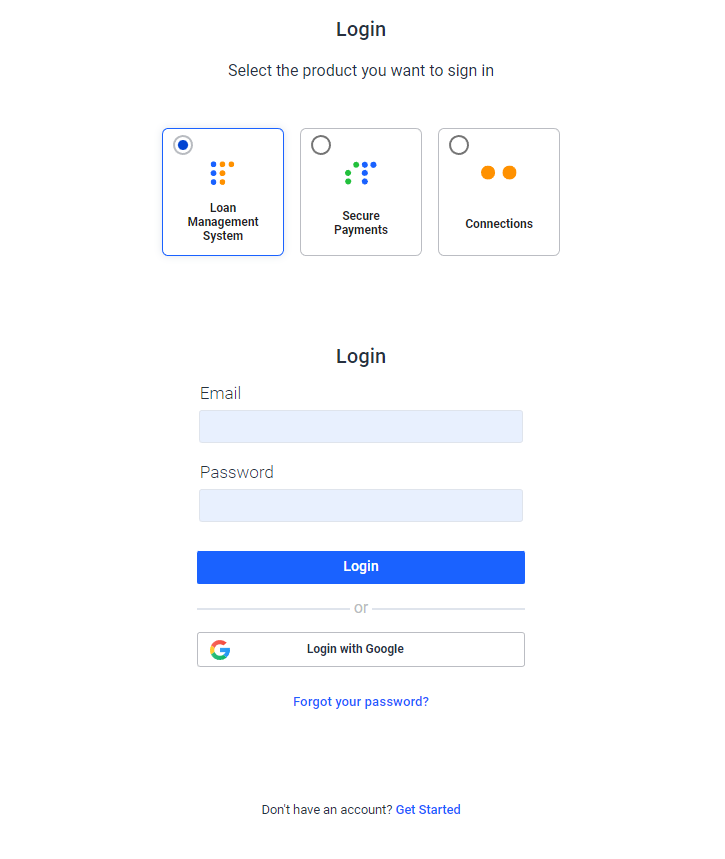 To log in to a product, select its tile and enter your email and password. If you'd like, you can also log in with your Google account; though, this is only available when logging in to LMS. Additionally, to log in with your Google account, the email address must also be used as your email inside LMS. Attempting to login with a Google account that is not tied to LMS will not grant you access.
If you haven't created your Secure Payments or Connections account, you can do so by clicking the link at the bottom of the login page.
If you user the same email for all three LoanPro products, logging into one of them will automatically log you into all of them.
An additional layer of login security for you and your personnel can be created by setting up Multi-Factor Authentication.
Product Navigation
After successfully logging in to your LoanPro account, you can easily switch between LMS, Secure Payments, and Connections. To log in to any of the three, click your profile name in the top right corner of LMS. Then, select which account you'd like to log in to from the drop-down menu shown in the image below: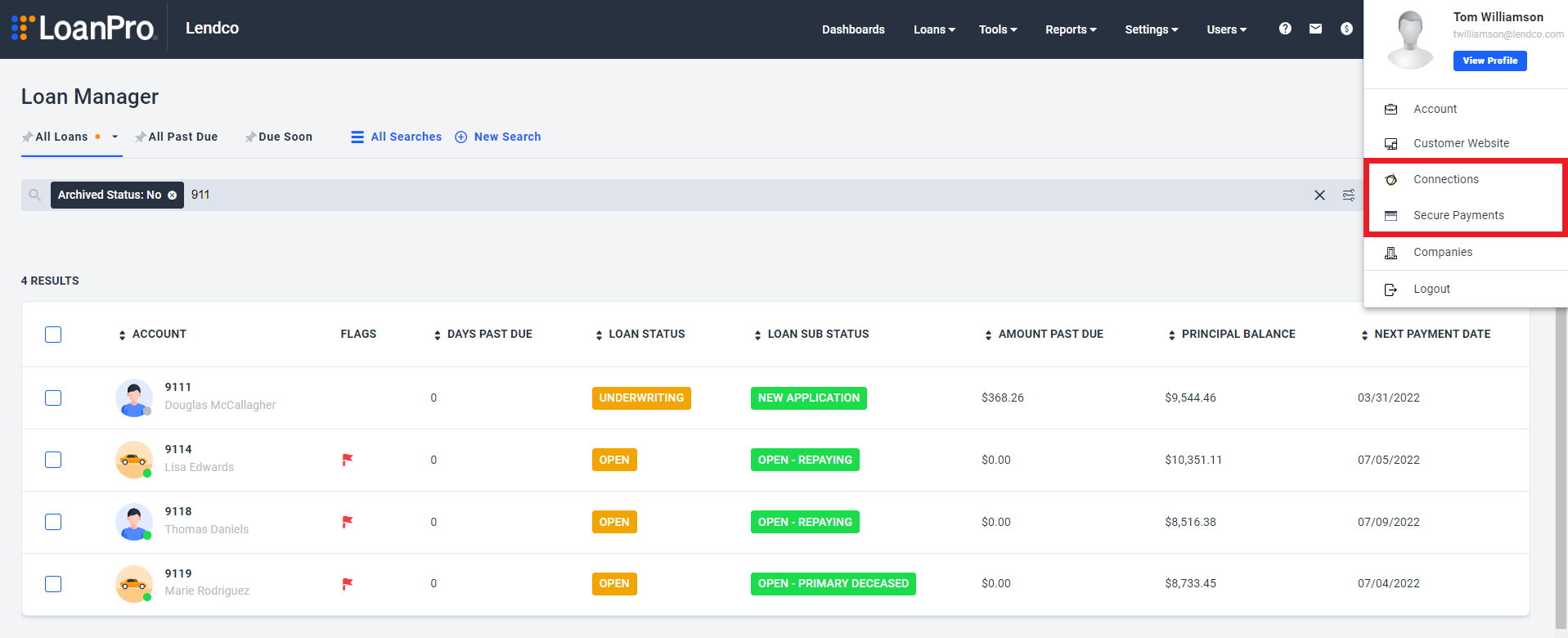 If your accounts are linked via the same email, clicking the link for either Connections or Secure Payments will open them without the need to log in again.
Access
You may not prefer to give all of your personnel access to the Secure Payments and Connections accounts associated with LoanPro. When creating or adjusting user roles, you can grant or restrict access by checking the appropriate checkboxes. By default, only the account admin will have access to these links.

Common Questions
Why are LMS, Secure Payments, and Connections separate from each other? A few reasons. First, each of these products were built to be used as individual software if desired (even though we recommend using them together). But we also built these as individual products intentionally as a security and compliance measure. Secure Payments is used to facilitate payments and integrate with payment processors. It's PCI-DSS compliant, and it's kept as a separate product to ensure your payments are secure.
Do I have to use all three products? You don't have to use all three if you don't want to. But they're there for you, and using them together will unlock your potential as a lender and LoanPro user.
What's Next?
This article is the starting point for our materials in the Access category. From here, you should next learn about setting up Multi-Factor Authentication and Cross-Tenant Access. For lenders with teams of personnel, Roles will allow you to grant or revoke access to specific parts of the software for each user.
LoanPro features a wealth of access options, and all of them can be viewed in our LoanPro Access article.
---
---