Static Pool Report
Introduction
The Static Pool Report lets you view performance for groups of loans with similar characteristics that were originated at about the same time.
Running the Report
To run a static pool report, navigate to Reports > Administration > Static Pool Report inside your company account.

First, choose a date range for the contract date of the loans that will be shown in the report results. This can be done either by choosing one of the predefined date ranges from the Contract Date Period drop-down, or by selecting a date range using LoanPro's date range picker.
The predefined date range selections include Today, This week, 30 days, Month to date, Year to date, Yesterday, Last week, Last month, Last year, Custom, and Other. Most of these options are easy to understand, but Custom and Other may need a little more explanation. Other is simply the selection that means you are defining your own date range. The drop-down will select this option for you if you simply click in the date field and choose a date range.
Choosing Custom from the drop-down offers you a different way to define your date range. You will define the beginning and end dates of the range as a number of days ago.
Next, you can choose whether you want to include only charge-off transactions in the report, or everything but charge-off transactions. A typical static pool report would include only charge-off transactions. Finally, you can make a total principal selection. This lets you choose what is included in the the principal amount in this report. The options are:
Principal Only – This will include principal but no discount.
Principal + Discount – This will include principal and discount and is the typical selection.
Total Payment – This will include fees and interest.
Once you have defined your date range, you can also narrow your search results by keyword or by using any of the advanced option search filters.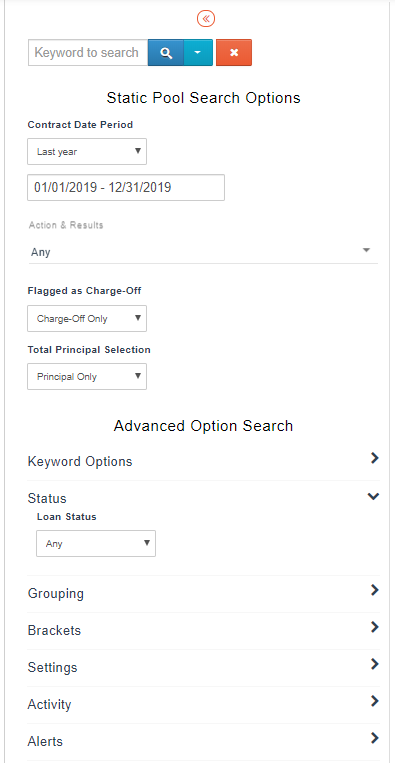 Once you have run your static pool report, you will most likely export the data as a CSV by choosing Excel Data Dump from the 'Data Options' drop-down. The exported CSV will provide you with more data than the report alone. You can also choose any of the data options to further use the data in the report.
---
---