Import Example - SMS Verification
General
This article will go over how to verify multiple customer phone numbers in LoanPro and SBT (Solutions By Text) through the process of an import within LoanPro. If you are looking to verify a single phone number see Register a Phone Number (SMS).
Note: The import system is not a real-time import. When you choose to import data, the import is queued and then run when it gets to the front of the queue.
Preparation
In order for an SMS verification import to be relevant, you will first need an account with SBT. For more information on how to set up an account and configure SMS messaging for your company within LoanPro see the article SMS Text Messaging. Once you have set up an account with SBT, there are three different options for SMS verification. The options are as listed below:
Reply "Y" – The customer receives a text asking them to opt in by replying "Y" to the message. Once they reply the phone number is verified.
Provide verification PIN – The client will receive a PIN number inside of the text message and they will relay that number to a member of your team who will then enter the number inside of the verification pop-up. The method is less common than the Reply Y.
None – Phone numbers are verified internally within SBT with no confirmation necessary from the customer.
Which SMS verification type you use from the options above is set up with SBT completely independent from LoanPro.
If you have opted for either verification type 1 or 2 (Reply Y, or PIN), only one import will be necessary within LoanPro so only proceed through steps 1 and 2 of this article. If you have set your SBT verification type to option 3 (None), two separate imports will be required within LoanPro. The first import is performed to verify phone numbers within SBT's system, and the second import is to mark the phone numbers as verified within LoanPro. If you have selected this verification type, you will need to follow all three steps listed in this article.
Step 1: Create an Import File
To set up your first import file, in LoanPro navigate to Settings > Company > Import > Instructions & Samples. Once in the Instructions & Samples section, select Tool Actions from the Customer imports and then download a sample file using the link in the top right-hand corner:

On the sample import file in excel you will see seven columns. The only columns that are relevant to the SMS verification import are the action, customerId, and smsverify columns. All other columns may be left blank on your import file.]
In the action column type "update". This value will be the same for each number you intend to verify.
Fill in the customerId column with all of the customer ID's for which you would like to verify the primary and secondary phone numbers on file. The customer ID for each each customer can be found in Users > Customer Manager.
In the smsverify column type "smsverifysend".  This value will also be the same for each number you intend to verify
The Customer Tools import will only allow one type of update per import. That means that you can choose to include either ofac, uspsverify, credco, smsverify, or carrier lookup, but only one of those options.
Below is an example import file for verifying five different customer phone numbers:

Once you have entered all of the correct information in the import file, select File > Save As, and save the file to a known location on your computer. You are now ready to run the import inside of LoanPro
Step 2: Run Import
To run the SMS Verification import with the new file you have just created, inside of LoanPro go to Settings > Company > Import > Upload & History. Once inside of the Upload & History section select the Add button in the top right-had corner of the screen. To add your new import file to the import uploader, first select the import category of Customer and the import sub-category of Tool Actions, then click "Drop Files to upload" to select your import file. To upload the import file, select Save.

Once you have uploaded the import, you will see that it has now been added to the Import List.

The final step is to now validate and run the import. 
To validate the import select the green checkmark icon. Once the import has been validated and no errors are found, select  to run the import.
If your SMS verification type is "Reply Y" or "Provide verification PIN", stop here. You will now need to wait for the necessary actions to be taken by the customers being verified.
If your SMS verification type is "None" continue to Step 3.
Step 3: Second Import
You will now need to run a second import to verify the phone numbers inside of LoanPro. To run the second import you will need to edit your existing SMS verification file, and change column F values to be "bypasssmsverify" instead of "smsverifysend".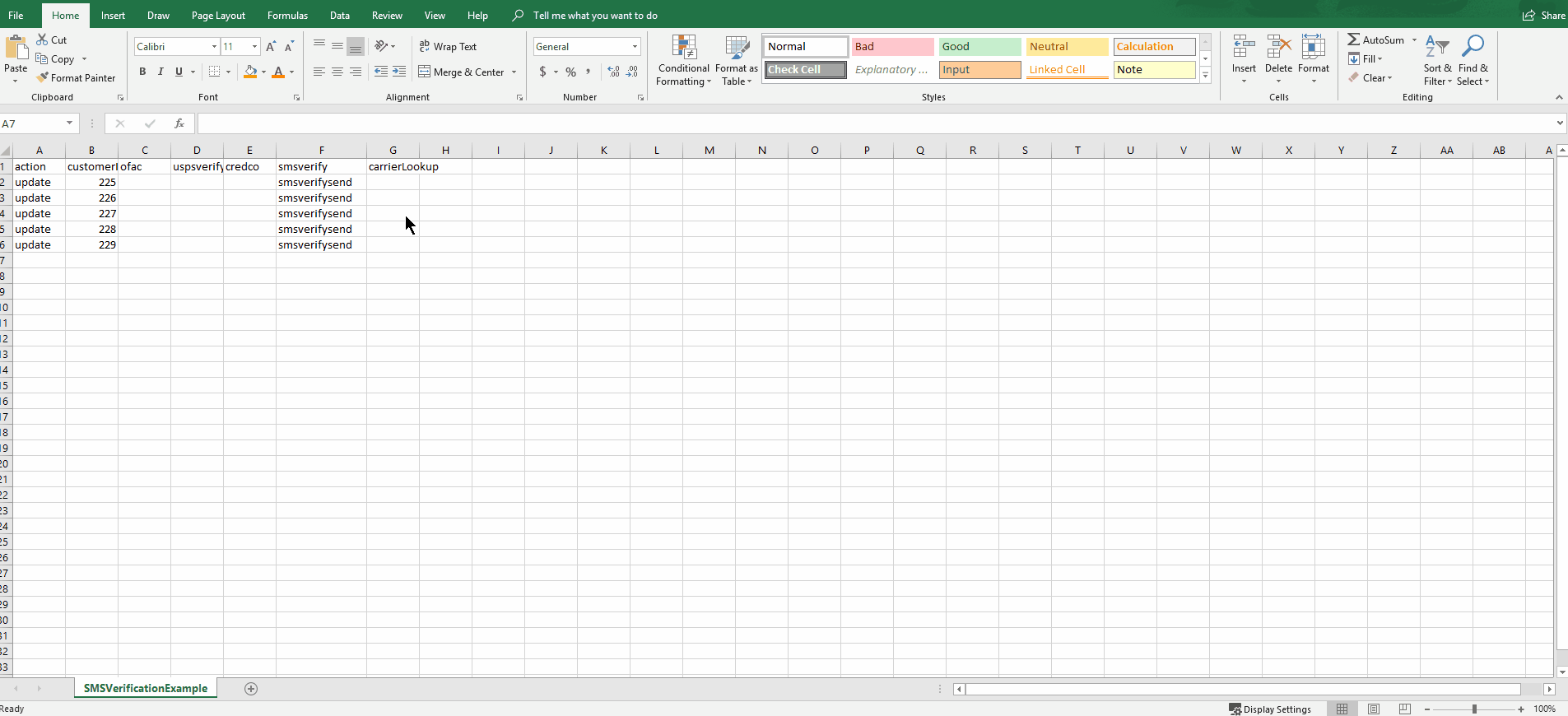 Now repeat Step 2, but using the now updated file.
Once all necessary steps have been performed successfully, phone numbers for all customers included in the import(s) will now be verified in LoanPro and SBT. You may now start sending SMS messages to these customers using the SMS Text Tool, or through trigger and event based notifications.
---
---