My Account - SOS Support
General
LoanPro offers a multitude of tools to help you successfully learn and and optimize LoanPro software. One of foremost of these tools is our excellent support team. A good place to help you easily access and manage your interactions with our support team is in the SOS Support tab. To access the SOS Support tab navigate to My Account > SOS Support in LoanPro.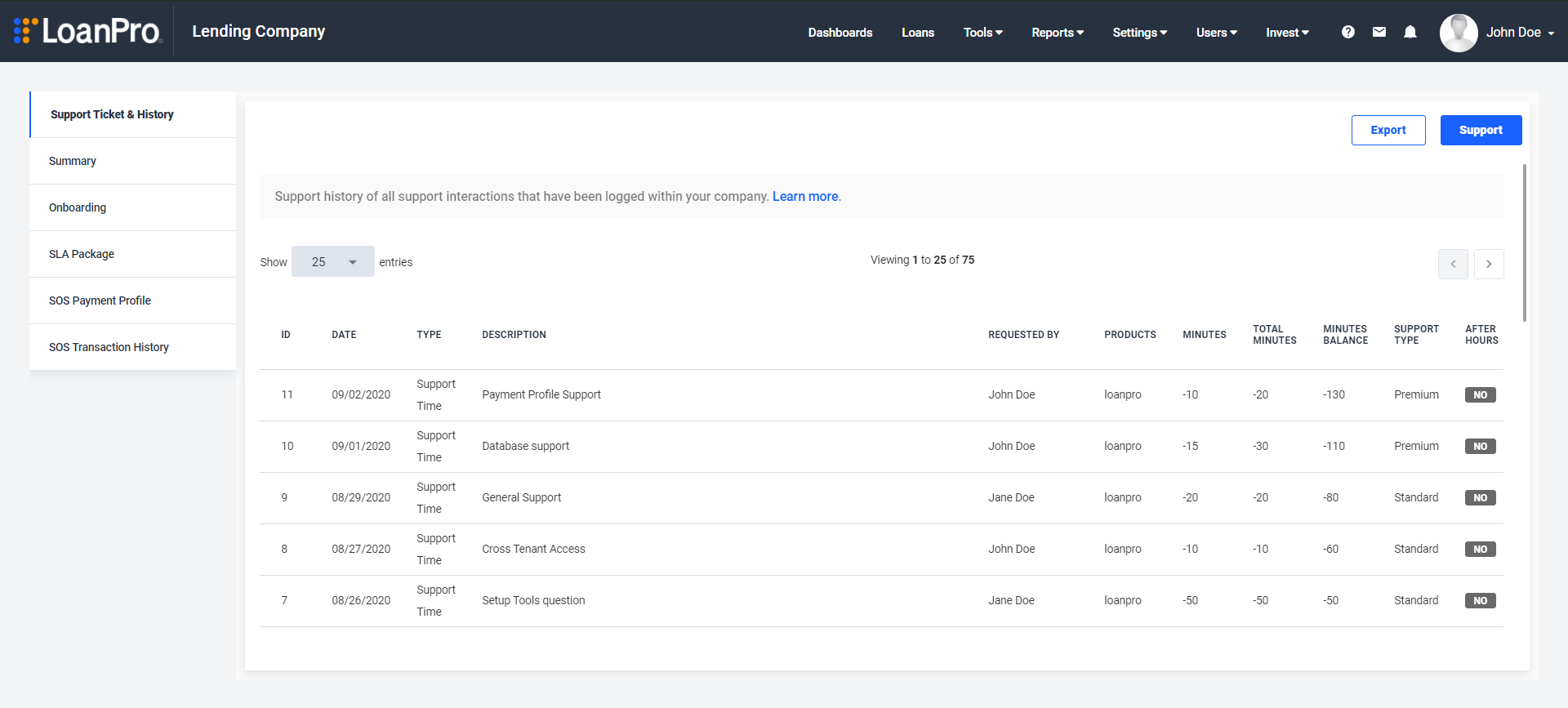 Inside of the SOS Support tab you will see the following subtabs: 
Support Ticket and History
Summary
Onboarding
SLA Package
SOS Payment Profile
SOS Transaction History
Support Ticket and History
In Support Ticket and History you will be able to see a history of all support interactions that have been logged within your company.
Select to export this information into an excel file.
If you select you will have the option to either Open Ticket, or Get Support Code. The Open Ticket option allows you to send a question or request directly to the LoanPro Support team via email. Get Support Code will generate a support code that will be used when calling in to LoanPro support.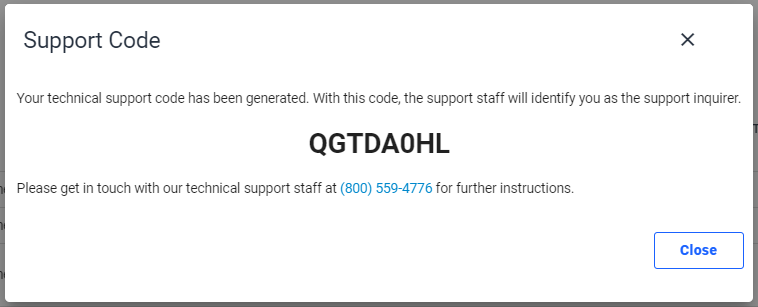 To use this code, call the number provided and dictate the code to the answering support representative when directed to do so.
Support Levels
There are three levels of LoanPro Support: Standard, Premium, and Specialized. You'll notice that the Minutes column on the Support Ticket & History shows the actual amount of support minutes used but the Total Minutes may not match. The Total Minutes takes into account the level of support used. Premium support is twice the cost of Standard, and Specialized is triple the cost of Standard. So, depending on the level of support needed, the Total Minutes column may not match the Minutes column. Standard support consists of basic software navigation and loan servicing. Premium support consists of more in depth processes such as API requests, rules applied authoring, etc. Specialized support consists of advanced in-depth assistance such as things that require assistance with coding.
Note: If you're an enterprise client, due to the nature of support typically requested, most support provided will likely fall into the two higher tiers (premium, specialized).
Summary
In Summary, you will be able to see a quick summary of your SOS Services.

SLA Package enrolled for: This shows the SOS package you are enrolled for. Available SLA packages are:  Basic, Business, or Enterprise.
SOS Prepaid Balance: This shows the remaining amount of prepaid support time currently outstanding for your company.
SOS Contract Date: This is the most recent contract date of your SOS account.
Total Support Logs: This is the number of support interactions that have been logged within your company. A complete list of these individual logs may be seen in the Support Ticket & History tab as explained in the previous section.
SOS Automatic Renewal Date: This is the date that your SOS account will automatically be renewed.
Onboarding
The Onboarding tab displays the LoanPro onboarding package your company chose upon sign up, as well as checkboxes to display the specific onboarding steps associated with your chosen package.

For more information on onboarding see the  Custom Onboarding - Orientation Presentation.
SLA Package
The SLA Package tab allows you to see a detailed view of all available SLA Packages and what features are available with each package. Your chosen package is highlighted in each section. In the example below, the chosen package is BASIC.

Contact support for more information on how to upgrade your SLA Package.
SOS Payment Profile
The SOS Payment Profile section displays a list of different payment profiles used by your company to pay for SOS services.

Contact SOS Support to add or update payment profiles on file.
SOS Transaction History
The SOS Transaction history tab displays a list of all of your company transactions with SOS Support.

Current Balance displays the outstanding SOS balance for your account.
Select to export this information into an excel file.
Note: SOS Support charges are highlighted in green. Payments to SOS Support are marked in red.
---
---