ACHQ/SpeedChex
Integration
LMS and Secure Payments are integrated with ACHQ (formerly known as SpeedChex). They handle ACH transactions, including both payments and funding. To set up an ACHQ processor in LMS, navigate to Settings > Company > Merchant > Secure Payments.

Select the Bank Account/ACH Processors tab and click 'Add Processor.'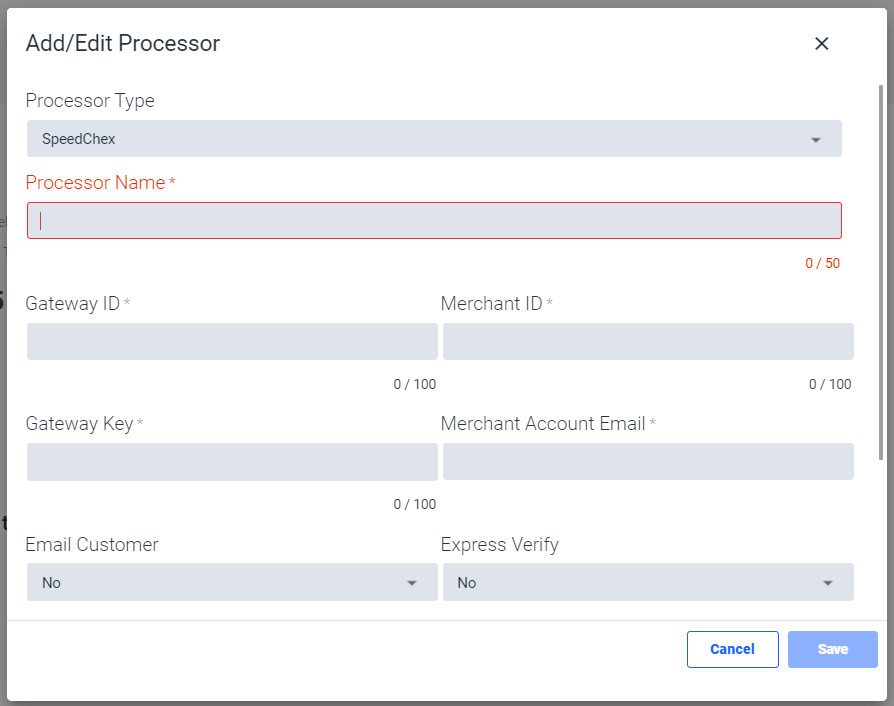 Enter a name for the processor in the 'Processor Name' field. Here you will select SpeedChex from the Processor drop-down.
You should see the fields available for SpeedChex. To complete the integration, enter your SpeedChex Gateway ID, Merchant ID, SpeedChex Gateway Key, and Merchant Account Email (this will be an email address where messages from SpeedChex should be sent). If you don't have this information, contact SpeedChex and they will provide it to you.
Click 'Save' and the process is complete. You can now process eCheck Payments through LoanPro.
Settings
There are also several settings options in this area to help you get the most from your ACHQ account. Here are some examples:
| | |
| --- | --- |
| Setting | Description |
| Demo Mode | This lets you toggle your ACHQ account between demo mode and live mode.  In demo mode, LoanPro will send data to ACHQ and receive responses, but it will not send payment data to the appropriate banks and no payments will be processed.  This is useful in testing that payment data is actually being sent to ACHQ. |
| Bypass Processing | This setting will have LoanPro bypass communicating with Secure Payments and any associated processors and deem each transaction as if the processor provided a response of 'success'. Any transactions processed with this setting will not be presented in Secure Payments or the Processor.  |
| Auto Reversal | Selecting this option will automatically reverse payments in the LoanPro system if they are returned by ACHQ. Since it usually takes approximately 3 days for an eCheck payment to go through. If there aren't sufficient funds to cover the payment or the payment is returned, this setting will let you avoid looking up and manually reversing returned payments in your system. |
| Default | This option will let you set this processor as your default. |
After the proper setup of your ACHQ processor, you are ready to begin processing payments.
LoanPro passes the Loan ID and Secure Payments transaction ID to ACHQ. They will be available in the admin side of ACHQ when you search for the transactions.
If you're interested in signing up with ACHQ, you can apply on their website.
---
---