Default Charge-Off Process
Audience: Loan Servicing/Collections Managers, Administrator, Compliance
Introduction
Lenders may want to forgive a portion of a loan. This may be part of a payment program, or just an incentive the lender is offering the borrower. Or, lenders may have a need to make an adjustment to a loan balance. This might be part of a decision that part or all of the loan is uncollectible. Charge-offs in LoanPro are a way to lower the balance of a loan. The default charge-off credit process is a workflow LoanPro has configured for crediting or charging off some or all of an account. The configuration of this default process can be changed as needed to match a lender's needs.
This process is specifically followed in order to log a manual credit. There are other processes (small-balance write off and policy charge off) that will automatically create charge-offs based on business rules.
This article will cover the steps in the default process, and when companies use charge-offs. If you'd like to learn more about charge-offs in general, check out our Charge-Off article.
How The Charge-Off Credit Process Works
This process is configured as a wizard, which is only two screens. To enter this wizard, the loan status must be Application, Open, or Closed, and the payoff must be greater than zero.
The first screen is the Advancements/Credits page inside a loan. The instructions walk the user through how to log a credit, including special instructions if the credit will be for the payoff amount.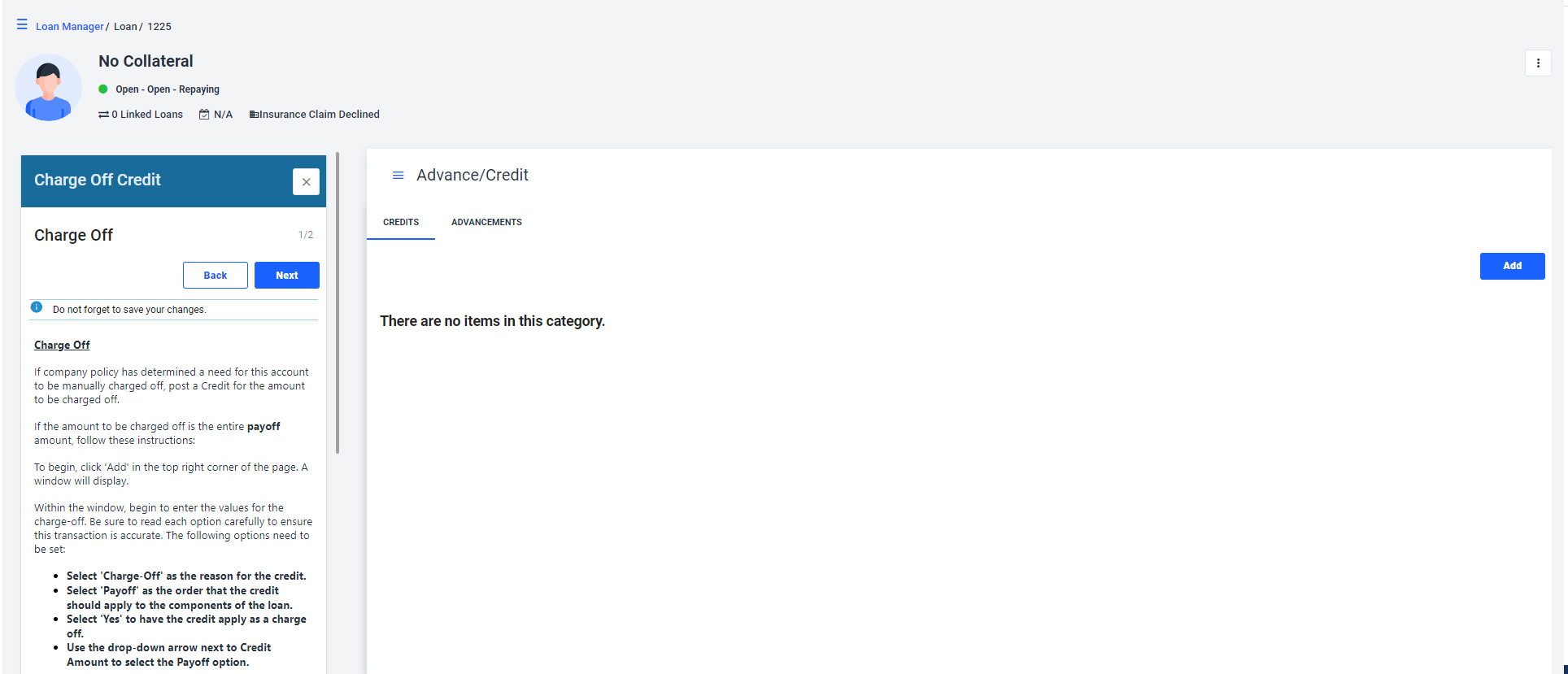 The second screen is the Action & Results screen. This screen gives instructions on logging an action and a result. The specific Action and Result that should be associated with a charge-off or credit can be customized within the instructions.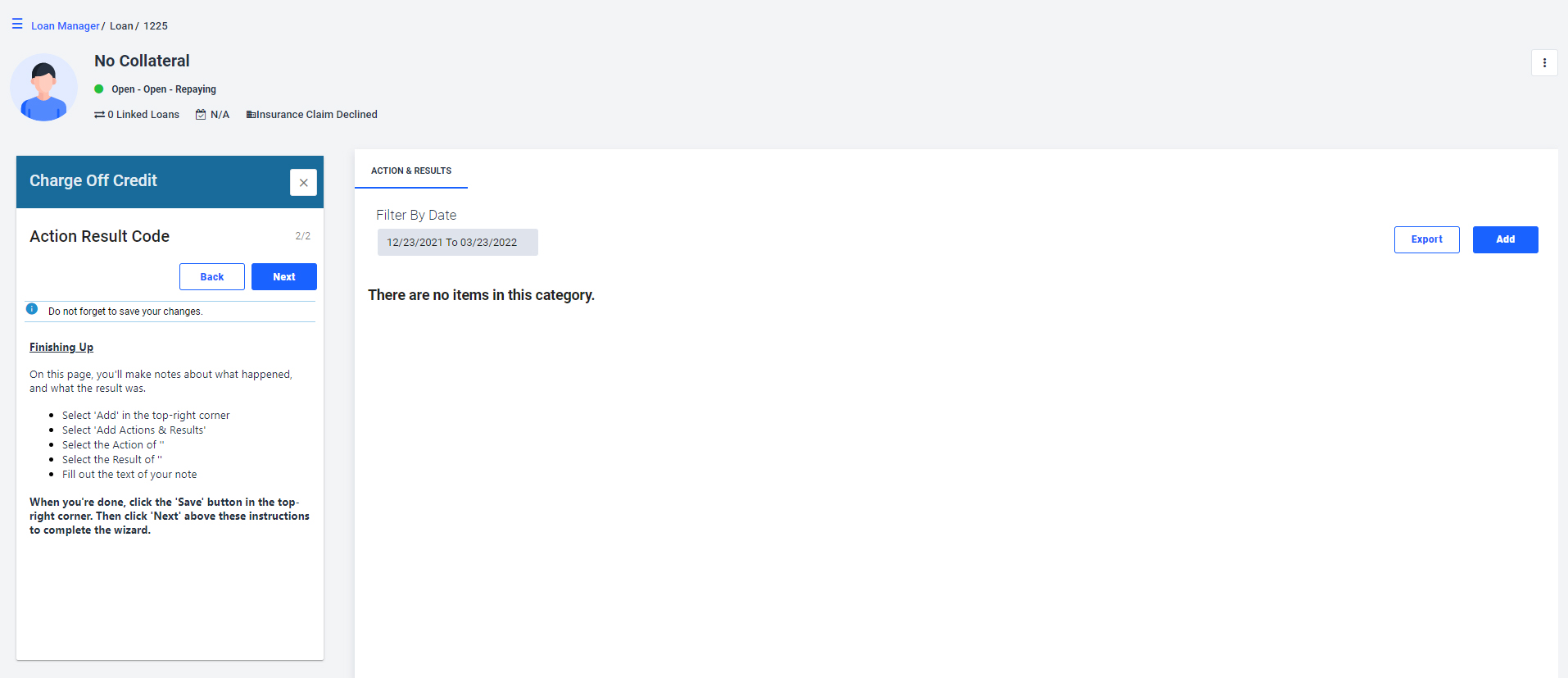 Common Uses & Questions
This wizard is used whenever a manual credit or charge-off is necessary. It is possible to create a credit or charge-off and add an action and result to a loan outside a wizard, but lenders usually like the rule-based access that comes with using a wizard. This will help ensure that charge-off and credits aren't issued when they shouldn't be on loans.
Servicing/Collections Managers Use

Like any lending process that the people you manage need to follow, you want to make sure the default charge-off process is followed consistently and accurately. This process is configured complete with instructions for each step to make sure your servicers and/or collectors know what to do with minimal training.

This process and the instructions are totally configurable, so if you follow the process, know that changes can be made to make it more efficient.
Administrator Use

If you are the one who specifies processors or how they should be followed, or the one who configures processes inside LoanPro's LMS, it's important to know that these default processes are completely configurable. LoanPro works with lots of lenders and we have tried to create defaults that follow the most common process we see. If you want to learn more about configuring wizards, check out the

Process Wizards

article.
Compliance Use

If you work in compliance, you may have specific controls, notifications, or other needs regarding the charge-off process. Notfications can be configured to meet FCRA, GLBA, or any other requirements. You will be responsible to write the text of any notification you need. From there, they are easy to add to the process so they can be automatically sent.

Most processes are broken up over a few wizards to make sure different parts of the process are completed by the right personnel. This includes making sure that actions are taken by those with the right permissions. Wizard groups and rules can be set to ensure that the right people complete the right things.
When should I issue a credit? The decision to issue a credit is something the lender should decide. There are no statutes that require a credit be issued in a certain circumstance. Issuing a credit may happen simply to make an adjustment to a loan balance. It may be something used to incentivize borrower behavior or increase the likelihood of receiving future payments. Use credits when it makes sense for your business.
This process doesn't quite work the way I want it to. Can I make changes to it? Yes. This process is only a default. Changes to the process can be made with configuration, and no programming is required. Our support team can assist in making changes, if needed.
Terminology
| | |
| --- | --- |
| Term | Definition |
| Charge-off | A non-cash decrease in the balance of a loan or the value of the loan note. Charge-offs are often used from an accounting perspective to track losses to offset income for tax reasons. |
Related Topics
If you'd like to know more about topics related the default charge-off process, check out our articles about:
What's Next
If you like to learn more about credit and charge-off processes, check out the Default Payoff/Small Balance Write-off Process article.
---
---