Source Company – Employees
Many LoanPro customers use "source companies" differently. For some, source companies are business partners or allies who refer loans. For LoanPro users with several brick-and-mortar locations, the source company features can help them keep track of each individual location where their loans are originate and are serviced. If that's the case, it may also be helpful to keep track of which employees work at which location, and which of these employees are LoanPro users. Within the Source Company Manager, you can add and keep track of employees, and assign them responsibility over cash drawers and vaults.
Getting to the Employee Tab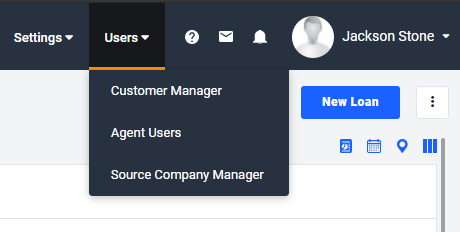 From anywhere in LoanPro, go to the banner across the top of the page and click Users > Source Company Manager.

Our main article on the Source Company Manager explains the dashboard and search bar on this page, which you can use to find the specific source company you want to add or edit employees on. Just click on that company and you'll be taken to that company's page. From there, just click over the the Employees tab.
Managing Employees
The Employees tab displays all of the users you've assigned to this source company. At the top left, there is a search bar where you can enter an individual agent's ID, name, email or phone number. You can also filter by status (whether the employee is an active LoanPro user) and Agent Role. Their role will allow or restrict their access within the source company, and can be configured with the Role Access Tree.
An individual employee can be assigned to multiple source companies. (Infinite companies, really. There's no limit). If staff work in or oversee multiple locations, this lets them use the cash drawers, vault, and other source company features at every source company they're assigned to. At each of those companies, they'll have the same level of access, which is granted by their role.
Below the search bar, you'll see all of the agents linked to the company, or just those who match your search. Each entry gives the employee's name, picture (if you've added one), position, phone, email, agent role within LoanPro, and status as a LoanPro user. The page will show 10 agents by default, but a button in the lower left-hand corner will let you adjust that to 25 or 50.

Clicking the Manage Users button in the top right corner will take you to a full list of agent users connected to your LoanPro account. Like the last page, there is a search bar you can use to find individual agents, and you can sort by status as an active LoanPro user. Each entry includes the agent's name, contact info, and role, and to the left of each entry is a checkable box. To add users to the source company, check the boxes next to each and then click the Update button in the bottom right. Removing an employee works the same way — just uncheck their box and click Update.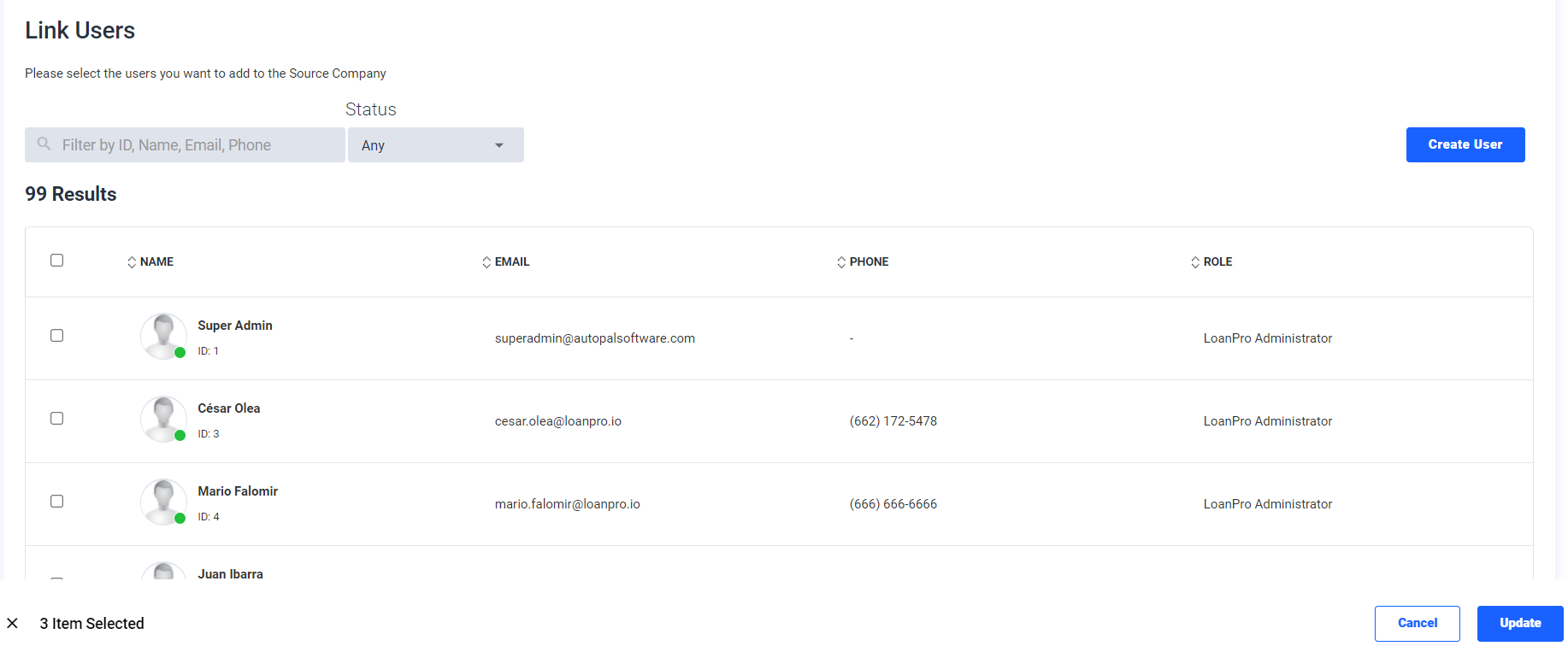 In the top right corner, there's a button to create a new user. Clicking it will bring up a window with fields for the user's name, contact info, status as a LoanPro user, and other information. Once you create them, they'll appear in the list of all the users in your LoanPro account. Just check the box beside their name and click the Update button, and they'll be added to the source company.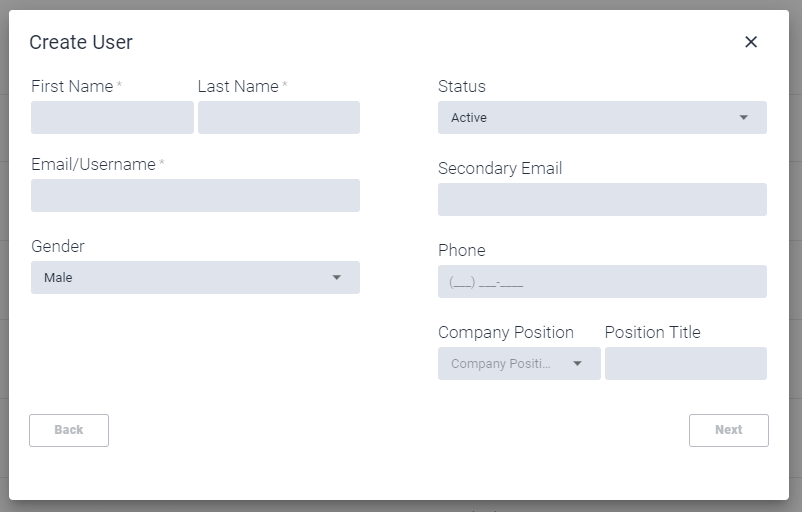 ---
---