Bank Card Attribute Lookup
LoanPro's latest release added the Advanced Card Attribute Lookup service through LoanPaymentPro. Our earlier tool is still active and usable, and this new feature will also give tell you whether a card is activated and if it can receive a funding transaction.
Introduction
When a borrower gives you their payment information, you likely want to check that their information points to a valid card. Not only will this help prevent borrowers from defrauding you, but it can also help you meet due diligence requirements. This article covers the attribute lookups for bank cards; for checking or savings accounts, see Bank Account Verification Through ValidiFI.
Looking Up Card Attributes
In the Secure Payments UI, navigate to Customers > Select a specific customer > Payment Profiles. This page will display any existing payment profiles, or let you add a new one with the blue plus icon.
Next to each payment profile is a blue info icon; clicking it pulls up a window asking for that profile's token.

Once you've entered the token, it'll pull up the card information for that profile.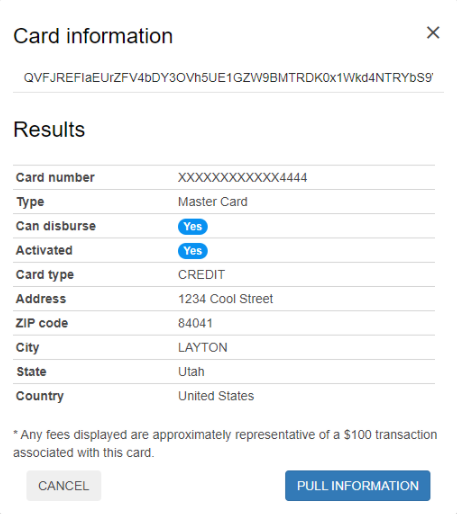 The window shows the following fields:
| | | |
| --- | --- | --- |
| Field | Sample | Description |
| Card Number | XXXXXXXXXXXX4444 | The last four digits of the card number. |
| Type | Master Card | The card's brand, like Master Card, Discover, VISA, or American Express. |
| Can disburse | Yes | One of the Advanced Card Attribute Lookup fields. This tells whether funds can be loaded onto the card. If the advanced lookup is turned off, the field will be blank. This can help prevent failed funding transactions. |
| Activated | Yes | One of the Advanced Card Attribute Lookup fields (see below). This tells whether the card is active, and should indicate that it can receive funding or make payments. If the advanced lookup is turned off, the field will be blank. |
| Card Type | CREDIT | The card type, such as credit, debit, or prepaid. |
The table also holds the address for the card.
Secure Payments can use this same card information to block payments from certain card brands or types. To set up those restrictions, see our article on
Bank Cards Control
.
Turning On Advanced Card Lookup with LoanPaymentPro
The 'Can disburse' and 'Activated' fields require a more advanced lookup, which we get from our integration with LoanPaymentPro. (LoanPaymentPro is its own company—not a part of LoanPro. It's like a Jeff/Geoff situation.) To turn this on, navigate to the 'Actions' page and turn on 'Advanced Card Attribute Lookup'.

The regular attribute lookup costs $0.05 per information pull, and the advanced lookup is $0.20 per pull.
Real-World Use
Customers who choose to pull this information will often want to use it within their internal systems. The best way to do this is to retrieve the information through the Secure Payments API. Check out our Secure Payments API - GET Credit Card article to see how this is done.
---
---