Payments
General
One of the most important parts of lending is accepting payments. Many of the features inside of LoanPro are based around this concept. This article gives an overview of payments inside the LoanPro system and provides links to articles with greater detail about features that warrant further explanation.
Payments in a Loan/Lease Account
In LoanPro, you can find payments within individual loan accounts. After selecting a loan, payments are found under Servicing > Payments.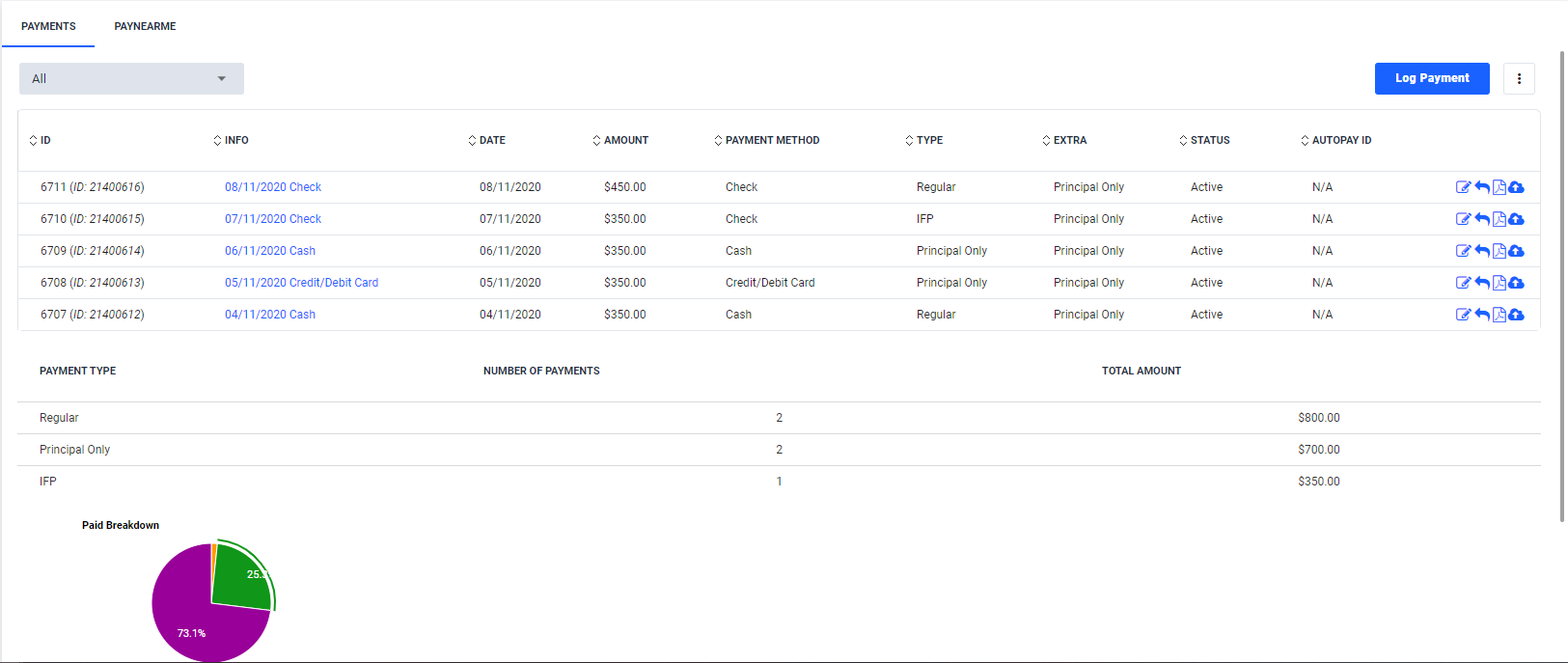 This page is designed to give you all of the information you need for the payments that have been logged on the individual account. The table underneath the summary shows all payments made on the account. Payments that are active and still apply to the account are blue. If a payment is edited, it will be listed in beige. Any reversed payments are listed in pink. You can click any of the column headers to sort by the information in that column. There will be a note at the top of this area if there are active recovery payments on the loan.

In the far right column of all active payments that don't have a date prior to your company cutoff date, you will have four options:
  – Click this to edit the existing payment.
  – Reverse the existing payment.
  – Generate a receipt for the payment.
  – Use Google cloud print to print a payment receipt.
You can view information for each payment by clicking the payment title.

Payment information includes:
Payment Info – This information is present only if the payment was made using one of LoanPro's payment integrations. This is the basic information about the payment profile that is used to process the payment and transaction IDs for the payment. If the transaction is being processed with a NACHA type processor, this section will include the PCI Wallet status of the payment. This information will also include a Processor Batch ID if the specific payment relates. 
Custom Fields – You can create custom fields that are specific to payments. The custom field values are displayed here.
Numbers Before – This section includes loan numbers before the payment was logged including: amount past due, days past due, next due amount, next due date, payoff, and principal balance.
Numbers After – This section shows what loan numbers were after the payment was logged. These numbers include: amount past due, next due amount, next due date, payoff amount, and principal balance.
Loan Grouping – This section shows groups that the loan was assigned to at the time the payment was logged (e.g. portfolios, source companies).
Server Stamp – This section shows the time and date when the payment was logged, the IP address from which it was logged, and the user who logged it.
Reverse/Edit Stamp – This data is only present for reversed or edited payments. This section shows all of the same data as the Server Stamp sections, but while the Server Stamp data comes from the logging of the payment, the Reverse/Edit Stamp data comes from the reversal or editing of the payment.
Payment Application – This section shows how the payment applied to the different loan segments (principal, interest, fees, escrow, etc).
Note: An r-code will be included in the payment info if it was present when the payment was reversed in PCI Wallet.
This page also displays some general data at the bottom.

This includes a breakdown by payment type, number of payments of each type, and the total amount paid for each payment type. The chart displayed shows how the payments have applied to the different loan segments (interest, fees, principal, etc.). Hover over any of the sections of this chart to view which loan segment is represented and the total dollar amount paid.
Under the chart, you are shown general account information including amount due, current payoff, next payment date, and next payment amount.
Automatic Payments
Automatic payments are referred to as Autopays in LoanPro. If you are processing payments through LoanPro's PCI Wallet integration, you can set payments to run automatically. Payments can be processed on a number of regular frequencies, or you can choose to have them run on specific dates.
Recovery Payments
While you can log both regular and recovery payments from the payments tab inside of any loan or lease account, recovery payments serve a different purpose than regular payments. A recovery payment is specifically a payment you receive on a charged-off account. You should only charge-off an account if it's unlikely that some portion of what is owed on the account will ever be paid.
Payment Reports
While the payments tab inside a given account will give you a lot of useful information, you may also want a report of payments made on all your company accounts. LoanPro offers a general report for payments found at Reports > History > Payment Breakdown. There is also a report that specifically shows reversed payments found at Reports > History > Payment Breakdown > Reversed Payments.
---
---