Reversed Payments Report
General
The reversed payments report shows only reversed payments.
How To
To run a reversed payments report, navigate to Reports > Transaction History > Reversed Payments inside your company account.

To run the report, first, select your search and filter options.  There are several options to help narrow down your search results.
Date Range
There are two date range options, Reverse Date Period and Log Date Period.  Each date range option is composed of a drop-down of predefined date ranges and a field where you can use the advanced date picker to enter a date range.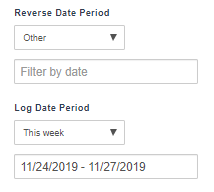 The reverse date period option lets you search for payments by when they were reversed.  The log date period lets you search for payments by when they were logged. 
The predefined date range options include Today, This week, 30 days, Month to date, Year to date, Yesterday, Last week, Last Month, Last year, custom and other.  Most of these options are self explanatory, but custom and other need a little more explanation.  Other is simply the option that is selected when a date range is chosen using the advanced date picker.
Custom lets you approach the date range in another way.  Instead of choosing start and end dates for your range, you will enter the start and end dates as a number of days ago.
Next you have a group of payment-specific filters.  These include: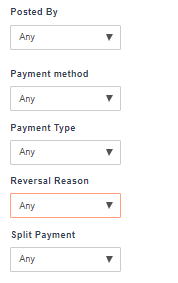 Posted By – The  agent user who posted the payment.
Payment Method – The payment method (e.g. cash, check, debit card) used to make the payment.  You can customize your list of  payment methods in Settings > Loan > Payments > Methods.
Payment Type – The payment type used to apply the payment.  You can customize your payment types in Settings > Loan > Payments > Types.
Reverse Reason – The reason the payment was reversed.  Options include: Check Bounced, Clerical Error, NACHA error code, Insufficient Funds.
Split Payment – Whether the payment was split between loans.
Custom Payment Fields – You will also be able to filter the results by any selection custom payment fields you have created.  To create a new custom payment field, go to Settings > Loan > Payments > Custom Fields.
Next there is a set of options that lets you search by account grouping values at the time the payment was logged.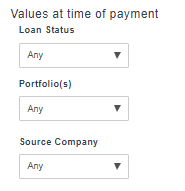 These include  Loan Status,  Portfolio(s), and  Source Company.
You can also filter your results using the  advanced option search.  Once you've entered your search date, click  to run the report.
---
---