SMS Text Tool
General
The SMS tool provides a way for you to send a text message to a specified group of loans.
If you register a phone number and the customer then sends you a message before you send one to them, LoanPro will not be able to identify the customer and the message won't be posted to the customer's account.
How To
The SMS tool can be found by navigating to Tools > Customer Communication > SMS, but first you'll need to designate recipients for the text message using the Loan Manager or one of the reports. You can narrow down the results of either a report or the Loan Manager and then use the data options drop-down to elect to send those results to the SMS tool. The loan manager also gives you the option to select accounts one at a time to send to the SMS tool.

Click SMS Tool to add a loan to the list of recipients. Once you have added all the loans you want, navigate to the SMS tool.

Here you should see a list of recipients. Click the trash bin icon to remove a recipient. Click inbox icon to select which customers and phone numbers on the account should receive the message.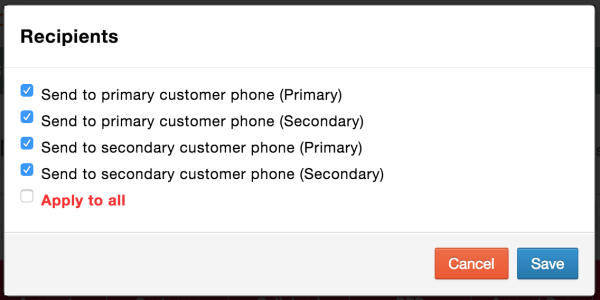 To send a message, select the message template from the Please Select Template drop-down and then click Save.
---
---