TabaPay Payment Processor
New Feature: Our latest update added an integration with TabaPay's Sandbox. In Secure Payments, you can create a processor (or edit an existing one) with Sandbox mode turned on. When a payment is sent to this processor, it won't actually pull funds from the borrower's bank card. This toggle switch is currently only in Secure Payments, but will soon be added to LMS.
General
LoanPro is integrated with TabaPay, a credit card processor. TabaPay's competitive advantage over other credit-card processors is that they can often process credit transactions through debit channels, making the transactions cheaper.
Getting Approved with TabaPay
Payment processors do their processing through an ODFI (originating depository financial institution, read "bank"). The ODFI will have certain criteria you must meet in order to process payments. Because of this, there is a 2-4 week underwriting period, during which you will need to submit documentation about your business to TabaPay. Unfortunately, there is nothing LoanPro or TabaPay can do to speed this process, because it is a requirement of the ODFI.
Setting Up the TabaPay Integration
Since LoanPro uses Secure Payments (formerly PCI Wallet) for payment processing, you can set up a new TabaPay processor in either LMS or Secure Payments. To create a new credit card processor, navigate to Settings > Company > Merchant > Secure Payments in your LoanPro account.
Navigate to the DEBIT/CREDIT CARD tab.

The 'Add Processor' button is at the top of the list, but you can scroll down past Authorize.net and LoanPaymentPro to find all of your TabaPay processors. Whether you add a new one or edit an existing one, the window looks the same.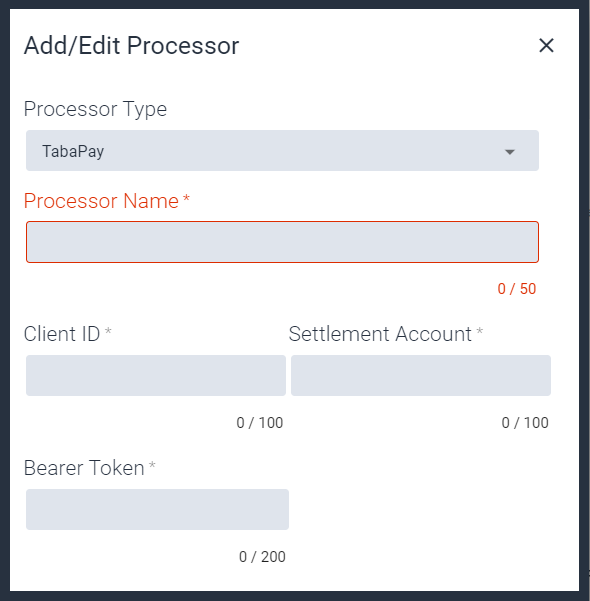 From the "Processor Type" drop-down, select TabaPay, then enter the information from your TabaPay account.
Processor Name – This is a name you will assign to this processor to distinguish it from other TabaPay processors you may create. You can enter whatever you like so long as the name is unique.
Client ID – This is your client ID with TabaPay (e.g. jNNiQsqTOBdOnyDkvxop)
Settlement Account – This is the ID of the account to which funds will settle. This ID will come from TabaPay (e.g. DAuNqxRWf70D9A)
Bearer Token – This is an authentication token given to you by TabaPay (e.g. A8f3lfDBz9EFsc23dkxeL24FaN)
Once you have entered your information, scroll down to enter the settings for this processor.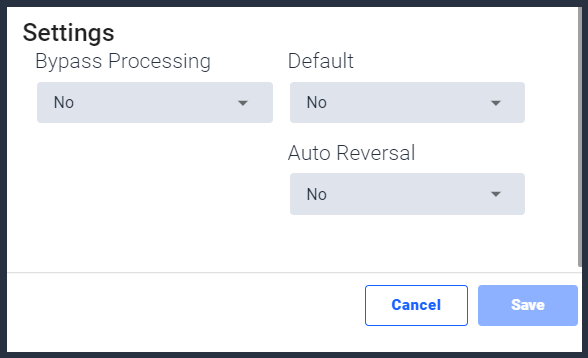 Bypass Processing – If set to yes, payments processed with this processor will get logged in LoanPro, but won't get sent to TabaPay.
Default – If set to yes, this processor will become your default credit/debit card processor.
Auto Reversal - If set to yes, charged-back payments will automatically be reversed in LoanPro.
Once the information is entered and correct, click 'Save'.
You will now have the option to process payments using TabaPay.
Secure Payments Setup
You can also set up processors within Secure Payments. Log in, then navigate to Processors > Bank Card > TabaPay.

Here you'll see a full list of processors, which shows whether the Sandbox setting is turned on or off. When you create or edit a TabaPay processor, you'll be able to toggle the sandbox setting.
Once a transaction has been logged, TabaPay does not update it. If it doesn't immediately succeed, its status will be set to "Processing" unless you manually mark it as FAILED or VOIDED.
---
---