Run Promises Report
General
The Promises Report lets you see promises over a date range.  This is useful when servicing your loans because it gives an idea which customers you should follow up with.
How to
To pull a Promises Report, first, navigate to Reports > Transaction History > Promises inside your company account.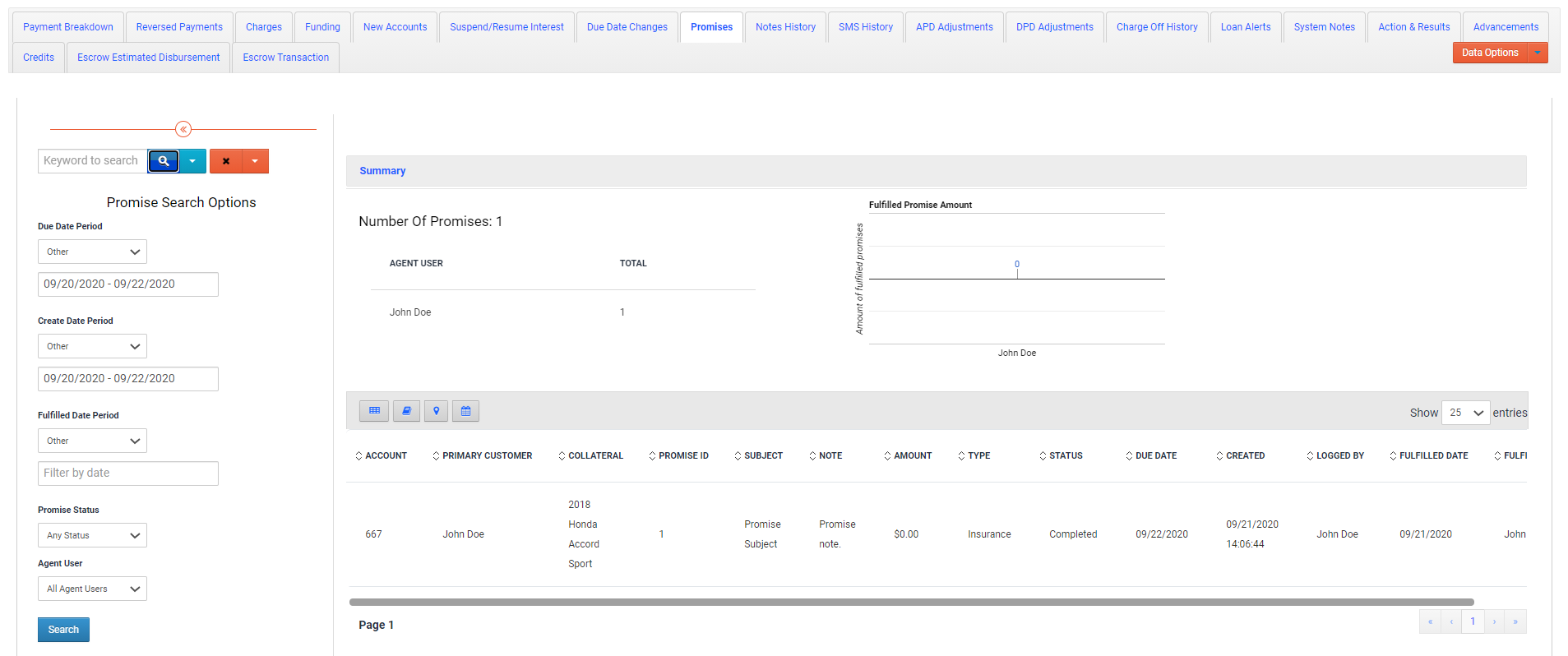 There are two dates that are important for a promise: the date it was created and the date it is due.  When pulling this report, you will have the option to search for promises that were created within a date range or that came due within a date range, or both.  You can specify the date range either by selecting an option from the Due Date Period drop-down, or by selecting it yourself by clicking the date range field.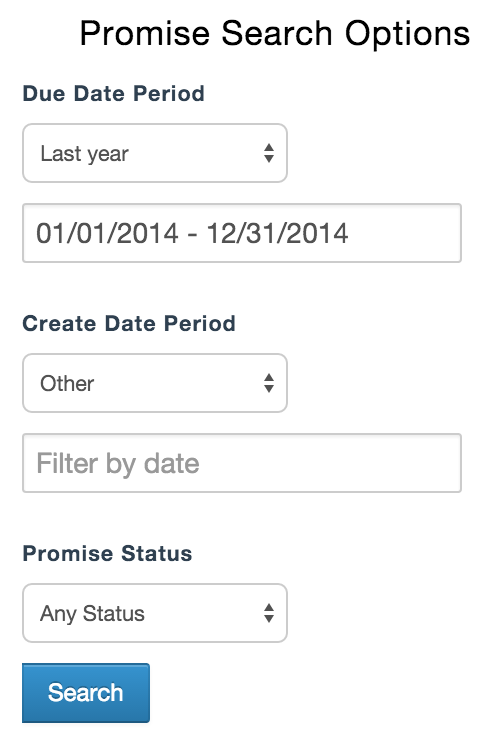 Your Due Date Period options include: Today, This week , 30 days, Month to date, Year to date, Yesterday, Last week, Last month, Last year, Custom, or Other.  The meaning of most of these options is obvious.  Custom and Other, however may not be readily apparent.  Custom will let you approach the date range a different way.  If you choose custom, you will get the option to enter the Date From and Date To as a number of days ago.  The Other option simply means you chose a date range using the date picker yourself.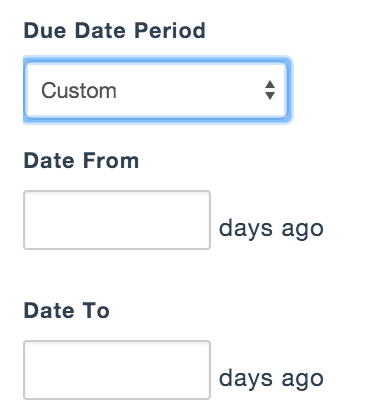 When selecting a date range, you will see two calendars in the date picker.  Choose the start date for the range from the first calendar and the end date for the range from the second calendar.  The dates you choose will appear in the FROM and TO fields.  When you have selected the dates you want, click .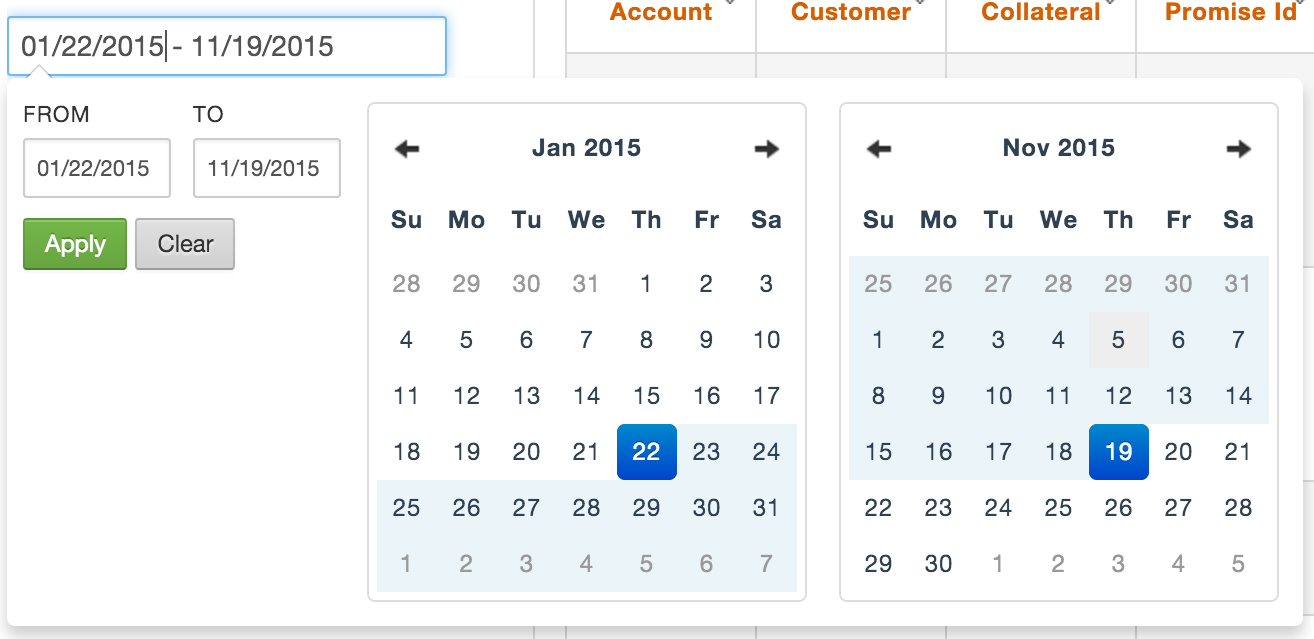 By default both the Due Date Period and the Create Date Period will have a date range selected.  You can deleted the date range, or you can click  in the date picker.  If you leave both date ranges, the promises in the report will have to fall into both.
You also have the option to filter your report results by promise status.  Choose Failed, Pending, or Completed from the Promise Status drop-down.  You can also filter your report using the  Advanced Option Search.  Once you have made your search choices, click  or  to run the report.
Once you have run your report, you can choose which report columns will be visible by clicking .  You can also choose what to do with the data by making a selection from the  drop-down menu.
Your  data options include Excel Data Dump, Schedule Report, Email List, Collector Queue, Run TCN Campaign, Send To Billing, Create Custom Forms, and SMS Tool.  Some of these options will require that you sign up for a third-party product.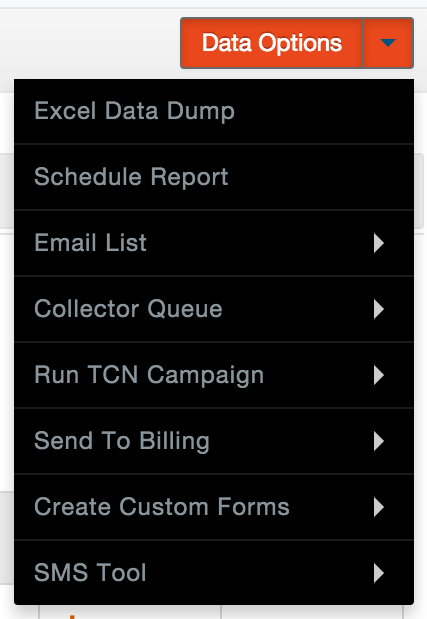 ---
---