Add a New Payment Method
General
This article will go over how to customize the list of payment methods available for your company.
How To
The list of payment methods for your company can be found by navigating to Settings > Loan > Payments > Methods inside your company account.
As you can see, you have different options for different payment methods. Methods such as Credit/Debit Card have no options because this method is hard-coded into LoanPro so that other features will work correctly. Some methods, such as Cash, can be disabled by clicking  highlight_off , but have no other options. Methods that you add yourself, however, can be edited by clicking edit or deleted by clicking the delete icon.
To add a new payment method, click  Add.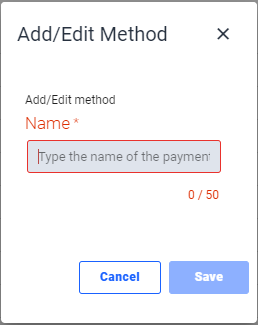 Enter the name of the payment method in the field provided and click Save to save it. You are done!
---
---