Add a New Payment Method
Audience: Upper Management, Accounting, Loan Servicing/Collections Managers, Administrator, Data
Introduction
Payment methods are categories you can create to organize the payments you receive. This article explains how to customize the list of payment methods available for your company.
Adding a New Method
Your payment methods can be found by navigating to Settings > Loan > Payments > Methods inside your company account.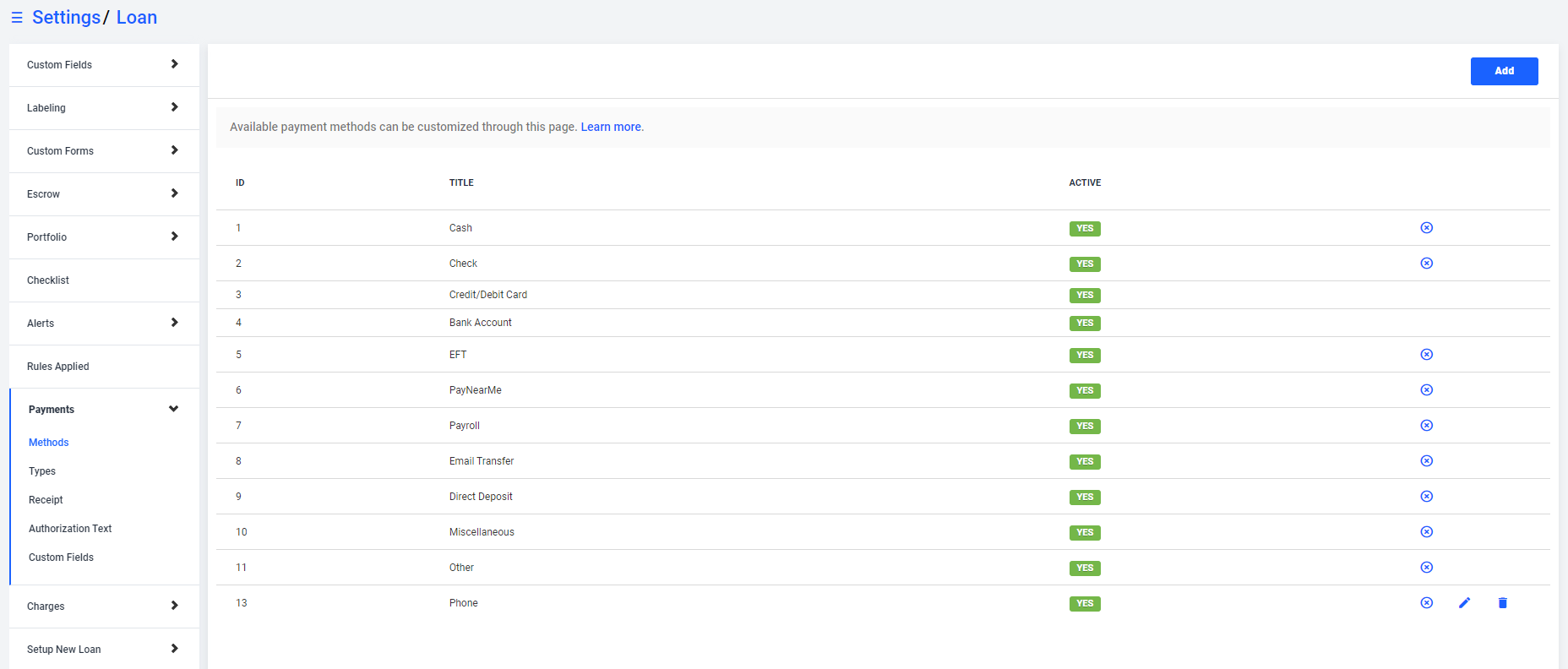 On this page page, you'll see that there are options available for different payment methods. You'll also notice that methods such as "Credit/Debit Card" don't provide you the ability to edit or inactive them. These methods are hard-coded into LoanPro so that other features will work correctly. However, other methods, such as "Cash" can be inactivated by clicking the blue X button.
If you'd like, you can create new payment methods that apply to your lending business. If you allow your borrowers to make payments over the phone or even with DogeCoin, you can create categories for them. Just remember, these are simply ways to categorize payments—they aren't a payment portal for your borrowers to make payments via these avenues.
To add a new payment method, click 'Add' in the top right.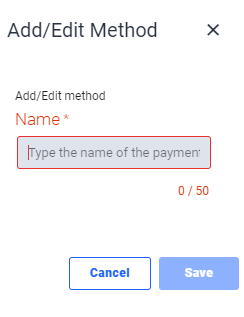 Enter the name of the payment method in the field provided and click 'Save' to save it. Your payment method will now be selectable when you log a payment on loan accounts.
Common Uses & Questions
Here's some information intended for specific audiences:
Upper Management Use

Although LMS has the option to add new methods here, this is essentially just a label in the software. Adding a label for Rubles or Rupees or RMB doesn't mean that you can process payments from them. If you want to process payments with new methods, you'll have to integrate with a system that handles those types of currency. This is a significant commitment of time and resources from your team.
Loan Servicing/Collections Managers or Administrator Use

Once you've created new payment methods, they're saved at the tenant-level, and will be available on payments across all of your loans. When you start logging a payment, the system will automatically select the method from your

Payment Defaults

. (Agent users can change it to another method if necessary.)
Accounting or Data Use
Will I now be able to process payments from these new methods? Not exactly. We've integrated LMS with processors that can handle bank card and e-check transactions, and we have a cash drawer feature for tracking cash payments. But if you want to process new methods, like foreign currency or crypto, you'll need to find a system that can support those transactions and then .
What's Next
From here, you might be interested in Payment Types and Waterfall Application or actually logging payments.
---
---