Trigger Based Notifications – System
Introduction
LoanPro provides the ability to receive notifications inside the software when certain conditions are met in your customer accounts. These notifications can be viewed in the Notification Center inside your company account.
How To
To create/edit a trigger-based system notification, navigate to Settings > Company > Notifications > Trigger Based Notifications in your company account.

To create a new trigger-based system notification, click 'Add'.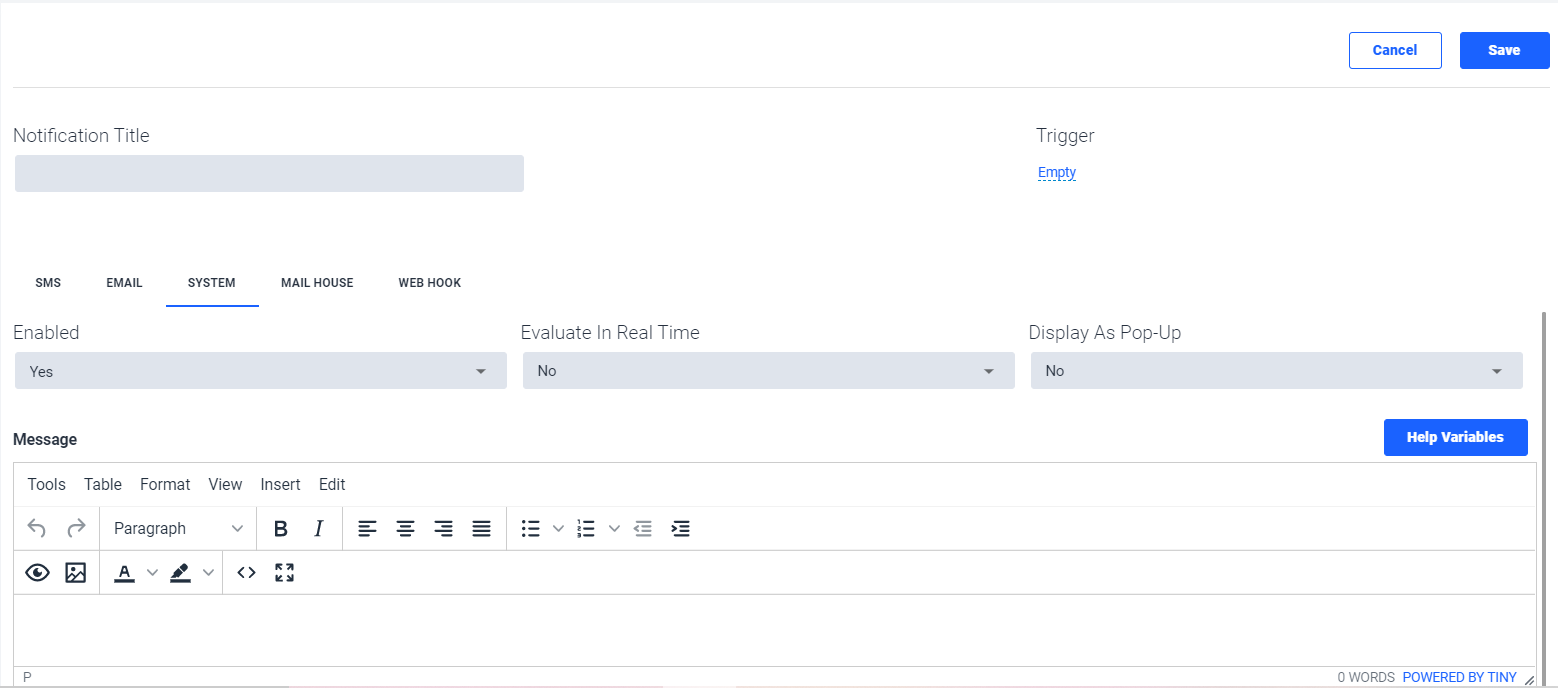 First, enter a title or name for this notification into the Notification Title field. Next, choose a trigger rule that will define the account conditions under which this notification will be sent out. To do this, click on the hyperlink next to trigger (the default is Empty).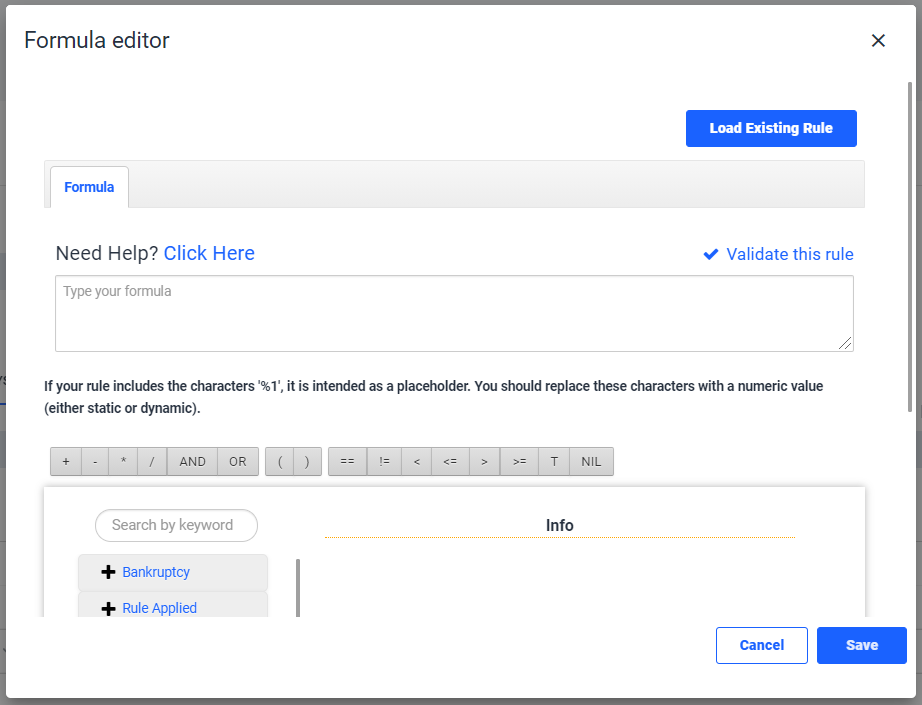 Here you can enter a rule. If you would like, you can also load an existing rule by clicking 'Load Existing Rule'.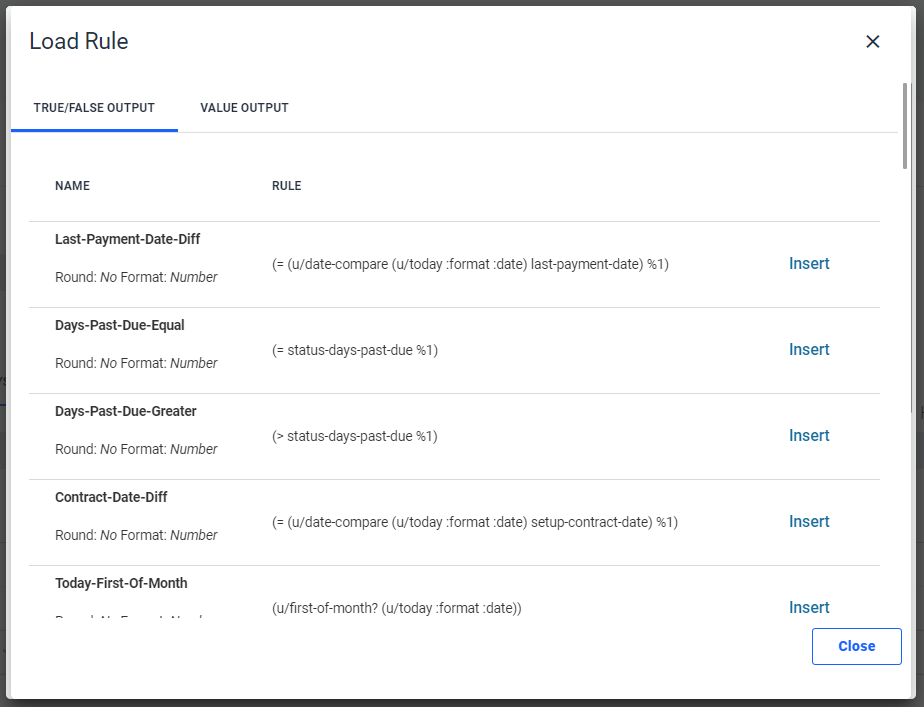 Click INSERT to the right of any rule to use that rule. Once you have entered the rule you want to use, click 'Save' to choose to use that rule for the trigger notification.
Any restrictions you would like to place on the notification must be written into your rule. For example, if you would like the notification to be restricted to a certain loan status, source company, portfolio, or etc., it must be written as a rule.
The next section of options lets you choose the basic information for the notification. The following options are available:
Notification Status – Determines whether this notification should be active or not. If this action is set to 'Off', the notification will not be sent out.
Display As Pop-up – Determines whether to have a popup show on the display whenever the notification is triggered.
Evaluate In Real Time – Setting this to 'On' will cause the system to evaluate the rule every time an event (such as a new payment) that causes the numbers on the loan to be recalculated occurs on a customer account. Otherwise, the rule will be evaluated only when customer accounts are updated daily by the system.
The bottom section is where you will enter the body of the message that will be sent. You can use the tools provided to format the message text. Here's a breakdown of what formatting options are available: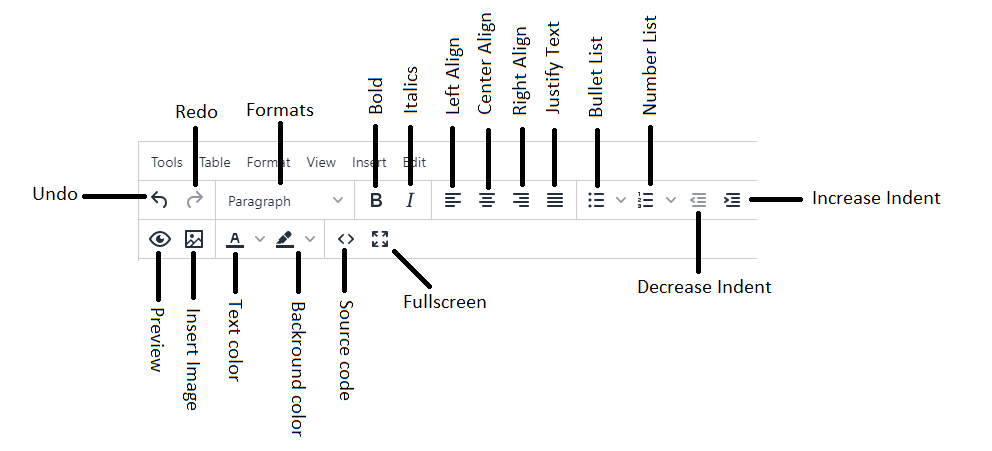 You can also use LoanPro's variables. These variables will merge account and customer information into the message so it will be specific to the recipient.  
To use the variables, click 'Help Variables'. Use the search field to search for the variable you want to use. Next, click the variable to view the options for that variable. Finally, click the hyperlink Help Variable ID to insert the variable into your message.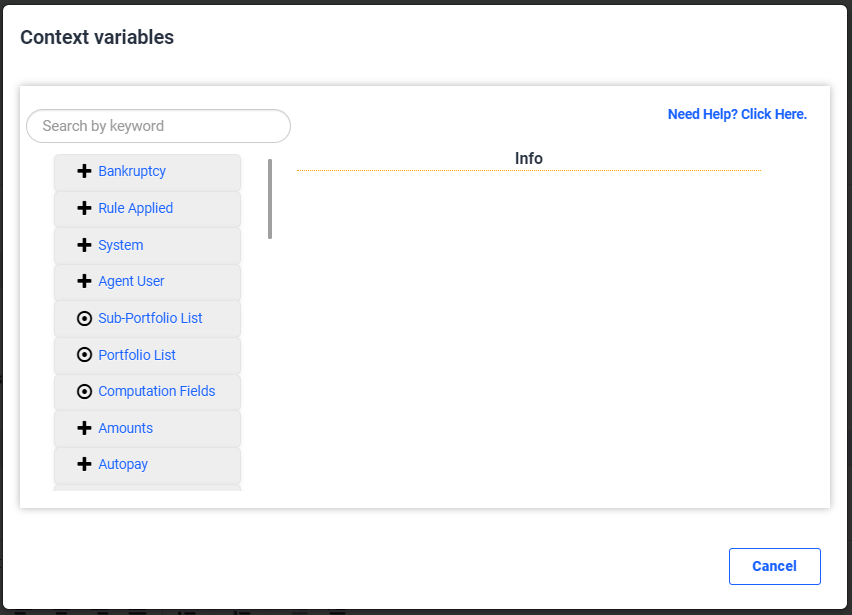 Once you have entered all the information for the notification, click 'Save' to save it. Depending on your selections, this notification will now be automatically sent to your customers and can be sent to your agent users. You can choose which agent users will receive it in Users > Agent Users > Internal Notifications > Triggers.
---
---