Payment Processors – Next Steps
Introduction
Now that you've learned the basics in Payment Processors 101, you're ready for more detailed instruction on how to set up and use processors. Here, we'll explain how to do so, as well as explain the differences between specific processors we're integrated with. We'll also show you how to set up processors in LMS and Secure Payments, note the differences with using NACHA and CPA-005, and explain why and how to use multiple processors.
Setup in LMS and Secure Payments
LMS and Secure Payments are integrated with a number of different processors, each specializing in one or more payment types. Here is a breakdown of which processors fall into which category:
| | |
| --- | --- |
| Payment Method | Available Processors |
| Bank Card Processing | |
| ACH/eCheck Processing | |
| Canada EFT Processing | |
Since your LMS and Secure Payment accounts are linked together, creating a processor in one will create it in the other.
Adding a Processor In LMS
By navigating to Settings > Company > Secure Payments, view your saved payment types and processors like shown below. Select a payment type and then click 'Add Processor'.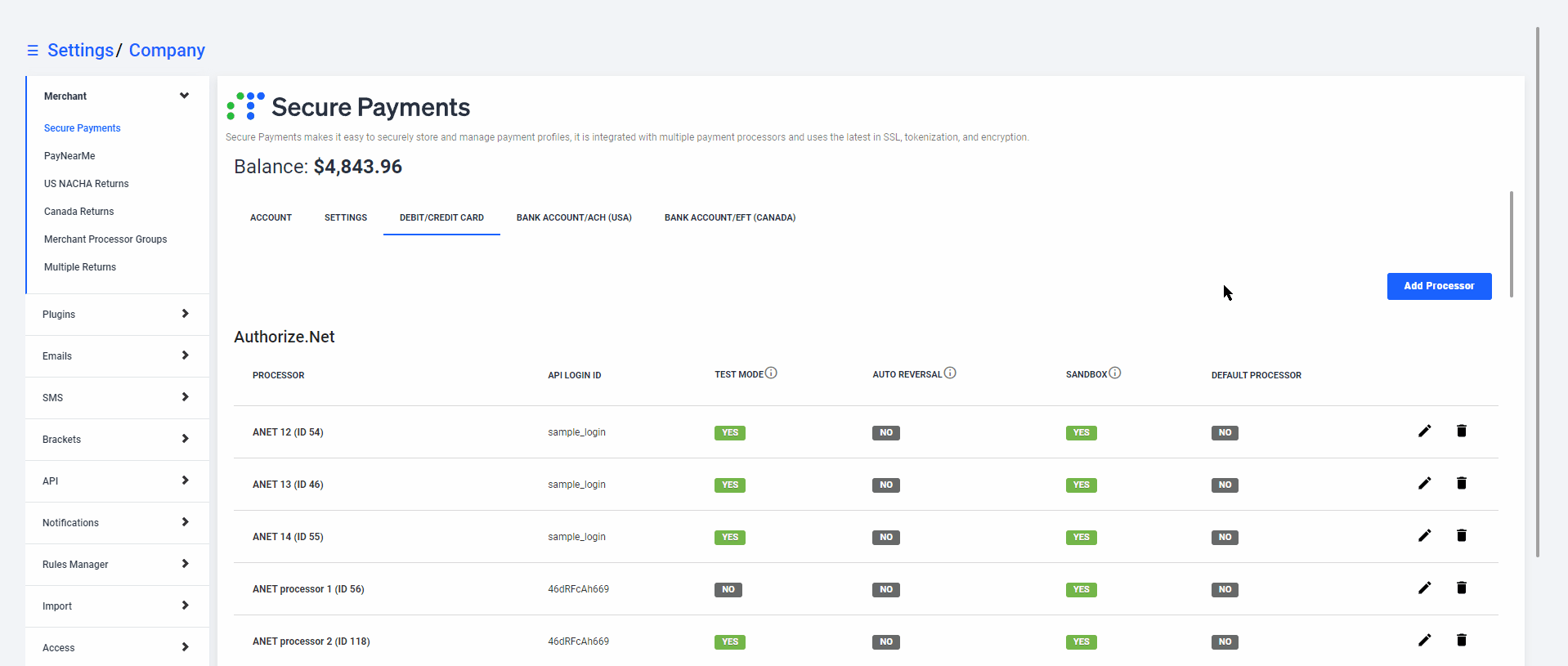 You will be taken to a page where you can select a processor. Under 'Processor Type', you will see a drop-down option with all of the available processors. Every processor requires different credentials, and you'll need to enter those here. If you'd like to set up a processor as your default, select 'Yes' for the 'default' field.
Adding a Processor In Secure Payments
To add a processor in Secure Payments, navigate to 'Processors'. On the left side of the screen there are three tabs labeled as Bank Card, Bank Account ACH, and Bank Account EFT Canada. To add a processor, you will click the plus sign at the top right of the screen.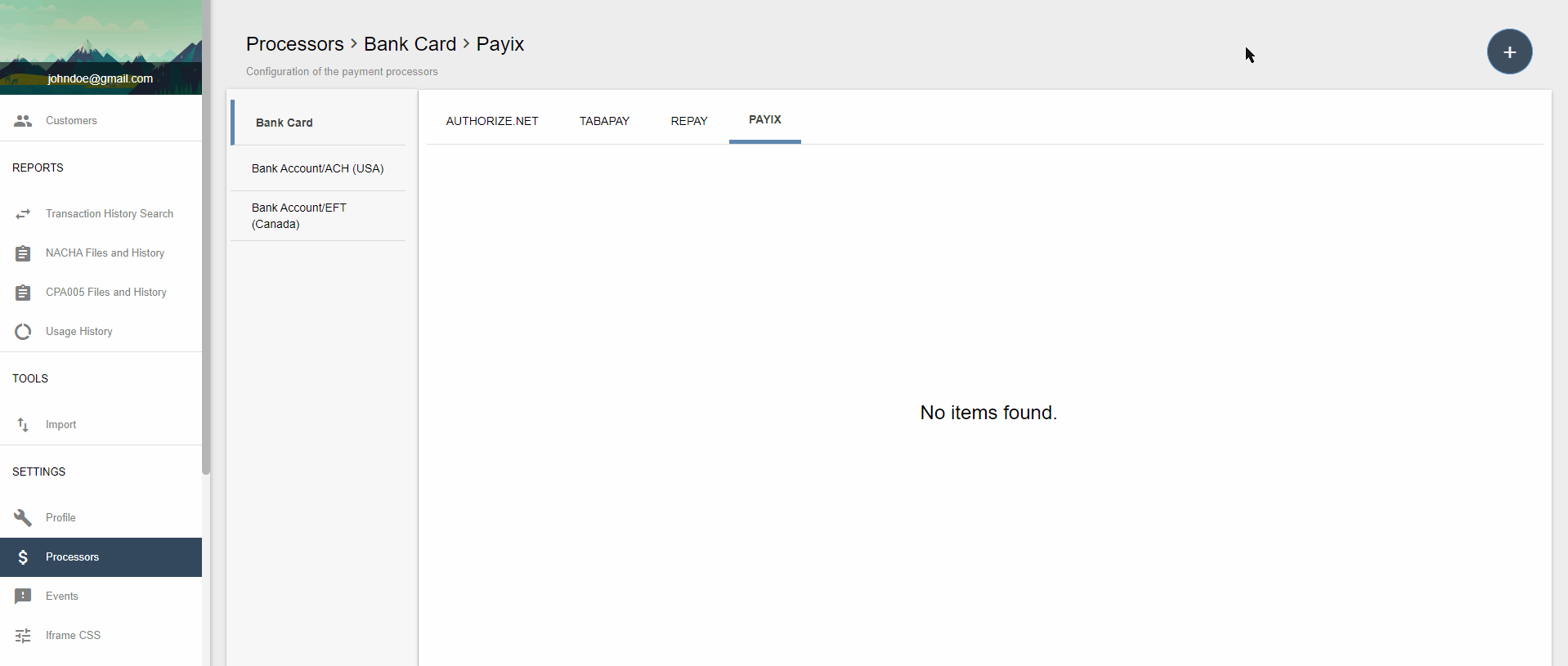 Similar to adding a processor in LMS, you will enter in the credentials for the processor you've chosen and then click 'Save'.
NACHA and CPA-005 files
Lenders use the files that NACHA has created to send bulk files to banks. The process of using NACHA can be complex, but it is also the cheapest route. The payment profile that is stored in Secure Payments will be connected with the payment in LMS; this includes the amount, payment profile token, processor, authorization type, and Secure Payments Transaction ID. To create a NACHA file, you first need to create a batch in the API through Secure Payments. The formats for the batch process include, JSON, .CSV, and NACHA. The process of creating a batch transaction is as follows:
Secure Payments assigns a batch ID to the transaction
Secure Payments updates the transaction status from 'Pending' to 'Processing'
You will need to manually format the file using (JSON, CSV, or NACHA) organized by the batch ID.
Payments are initiated first in LMS before NACHA batches are created in the API. You can request that a batch be created either in the Secure Payments interface or by sending a request to an endpoint in the API. After creating a batch, it will now be your responsibility to create the file that is specifically formatted by the credentials of the bank you're sending the file to. Most banks use NACHA format, but some do not, so you will need to communicate with your bank to determine the desired file format of your batch file. You will need to establish a relationship with your bank since LoanPro and Secure Payments do not have any connections with any banks. Once you submit your file to a bank, LoanPro will update you on your transaction status in Secure Payments. LMS will receive a status update with an R-code, which are codes that notify you of the status of a transaction.
CPA-005 is a service similar to NACHA, but it is specifically used by Canadian companies. You will enter in all of the necessary credentials to process a transaction through Secure Payments or through LoanPro's interface. You can generate a file in Secure Payments when you either log a payment or when you create an AutoPay. Once transactions are processed using the CPA-005 processor, it will be added to a file. To generate this file, you will need to navigate to 'CPA-005 Files and History' within Secure Payments and then click 'Generate'.
What are NACHA and the CPA?

The National Automated Clearing House Association (NACHA) is a non-profit organization that manages the ACH network in the United States. On their

website

, they explain that they govern "the thriving ACH Network, the payment system that drives safe, smart, and fast Direct Deposits and Direct Payments with the capability to reach all U.S. bank and credit union accounts."

Payments Canada, formerly known as the Canadian Payments Association (hence CPA), fills a similar role for in the Canadian banking ecosystem. As per their

website

, they are "the organization that underpins the Canadian financial system and economy by owning and operating Canada's payment clearing and settlement infrastructure, including associated systems, by-laws, rules and standards."

Both of these organizations have created files that facilitate bulk transfers between banks — NACHA and CPA-005. Although the files bear those organization's names, lenders don't need a relationship with them to use the files. You can use NACHA or CPA-005 files without ever speaking to either group.
Use Cases
Nearly every lending company uses payment processors to make payments. The only instance when they wouldn't use a payment processor is if a customer is paying with cash. You can set up as many processors as you'd like in LMS and Secure Payments, which allows you to have several processors from the same company. Using multiple processors can be effective for lenders who want to send funds from different groups of loans to different bank accounts. This can help accommodate lenders who send payoff from different loans to different investors. To organize and keep track of which profiles are going to which processor, we categorize them into portfolios. Additionally, with merchant processor groups, you can group processors together and assign loans to them.
Terminology
Here's a list of all the available payment processors and how they are used:
Processor

Description

This is a gateway that provides service through a virtual terminal. This service allows you to process credit or debit card payments. This integration will send return codes for failed payments and facilitate reversal of payment transactions. If you choose this service, you will need a merchant services provider (we recommend using Select Bankcard). To use Authorize.net, you need to enter specific information into your LoanPro account that include things such as, API login ID, and transaction key.

Secure payments is integrated with Repay, this processor allows you to process ACH payments and credit or debit card payments. You must be signed up and create an account with Repay to use this payment processor in LMS.

This processor is a credit card type processor that is cheaper than other credit card processors since they process their credit transactions through debit channels. TabaPay does not update when a transaction has been made, if a transaction does not succeed, the status will be set to 'Processing' unless you mark it as Failed or Voided.

This processor allows you to make ACH payments and bank card payments and send funds through ACH. LoanPaymentPro allows you to fund using their processing such as funding through a bank card. You must sign up to use LoanPaymentPro processor by filling out a form.

This is an eCheck processor in Secure Payments that LoanPro is integrated with. This processing is convenient for customers to make automatic payment reversal; this is important for users that make a lot of eChecks. To use this processor you have to apply for it by filling out a form.

Large lenders often use NACHA because of its capabilities of processing millions of transactions. NACHA is not a processor that is integrated with LoanPro; it is a service that users can use to send files to banks to be processed. To use NACHA, you will need a relationship with a bank that will process NACHA transactions. It is possible for you to have multiple NACHA processors. Using NACHA files is a way to submit payments to payment processors that don't have an API. NACHA files are formatted in a way that the banking systems are set up to accept.

Once you create a NACHA file, you submit it to a bank that will process the payment. Once the NACHA file is generated, the rest of the process takes place outside of LoanPro and Secure Payments. NACHA shows you failed payments in LoanPro through R-codes or called (return codes) when a failed ACH payment has occurred. When you submit a payment transaction to NACHA, Secure Payments will receive the transaction and send you a success response in LMS.

Secure Payments is integrated with Actum processing that allows you to process bank account and ACH payments. You have to create an account with Actum to use this processor inside Secure Payments.

This processor is an EFT payment processor that is integrated with Secure Payments. This company only processes payments for Canadian bank accounts. To use VersaPay, you will need to open an account with them first.

This is another Canadian EFT processor that is integrated with Secure Payments.

This payment processor can only be used if the originating bank is located in Canada. This is similar to NACHA except this processor is only used by Canadian banks. The CPA processes payments using CPA standard 005 formatted files. When a payment fails, it sends rejection codes that indicate why a transaction failed. LoanPro allows you to set automatic actions in response to a specific code you receive.
What's Next?
The links in the table above can teach you more about individual processors; but if you want to understand more about how processors work in general, see Payment Integrations, which breaks the topic down by payment method by explaining the ins and outs of each.
You might also consider reading Merchant Processor Groups. In LMS, you can group several processors together and then assign loans to those processors. When the borrower makes a payment of any kind, you'll already have a processor assigned and ready to handle the money.
---
---