LoanPaymentPro Pre-Transaction Verification – Advanced
Introduction
If you have read Payment Processors Intermediate and understand the loan payment process, and you are interested in learning more advanced concepts and features, this is the place for you to be. Here, we go beyond the basic overview of a processor — specifically LoanPaymentPro's pre-transaction verification feature.
To begin, you may be aware that LoanPaymentPro is not part of LoanPro; they are a separate company. LoanPro is integrated with LoanPaymentPro which allows transactions to be processed through debit/credit cards or bank account/ACH. LoanPaymentPro offers a pre-transaction verification service, and this is a simple and useful tool for automatically ensuring that there are sufficient funds in a borrower's account prior to initiating a transaction. However, the pre-transaction verification feature is offered only with bank cards.
Signing up with LoanPaymentPro
Like many processors, you have to sign up for this feature for it to be available to you — we can't do this for you. This can be completed via their website where you can fill out your contact information.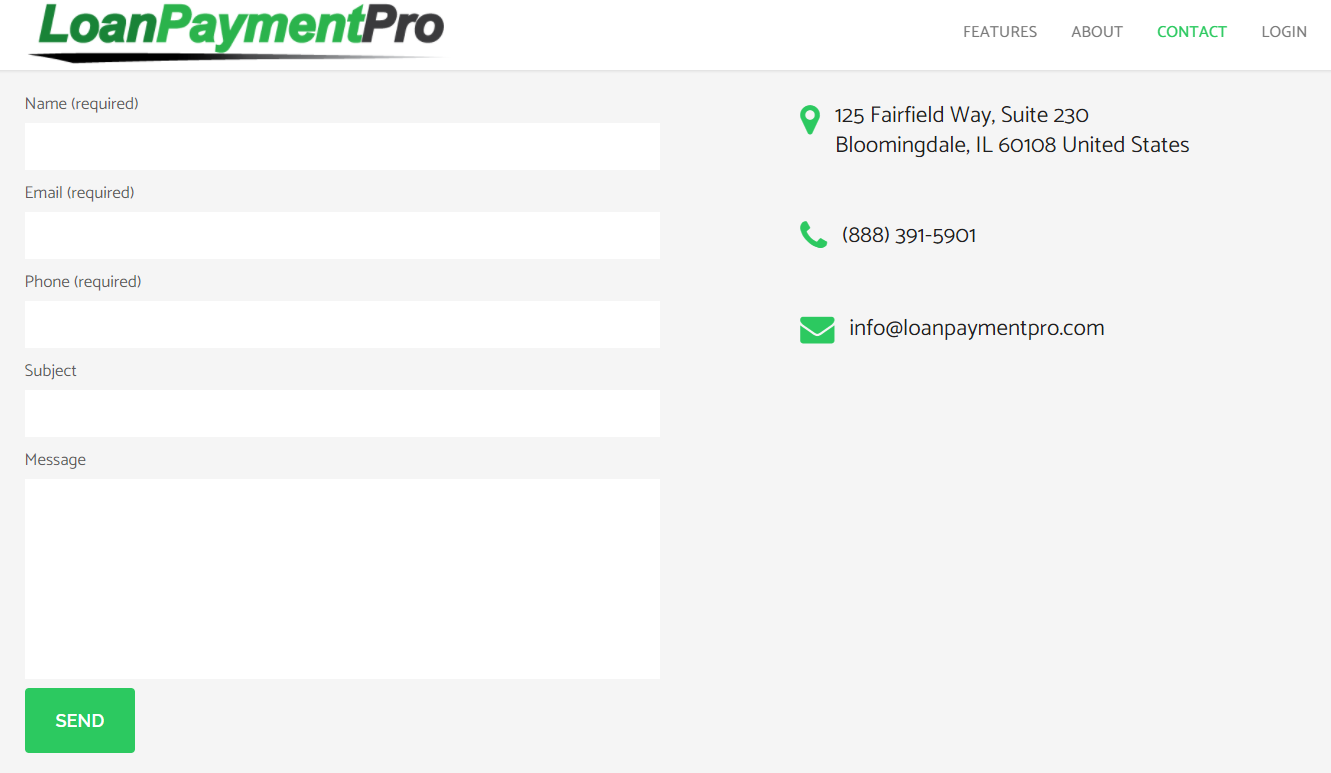 Once you have set up an account, you will have the ability to configure this payment processor in LMS. However, LoanPaymentPro is subject to the requirements of the ODFI. This means that based on their standards, the ODFI would need to evaluate you the lender as a payment processor by completing an underwriting process. It's important to be aware that it can take up to 2-4 weeks to complete this underwriting process.
Adding LoanPaymentPro as your Processor
To add LoanPaymentPro as your processor, navigate to Settings > Company > Merchant > Secure Payments. On this page, you will have the option to add a new payment processor. When you create a new LoanPaymentPro processor, you will be required to enter in a transaction key; this key is given to you by LoanPaymentPro when you set up an account with them.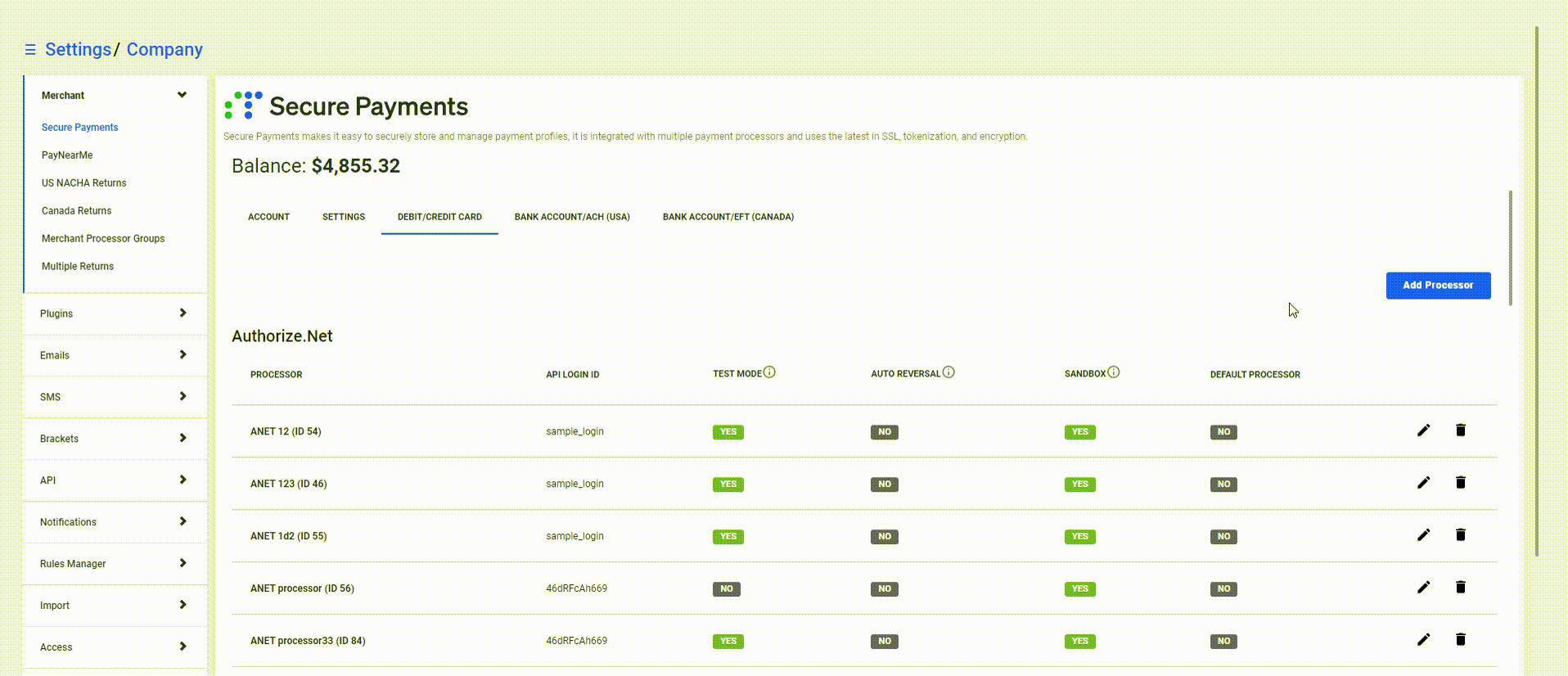 You can now enter LoanPaymentPro as your processor in LMS. Each processor has different specifications included, and when you add a new LoanPaymentPro processor, you will be required to enter in a name and a transaction key.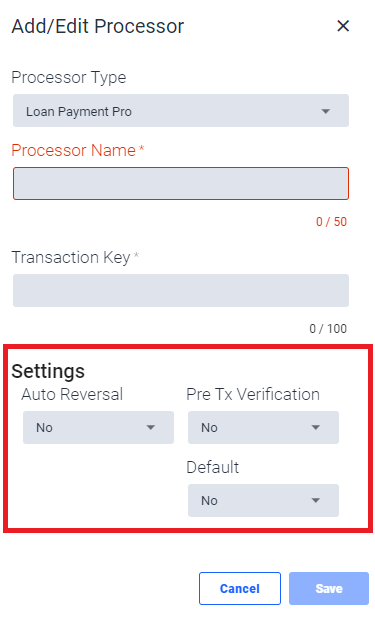 In your settings, you will have the option of turning on auto reversals, which automatically reverse transactions in LMS when a charge fails in Secure Payments. To use the pre-transaction tool, select 'Yes' in the 'Pre TX Verification' field. This allows LoanPaymentPro to go through the process of validating a borrower's bank account on every transaction before pulling funds from a borrower.
Secure Payments
You can also set up LoanPaymentPro as your processor in Secure Payments, along with the pre-transaction verification. In Secure Payments, navigate to Processors > Bank Account/ ACH (USA) > LoanPaymentPro. Here, click the plus icon located to the right of LoanPaymentPro to add a new processor.
Enter in the name of the processor, transaction key, payment type, and whether you want pre-transaction verification enabled.

In the 'Pre TX Verification' section is where you can enable the pre-transaction verification feature.
Cost of this Feature
Like all payment processors, this feature comes with a cost. There is a charge for each transaction you make in Secure Payments, and the price depends on the transaction that is initiated. Pre-transaction verification also requires a charge for both the authorization and processing of each payment — once for each step. (Remember that this only applies to credit card processors.) However, if the authorization fails, you will only be charged once.
How the Pre-Transaction Verification Complies with CFPB's Small-Dollar Rule
CFPB has evaluated both the lender's role in payments and what should be required of them before charging a payment. The CFPB's ruling established that after two consecutive failed payments, you cannot charge the same account again. LoanPaymentPro's pre-transaction verification service gives them an advantage over other processors. This feature ensures that lenders have an automatic verification of a borrower's account. In LMS, you can easily turn functionality for pre-transaction verification on and off — you can set it and forget it. After the feature is enabled, every transaction will be automatically verified.
Edge Cases
These are not processors but additional services that you can use to help you gather your borrower's bank account information. These services do not allow you to process a transaction, but they ensure the validation on an account.
Advanced Card Lookup – As stated earlier, to double-check that an account you are pulling funds from is accurate, you need to validate it. You may not want to be in a situation where you try to pull funds from an invalid bank account. The advanced card lookup allows you to check whether the payment profiles are active before pulling funds from the account. In Secure Payments, you can use the toggle functionality to have the advanced card lookup be initiated on every transaction for a cost. The advanced lookup is $0.20 per information pull.
ValidiFi – LoanPro is integrated with ValidiFi. This service allows you to validate your borrower's bank account — essentially, detecting fraud. The cost of this service depends on which level of detection you would like to apply (basic, standard, or enhanced). Once you have enabled this service, the software will automatically validate payment profiles.
Customer Questions
How do transaction updates work with LoanPaymentPro? LMS receives statuses of transactions and logs them in our software.
Can you cancel a transaction? You cannot cancel a transaction through our integration. However, you can void a transaction if the money has not yet been sent. If the money was already sent, you will need to contact LoanPaymentPro to void your transaction.
Once I set up the pre-transaction verification, does it automatically work on every transaction, or do I need to manually set it up every time? The pre-transaction verification is an easy feature; you can set it and forget it.
---
---