Canada Bank Return Codes
General
LoanPro lets Canadian companies process payments using CPA standard 005 formatted files, the format used by most Canadian banks. The file can be submitted to the originating bank, and will contain all information necessary transfer funds to or from one or more bank accounts. CPA-005 files only work if both the originating bank and the target banks are located in Canada.
When Canadian banks reject CPA 005 transactions, they will provide a Rejection Code that indicates why the transaction failed. LoanPro then lets you set automatic actions in response to the specific code received.
Return Code Actions
To set a specific action for a Canada Return Code, navigate to Settings > Company > Merchant > Canada Returns.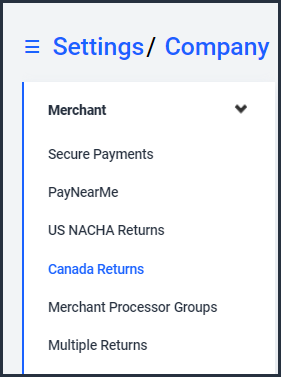 The page displays all of the return codes, which are number from 900 to 922 before jumping up to 990. The entry for each return code lists this number, an explanation of what it indicates, the current action assigned to it, and an icon allowing you to edit it.

Clicking the pencil icon pulls up this window, giving you the options for when that code is returned. You can take no action, cancel upcoming AutoPays, or inactivate the payment profile.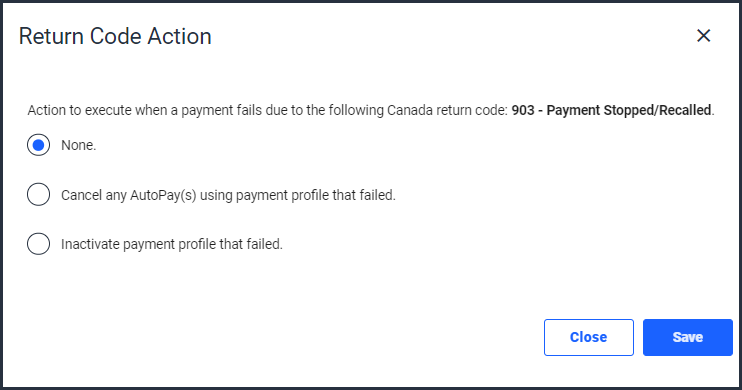 Choose the desired action related to the code in the popup window and click Save.
Return Codes Reference
All of the return codes and abbreviations are listed for reference below:
| | | |
| --- | --- | --- |
| Return Code | Description | Abbreviation (English/French) |
| 900 | Edit Reject | REJ/REV |
| 901 | Non Sufficient Funds (Debit Only) | NSF/DSP |
| 902 | Account Not Found | CNT/ITV |
| 905 | Account Closed | CLS/FER |
| 907 | No Debit Allowed | NCP/PPC |
| 908 | Funds Not Cleared (Debit Only | FNC/FNL |
| 909 | Currency/Account Mismatch | WCU/MDC |
| 910 | Payor/Payee Deceased | DEC/DEC |
| 911 | Account Frozen | FZN/BLQ |
| 912 | Invalid/Incorrect Account No. | INA/INV |
| 914 | Incorrect Payor/Payee Name | INP/NOM |
| 915 | No Agreement Existed | ANP/NOG |
| 916 | Not According to Agreement – Personal | NCA/ACP |
| 917 | Agreement Revoked – Personal | ARP/AGP |
| 918 | No Confirmation/Pre-Notification – Personal | PNP/PRP |
| 919 | Not According to Agreement – Business | NCE/ACB |
| 920 | Agreement Revoked – Business | ARE/AGB |
| 921 | No Confirmation/Pre-Notification – Business | PNE/PRB |
| 922 | Customer Initiated Return (Credit Only) | REC/CIR |
| 990 | Institution in Default | DEF/DEF |
---
---